SAM Magazine--August 1, 2008--All non-essential staff have been evacuated from Red Lodge Ski Area. Mont., in the face of a fast-moving wildfire that is threatening the resort. The Forest Service has approximately 700 firefighters and support staff battling the blaze. But with high winds expected and only 10-percent of the conflagration contained, the situation remains tense.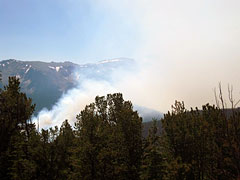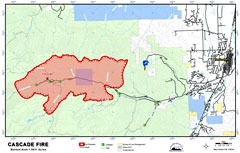 The incident flared approximately 6 miles from Red Lodge, in the West Fork Canyon on July 30. Within one day, the blaze had doubled in size and the fire started to threaten the ski area.

According to the USFS's InciWeb, which monitors and tracks wildfires, a cold front moved through the area last night, assisting suppression efforts. The weather event brought winds to the northwest, blowing the fire back upon itself.

As of today, August 1, crews and helicopters are focused on containing numerous spot fires on the northeast corner of the fire caused by yesterdays wind event and structure protection is in place at Red Lodge.


Brian Scheid of High Peaks Chairlift Painting, is on the scene with a crew from High Peaks for a lift makeover. Scheid assisted the mountain staff with snowmaking equipment fire suppression preparation, and he paints a vivid picture of the situation at the resort two days ago:

"This afternoon we took the trip to the summit of the mountain to see the fire from the mountain's highest point. Several places around the mountain and across the whole fire are lookout posts where fire bosses communicate with the helicopter pilots and fire base in town to give up-to-the-minute reports on wind, humidity, wind speed and temperature. As we were sitting there with them, the winds picked up to over 20 mph and the smoke had increased dramatically. The fire boss from the DNR told us to make sure we were ready to go with snowmaking when the time came.

So we took a short ride with the Polaris to the summit where the 8 guns were placed. These guns were pointed toward buildings and the chairlifts. As we were on the summit the call came over the radio to me to immediately start the guns and get off the summit quickly.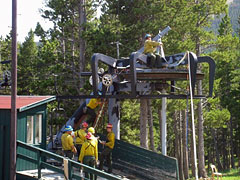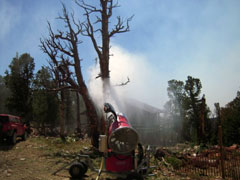 There were about four fire pickup trucks on the top with us. These firefighters were also made aware to get to the bottom of the hill immediately. We all had never seen firefighters so scared. They looked like they had seen a ghost. There faces, expressions and words said it all. Get the hell off this mountain! My crew witnessed flames on the ridge in back of the mountain. Well, this ridge was the point where if flames were spotted, to move quickly to a safe zone. As we flew down the mountain we turned on what guns we could and met in the base parking lot so they knew we were all accounted for. We then hung out by the base lodge with the GM, government officials, mountain staff, local fire officials and the DNR. It was total panic and chaos. After about an hour hanging around the bottom we were told to evacuate the mountain. So we loaded our trailers and left. We can only watch it burn from our condo now. We will know soon if Red Lodge Mountain will have a ski season this year. If they let us up the mountain to help, we will be there tomorrow. But I am assuming we will be told to stay home."

As of today, Scheid reports that things are, "quite a bit different from yesterday. Calmer winds kept the fire under control from coming over the mountain. Small parts of the resort are burning, but are being hit with water drops. Every lift and building now has dozens of sprinklers and snowguns to keep them protected."

SAM Magazine will continue to update this story as new information becomes available.
\