PATS PEAK :: FLEXIBILITY
---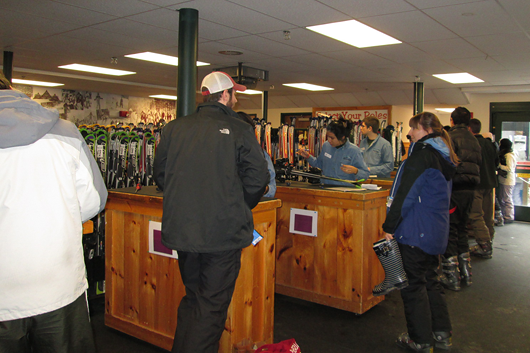 Ski dispatch counters at Pats Peak. All are on wheels, to allow flexibility in layout.
Pats Peak goes heavy on customer service. Staff greet renters, help them sign up, point out the shortest lines, and generally explain the entire process.
Services director Jim Wall credits an article by SAM's Olivia Rowan for sparking its customer-focused approach. "Olivia challenged us to look at operations from view of single mother with two little kids. That one article really hit home with us. We reviewed ski school, skier services, and asked, how are we making this more difficult? We've been tackling those things. We even bring in outside experts. They see what you don't see, and we can get defensive. It's good to get an objective look."
Boosting service takes a commitment to staffing. Pats Peak's Saturday-evening "Pay One Price" (POP) lift/lesson/rental promotion can draw up to 2,800 on a busy day, and most takers rent. The popularity of POP led the area to expand the shop from 2,400 square feet to 10,000. As at Snow Trails, efficiency was a key aim.
"We tried to utilize the space so guests could get through more quickly," says services director Jim Wall. "We realigned where and how we gave out equipment. We reduced the work techs actually did. [Pats has switched to the Elan/Dalbello 4Factor system.] That allows us to get more out."
With the added space, the shop has 24 tech benches, up from seven. Pats stocks about 1,500 pairs of skis, 500 boards, and nearly 4,000 boots. The rack system is all on wheels, for flexibility; it can scale up or down as demand requires. On busiest days, Pats' rental space is set up almost as four separate rental shops.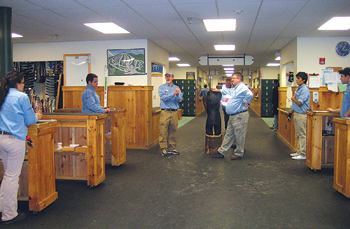 Pats Peak staff gathers for the morning pep talk. Renters can proceed down either side of the main aisle, or along two other lanes along either outside wall. The four lanes boost capacity and speed the process.
Guests enter to find four cashiers on one side, four on other. And each side is divided into two lanes (four total). There's a wide center aisle, which accommodates two lanes, and one lane along each of the outside walls.
After paying at the register, guests go to boot area. Bootfitting takes place in two separate rooms., where boots are stored on Advanced Racking System dryers. "We identify beginners and never-evers," says Jim Wall. "We put extra effort into getting them the right size. That's the most crucial aspect of a beginner's experience in the sport." And that applies to both skiing and riding. Pats gives bootfitting a lot of attention for both.
The seating/try-on area is carpeted, and staff are always there, on their knees, helping out. If the boot doesn't fit, the employee does the legwork. At that point the self-service system becomes a full-serve boot service. That starts with using a Brannock device to determine size. "We don't let them guess," says shop manager Rick Avedon. Typically, he says, people are in boots that are too big, or have tucked pants into the boots, and employees can instruct and fit them properly. Plus, "kids are often uncommunicative, you have to measure, and really know the boot is fitting," adds Wall.
The boot rooms are more homey than the center aisle, with art on the walls and a good view to the mountain. The overall experience is more pleasant; Pats uses high-powered dehumidifiers and boot dryers to avoid the smelly-basement effect.
Once booted up, guests proceed to the ski or snowboard rooms. These are side by side, about five feet apart. "We were specific in designing it this way as we never wanted to separate families nor go through processes twice," Wall says.
The process of dispatching skis and boards is similar. "It just involves a different set of questions [goofy or regular]," Wall says. "And we show the boarder how the change the binding position themselves once they are on the mountain."
For returns, there are four doors, and returns are organized by color-coding. The shop can also move empty racks to outside row, to accept returns, and handle incoming business down the center aisle.
"We're always refining the process," Avedon adds. "We changed the front counter layout in midseason, to improve flow. It's gone through endless tweaks. And it can change from day to day: the counters are movable, and the layout might be one thing for Saturday night, another for Wednesday morning, since the schoolkids don't need to stop at the counters."
Pats continues to refine the customer service aspect, too. "For next year, we're looking into having Chinese speakers on floor on Saturday, due to the big Asian population," Wall says. Three-quarters of the Saturday night crowd is ethnic. "Our work in inner city [Boston] has been key to our growth over the past 15 years," Wall notes.