Table of Contents


1. Ash & Steel
Mount Snow, Vt.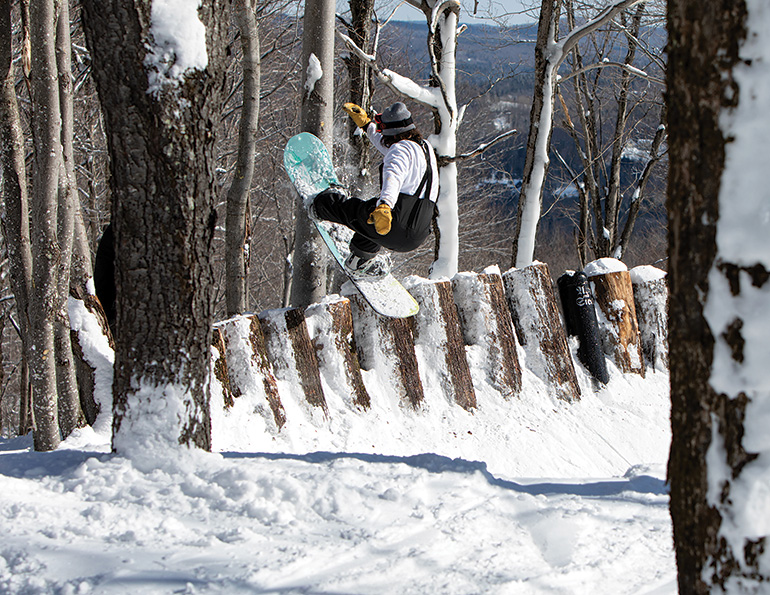 Carinthia Parks at Mount Snow collaborated with Snowboy Productions on this five-day-long event. The one-of-a-kind transition and jib park was riddled with wood, metal, and snow features throughout the trees of Carinthia's Prospector park; much of the wood and metal used was recycled from the local forest and old lifts. With two snowcats, several diggers, and the Snowboy team, the entire park came together in just three days. The first three days of the event were a private photo/video shoot featuring invited athletes to build up hype. It then opened to the public for two days. Ash & Steel produced tons of content and, more importantly, got a lot of folks in the park to experience a unique set up.


2. Woodward Peace Park #MyPeaceParkEdit
Killington, Vt.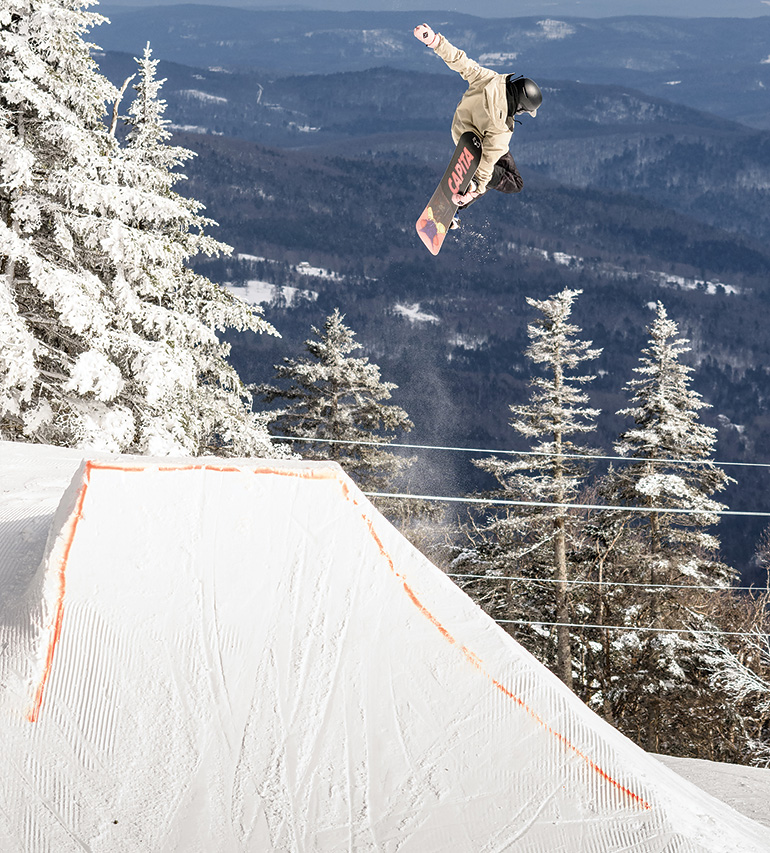 The Woodward Peace Park made its debut in February at Powdr-owned Killington, Vt. (and Boreal Mountain, Calif.). The Peace Park is an ever-evolving park designed to maximize creativity—and world peace. The Killington Park's unique, non-traditional halfpipe had features built into it, along with different wall heights and points of access. The build took eight days and involved three K-Parks cat operators, two SPT operators, and six hand crew to polish things up. The tools: two Pistenbully Park Pros and a Pistenbully 400 winch cat, an 18-foot Zaugg, plenty of shovels and rakes, and a Stihl chainsaw. The #MyPeaceParkEdit contest invited guests to submit 60-second videos of their riding. Winners were invited to the championships at Boreal, May 1-5.
3. TETON SURF CLASSIC
GRAND TARGHEE, WYO.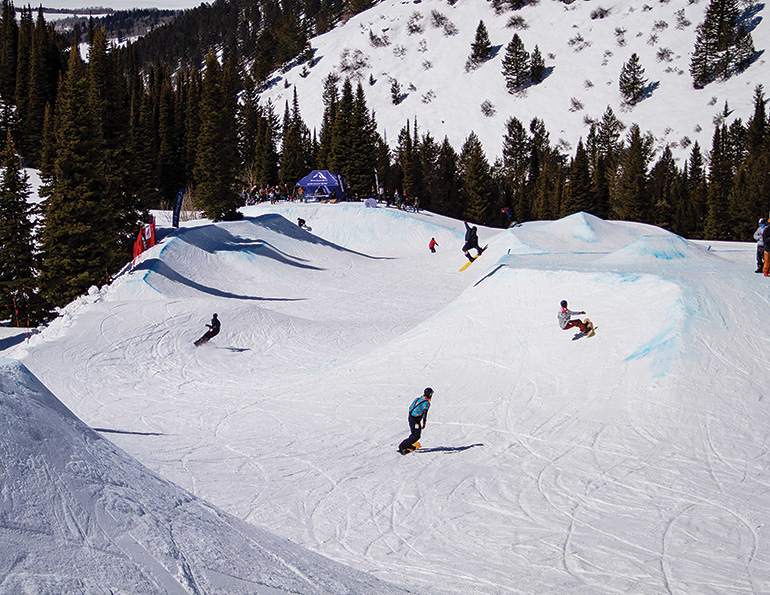 The 2nd Annual Teton Surf Classic (TSC) snowboard event March 31, 2019, was a collaborative effort between the terrain park crew, Teton Valley Ski Education Foundation (TVSEF), sponsors, and resort marketing. All season long, the crew built features in North Pole Park that could be sculpted, come contest time, into the "North Shore." Final prep took three days with three cats running, and all the features were hand finished. The course featured huge quarter pipes—the final one in front of the DJ and vendors was about 15 feet high—and spines, step ups and step downs, bowls, volcanoes, and rollers for pumping and carrying speed. Inspired by events such as Peace Park, Big Wave Challenge, and Holy Bowly, park builders put their own Targhee touch on this event. The jam-style contest reached capacity with 150 riders on a bluebird day, including 15 groms. Podium winners received Kinco Glove Shaka trophies, and the event raised $8,500 for the TVSEF snowboard program—the largest fundraiser in TVSEF history, and more than double last year's effort.
4. BOWLY DOWN UNDER
THREDBO, AUSTRALIA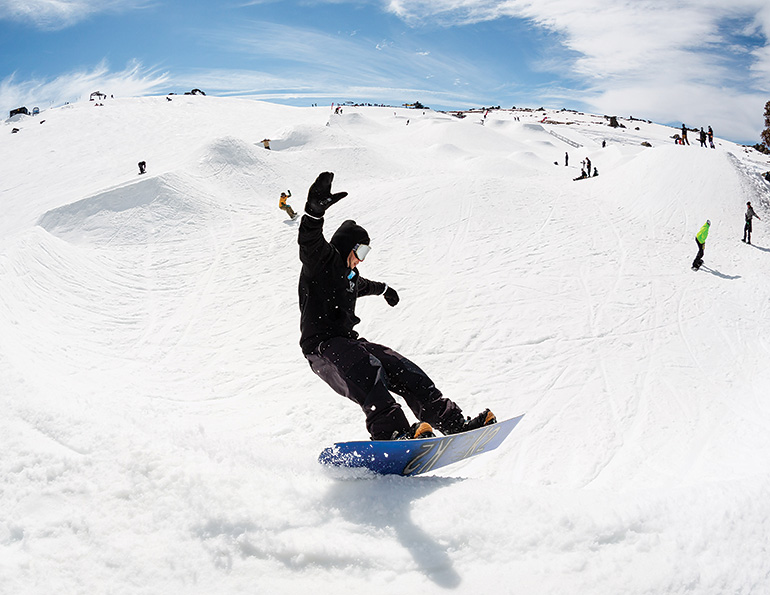 The Thredbo terrain parks crew and Snowboy Productions built this elaborate transition-style park. Snowboy brought a machine operator and eight hand crew to work with the Thredbo team. Three cats ran a total of 102 hours farming and stacking snow. A 12 tonne excavator put in 48 hours of moving snow, and hand shapers spent nearly a full work week finishing up. The Bowly Down Under four-day media shoot with pro snowboarders was followed by a public opening, with everyone from little shredders to grandma and grandpa enjoying the fun and flowy nature of the park. To maintain it all, the crew promoted a "you ride it, you rake it" philosophy. And it worked: at the end of each day, almost 100 riders were out raking.
5. FRZN RAIL JAM
BLUE MOUNTAIN RESORT, ONT.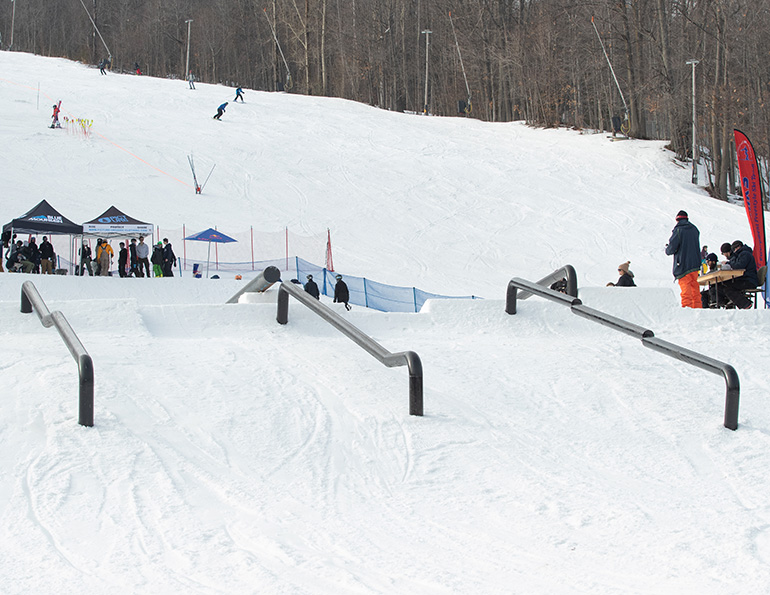 The FRZN Rail Jam was held Jan. 5 in its original location near the resort village for the first time since 2009 (the event wasn't held from 2010 to 2015, and was in a terrain park 2016 to 2018). To celebrate, the resort debuted a few custom rails made in-house out of old snowmaking pipe by park builder Dave Wright. The set-up included a 25-foot down-flat-down rail, 12-foot-long tube with gap to 20-foot donkey-d rail, and a 20-foot flat round bar with the option to gap over to a 30-foot waterfall rail. It took Wright and fellow park builder Ben Carelton one night to build using a PRINOTH cat. Two park crew staff put on the finishing touches with rakes, scoops, and vert cutters the following day. The field of 100 skiers and riders sessioned the rails while the Red Bull truck provided the soundtrack and a huge crowd of spectators enjoyed the show.
6. KAATSKILLZ PRO-AM
HUNTER MOUNTAIN, N.Y.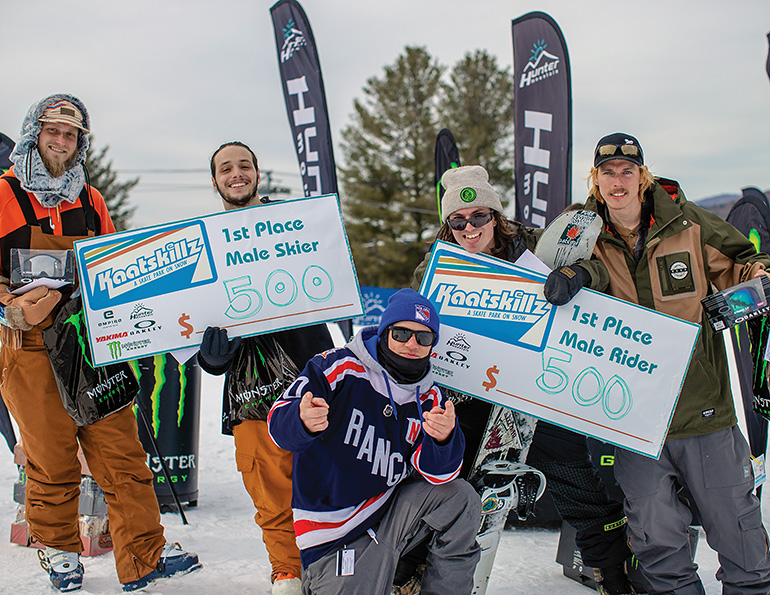 The Kaatskillz Pro-Am, held Feb. 23, featured a skatepark-inspired build and a variety of new and unique features, such as two custom Monster Energy rails, a gas pipe, five miniature tabletops, and a quarter pipe at the bottom of the course. Monster Energy supplied a $1,500 cash prize that was split evenly between the ski and snowboard podiums, as well as plenty of additional swag and prizes courtesy of Oakley and Yakima. About 75 competitors took to the course, which was built in about three days using two groomers and a small excavator. Peak Resorts VP of terrain development Elia Hamilton came up with the design and handled most of the machine work, and all eight park crew members put on the final touches using rakes, shovels, and other tools. The build required a lot of snow, so Hunter snowmakers turned the guns up to 11 for three straight days. Joey Bauer, aka Joey B., brought his New Yorker persona to the mic as emcee.
7. GIRLS GATHERING
SNOW VALLEY SKI CLUB, EDMONTON, ALBERTA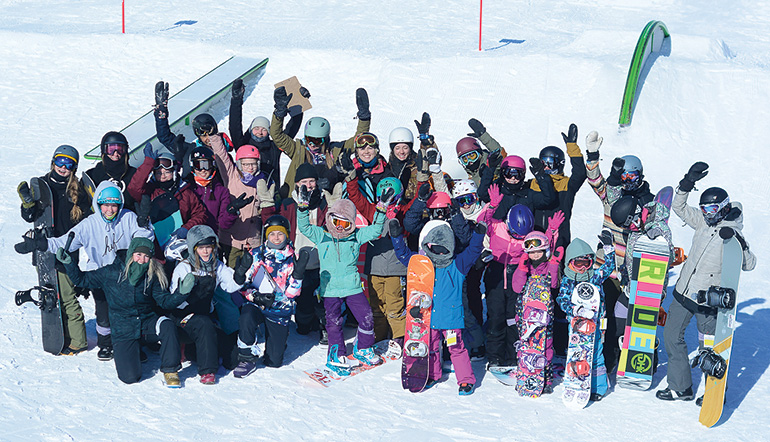 The Girls Gathering, the brainchild of Snow Valley park crew member Jenaya Jenkins, aims to get girls and women to experience the terrain park in a safe and inclusive environment. About 25 ladies ranging from 5 to 45 years old participated. The beginner and advanced terrain parks got full rebuilds three days prior to the event using a PistenBully 400 and a skid steer on snow tracks, and then the crew hand-raked, shoveled, and shaped both parks. The event day was bright and sunny and a balmy -26C (-15F) in the morning, when the women got coaching. After everyone went inside to for lunch (and to thaw), they came back out for the competition portion where, the girls could show off all the tricks they learned earlier in the day. Prizes and giveaways closed everything out.
8. SLASH BASH
PINE KNOB, MICH.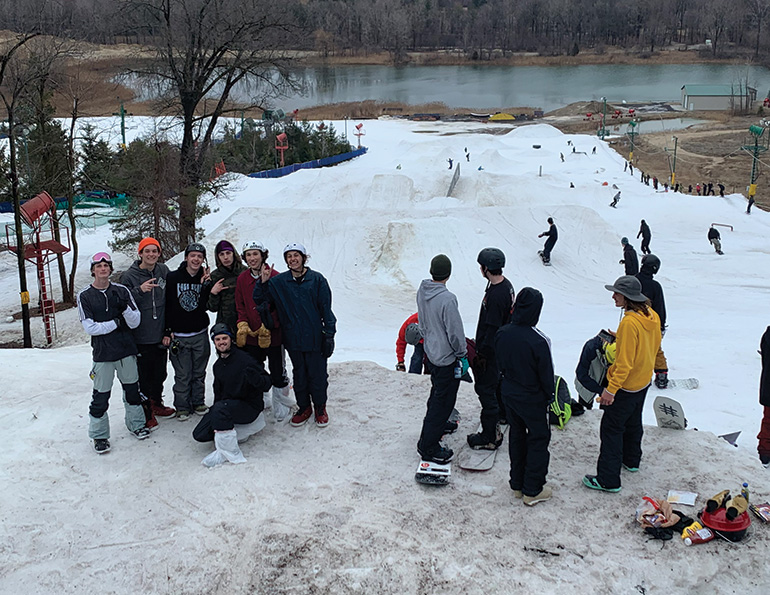 The postseason "Slash Bash" was a volunteer effort that brought more than 130 skiers and riders together on a rainy day in late March. Supported by Burton, Rome, and the local skate shop People Skate and Snowboard, the inaugural event was a low-budget affair. After the resort closed, groomers farmed most of the snow from nearby runs into the tow rope park, and six park crew worked gratis for three days, hand shaping tons of transition using Arena Snow Parks vert shovels and SPT and Planet rakes. The setup included two jumps, six volcanoes/satellite dishes, one hip with a bowled corner, 11 jibs, one quarterpipe—and one hand-shaped halfpipe with hips on either side, a bowled pocket at the end, and a table top loveseat on the left. In all, the crew built 22 hits and fun was had by all.
9. RED BULL PARKWAY OPEN
MOUNTAIN CREEK, N.J.
Red Bull and Mountain Creek Terrain Parks created an authentically "Jersey" event with an urban theme that also incorporated the arts. The inaugural Red Bull Parkway Open snowboarding contest featured a plaza-style setup with Jersey barriers, guardrails, a full-size shipping container, a 23-ton dump truck—which was big enough to drive to its location in the venue—and more. The build took an entire week with several machine operators and a dozen park crew members, led by mountain ops director Matt Carter and operators Marc Tremain and Jeff Anderson. The team moved the shipping container from one of the resort's boneyards to the venue using a Lull and a flatbed. The Jersey barriers were purchased specifically for the event. Other features, such as the guardrails, were fabricated in-house. More than 100 competitors participated in the jam-style event on Feb. 23, with pros vying for the $5,000 cash purse. Afterward, a free on-snow concert featuring three local punk-rock bands closed out the event.
10. REVEGETATE
MT. HOOD MEADOWS, ORE.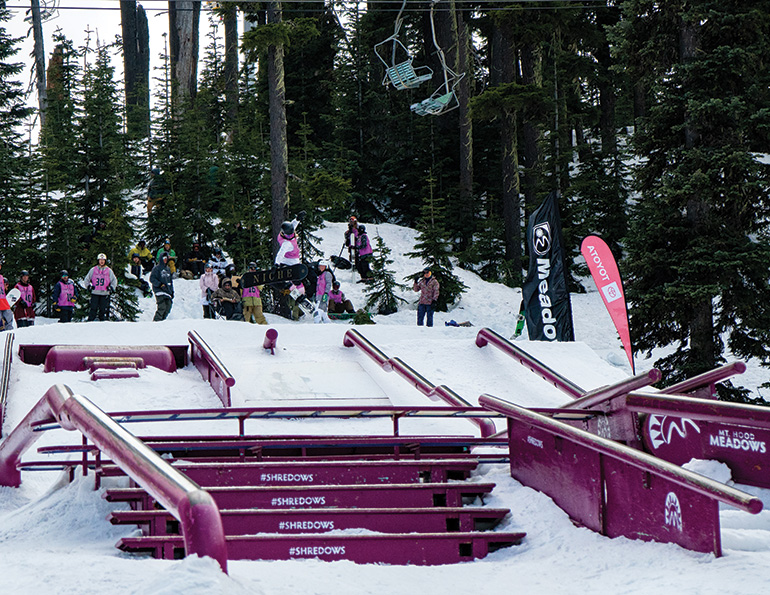 ReVegetate is a two-day event in late-April composed of 1) a rail jam and 2) a speed and style course; the proceeds from registration benefit regional revegetation efforts in wildfire-damaged areas. For the rail jam on day one, the park crew transformed the area's beginner learning terrain into a sea of jibs, giving the 60 participants (40 snowboarders, 20 skiers) multiple line options for the jam format. It took a week to build with a crew of two cat operators and four diggers. The speed and style course snakes down 1,180 vertical feet on the lower mountain. The course was built over a two-week period using all available resources, including four dedicated operators driving a mix of three PistenBully Park Pros, one PistenBully 400 winch, a BR 350 Sherpa winch with 18' Zaugg, a Prinoth Bison X and a Prinoth Lietwolf winch. Six to eight hand-crew members rotated shifts using hand tools and chainsaws to spruce things up. The final product included an abundance of rollers, berms, high-speed sections and six separate judged features (two jumps, three jibs and a quarter pipe) that, when combined with competitors' time, revealed their standing. Terrain park manager T.J. Maloney credited multiple departments for contributing to the event's success.
11. CRASHED ICE
LOON MOUNTAIN, N.H.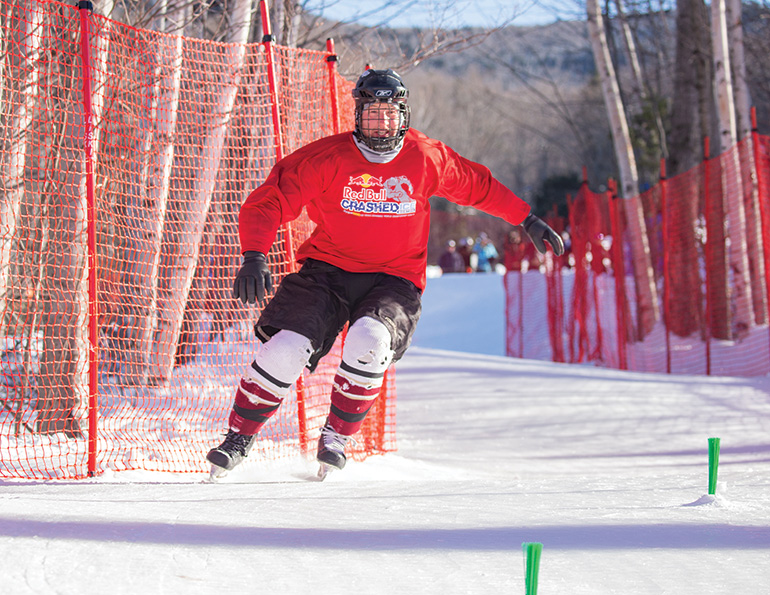 The Red Bull Crashed Ice qualifier at Loon may not be a "traditional" entry into the SAM Terrain Park Contest, but it's certainly an example of how terrain park builders' skills can be utilized for out-of-the-box events. Throughout the winter, the Loon team is focused on excellent snow quality, but their focus shifted to doing something unusual—building a downhill ice-skating course. Red Bull ice-cross athlete Cameron Naasz consulted the Loon team on course design and location. From there, the multi-department event ops team of snowmaking, terrain parks, events, racing, and others took to the hill. The build was very similar to that of a terrain park. First, the team roughed-in the course with snowcats, shovels and other tools. Then it moved on to the finishing work, which included constantly spraying down the course with the equivalent of garden-hose nozzles attached to snowmaking hoses. Cold temps helped freeze things up nicely. It took nearly a week to build the 600-foot-long icy course that that started with a hip jump and then wound through tree islands to the finish.
12. TORAH BRIGHT MINI SHRED
THREDBO, AUSTRALIA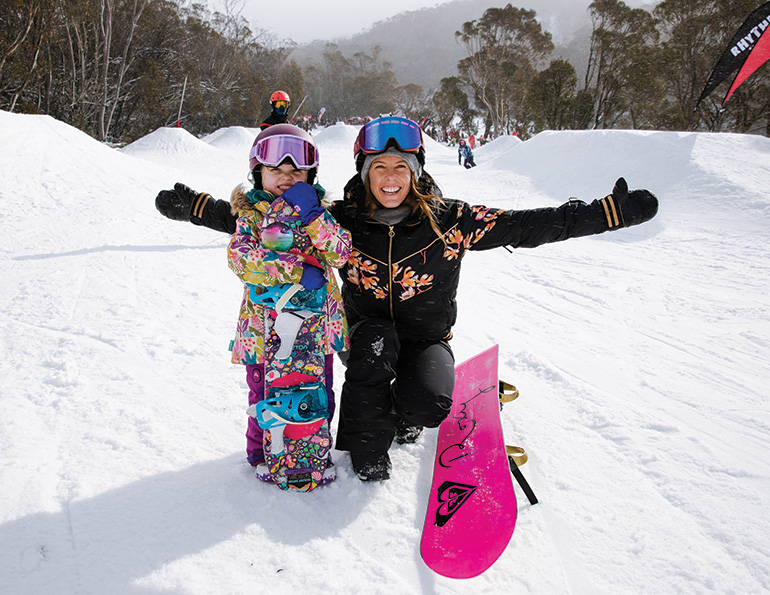 This year's Torah Bright Mini Shred transition park, designed specifically for the grommets, took inspiration from the Bowly Down Under at Thredbo. The free, one-day event drew more than 300 kids, who got to to ride alongside of and get riding tips from Olympian Torah Bright and other pro snowboarders. The transition course allowed the pros to teach kids that park riding isn't just about rails and jumps, but how to find the right line. For the build, the Thredbo parks crew spent eight machine hours in one snow cat and a three-tonne excavator. A team of five park staff spent a day and a half on hand-work polishing things up. A local artist spent a day and a half making snow sculptures, adding to the aesthetic of this fun kids' event.
13. SUN'S OUT GUNS OUT
WINSPORT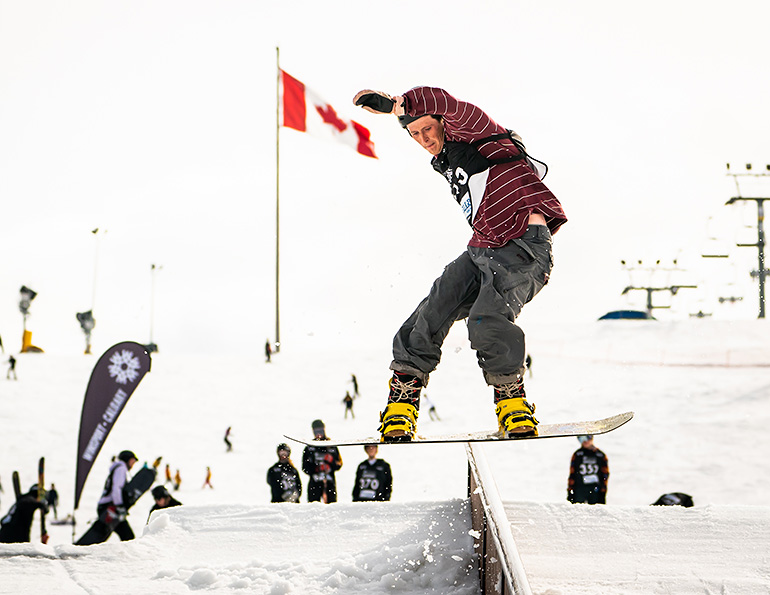 WinSport closed out the season with its second annual Sun's Out Guns Out Rail Jam in March. The event gives the public an opportunity to have fun and showcase what they learned over the winter—and win cash and swag. Plus, staff competed in a special section for the title of park king or queen and to win some swag (and bragging rights). WinSport Academy coaches served as the judges for the staff comp. The entire setup took one day to build, with one terrain park builder in a Prinoth Bison X and three additional park crew members doing hand work. To allow riders of all abilities to enjoy the course and get creative, it included a gap to down bar, wallride to snow stairs, flat-down box, 30-foot down bar, and a down-flat-down rail. The inaugural GROM Rail Jam for kids 13 and under went down on the same day, with 15 kids competing for swag. Their set-up had a small flat bar, a flat box, and a teardrop box. Overall, 100 skiers and snowboarders participated.
14. VAN'S "BEST METHOD" CONTEST
BEAVER VALLEY SNOW PARK, ONT.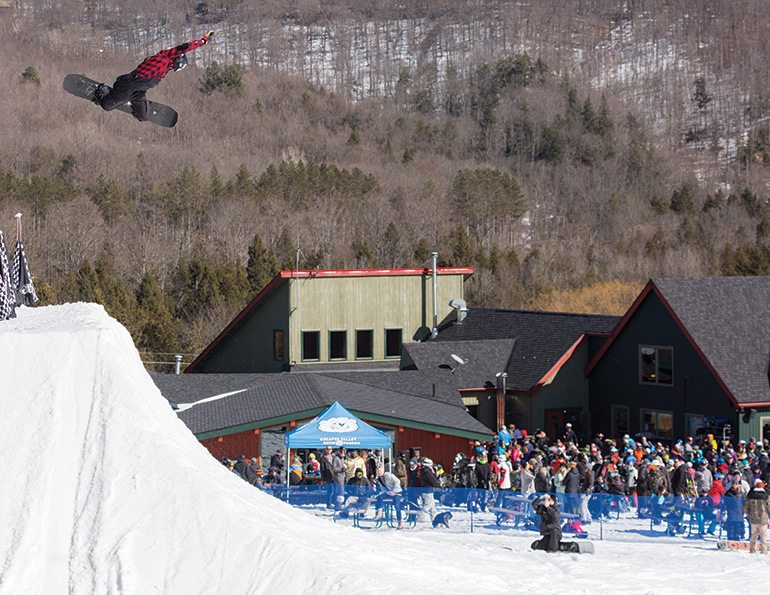 The Vans "Best Method" was conceived as a crowd-pleaser event to be held in conjunction with Beaver Valley's end-of-season Banked Slalom Snowboard Festival. The contest featured a custom-built, giant hip at the bottom of the main park, located in front of the base lodge party deck, and just below the finish coral of the banked slalom course. A field of 260 banked slalom contestants, and dozens more park riders, threw their "best method" on the hip during a one-hour afternoon session. The hip was designed by Snow Park head honcho Caleb Bosse with a graduated take-off zone to accommodate all skill levels and a massive 80-foot-long landing area. Bosse used a Prinoth Bison X to rough in the hip, and a crew of diggers fine-tuned its shape. The build took two days. Three legendary Canadian snowboarders judged the event: Kevin Young, Dennis Bannock and Jon Roth. Recently-retired Canadian National Halfpipe Team rider and Snow Parks head coach Trevor Niblett was the winner.
15. THE TRIPLE DOWN PARK SERIES
EDMONTON, ALBERTA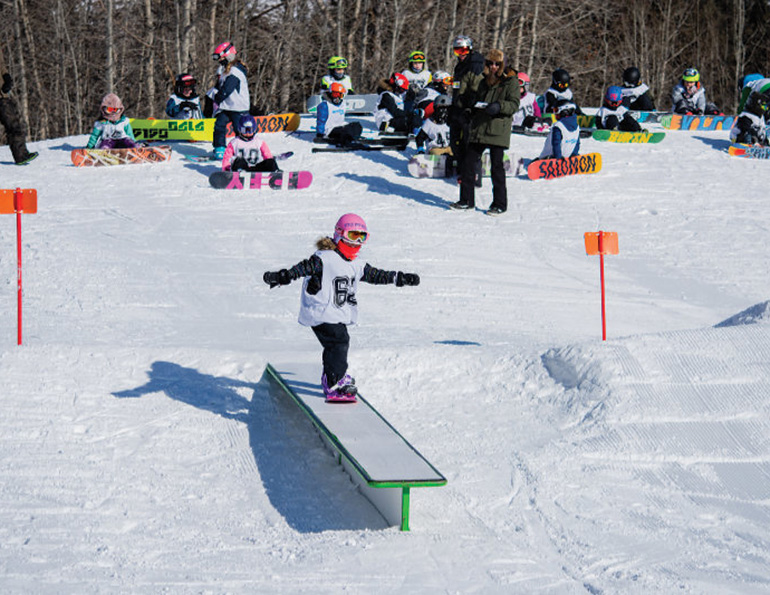 The Triple Down was a series of three terrain park contests at each of Edmonton's local ski areas: Rabbit Hill Ski Resort (Jan. 9), Sunridge Ski Area (Feb. 24) and Snow Valley Ski Club (Mar. 3). The series encouraged terrain park riders to sample all three parks and spend more time on snow. Each park showcased unique features on vertical drops of between 35 and 50 meters (115 to 164 feet). It was a collaborative effort: marketing resources were shared to promote the event, most retail shops in greater Edmonton got involved, and the three park crews put major hours into rebuilding and refining their parks, as well as chatting up local riders. Three age categories kept it fun for all ages and levels. More than 120 riders took part overall, including eight who competed in all three events. This will now be an annual event.
16. THE SPRING PICKLE PARK PARTY
BLUE MOUNTAIN RESORT, ONT.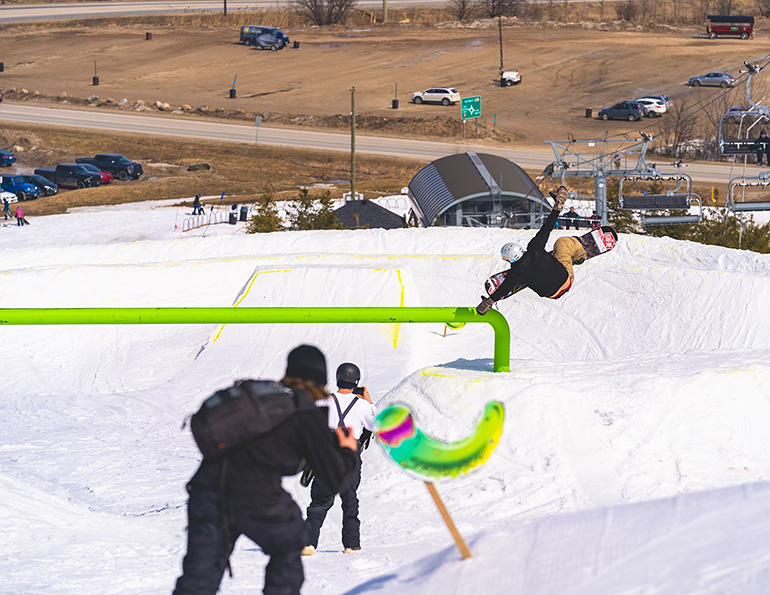 Last season's Spring Pickle Park Party included the usual helping of pickles—both to eat and ones made of snow—along with some unique features for the 100 participants during the free, jam-style event, held as a "thank you" to the resort's park fans and passholders. Park builder Dave Wright spent three days shaping the "pickle line:" two pickle-shaped decks connected by a 30-foot rail transitioned into a third, curved pickle shaped into a bowl, with a hip on both sides and a 30-foot jump that sent riders over it. The park crew spent two days on hand work and setup. A few features were set into each pickle, including a hanging pickle-barrel suspended from a small snow gun tower, a pyramid with a barrel bonk, and a handrail. All of the features were built in-house. The free BBQ during the event, naturally, included an endless supply of pickles.
17. Back in the Village
Sunshine Village, Alberta, Canada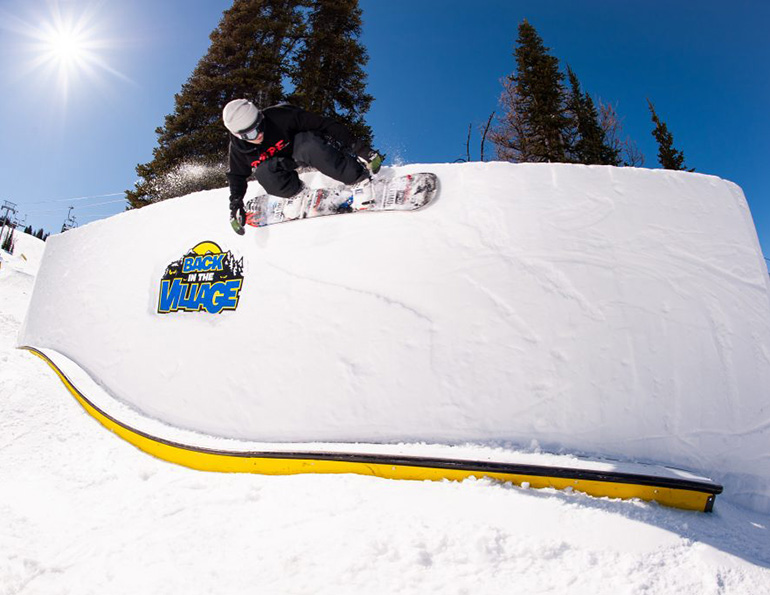 The park crew at Sunshine Village once again collaborated with Snowboy Productions and the SRD crew of riders on a unique park build that brought together 80 invited snowboarders from Canada's west coast, interior British Columbia, and Alberta for three days of riding, filming, and fun. "Back in the Village" was the sequel to "Dawn of the Village," which went down in the spring of 2018 at Sunshine. The build took roughly three days using a PistenBully Park Pro, a PB 400, rakes, shovels, string lines, and a crew of about 10 shapers, which consisted of a few Sunshine Village park crew, Snowboy crewmembers, and a few volunteers from SRD. The layout was basically Holy Bowly-style snow features and transitions with a variety of jibs mixed in. The park opened to the public for a full weekend after the three-day closed shoot.