SAM Magazine—Wilmington, Vt., March 20, 2020—The former Hermitage Club in southern Vermont was sold at auction today to a group of former members for $8,060,000. The sale includes the ski area on Haystack Mountain, a golf course, several local inns, and more.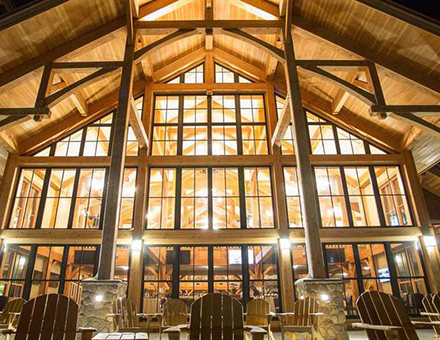 The Vermont Department of Taxes shut down the Hermitage Club in 2018 for missing more than $1 million in tax payments, and the properties were placed into receivership. The state's action was the culmination of years of financial mismanagement and scrapes with local, state, and federal authorities for a bevy of transgressions including unpermitted construction, illegal real estate practices, and non-payments for loans and taxes, to name a few. Berkshire Bank filed a foreclosure complaint against the Hermitage for defaulting on more than $17 million in loans.
Earlier this week, Hermitage Club founder Jim Barnes attempted to delay the auction for 60 to 90 days citing the state and national emergency declarations in response to the COVID-19 pandemic, as well as its impact on the markets. His motion was rejected by the judge overseeing the auction, as was a day-of attempt by Barnes's attorney to stay the proceedings.
"The stay is denied," said U.S. Bankruptcy Court Judge Colleen Brown. "Mr. Barnes had ample opportunity and notice to appear as recently as Jan. 31 and he failed to do so. This hearing is concluded."
Planning for the auction began in January when initial offers for various assets were made public. Rainmaker Mountain LLC offered $4 million for the assets excluding the Barnstormer lift—a six-passenger bubble lift with heated seats. Boyne USA Inc., which owns nine ski areas in North America, offered $3.5 million for the Barnstormer lift, which had been financed by former Hermitage Club members through an LLC formed just for the purpose of purchasing the lift. If the lift was sold separately, it would have essentially killed any chance of reopening the ski area.
The ski area includes an 80,000-square-foot lodge and clubhouse with a spa, an indoor pool, bowling area, and retail space; and five chairlifts—Barnstormer, two fixed-grip quads and two fixed-grip triples.
A subsidiary of Vail Resorts, parent company of Mount Snow, located just up the road from Haystack Mountain, reportedly submitted the winning bid for 41 TechnoAlpin fan guns and related equipment in a bankruptcy auction in October 2019.
Today's sale to the membership group concludes what has been a drawn-out process. Now the process of attempting to reopen the mountain, likely as a private club, begins.