SAM Magazine—Killington, Vt., Sept. 16, 2020—More resorts are releasing 2020-21 operating plans and opening dates, as operators shift their focus from summer to winter. The range of plans is highly varied, reflecting COVID-19 considerations and the specific circumstances of individual resorts.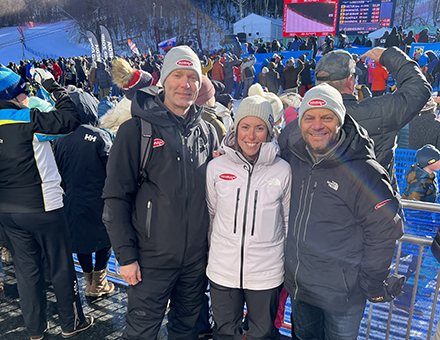 Killington will open later than usual this season.
Killington, Vt., has projected a Nov. 14 opening, later than usual. "We need ample time to prepare top-to-bottom terrain to ensure proper physical distancing," said president and GM Mike Solimano. The resort is hoping to start the season with more acreage and lifts open than has been its practice in the past, to allow guests to better spread out.
Killington will be open exclusively to season passholders and Ikon passholders for a period while the resort assesses operations and capacity limitations. It is also implementing a parking reservation system for all guests, and guests will need to purchase day tickets in advance when the products become available. The resort also plans to strictly enforce any uphill travel closures.
Jay Peak, Vt., GM Steve Wright summarized the area's operating plan in a tweet. "No season pass holder reservations required, day tickets available daily, w/out reservations, and no parking limits. Boot up in the lodge and seated après ski with 50% of the folks in there-New outdoor fire pit with wind screens and food trucks with burritos and to-go margs. Ok."
How can Jay promise relatively few restrictions? Canadian visitors typically comprise half of the resort's guests. With Canada's travel and quarantine restrictions still in place, Jay Peak said U.S.-based guests "should expect room to roam here."
Gunstock, N.H., is looking to drop the ropes on Dec. 4. The ski area is still working on most of its policies and procedures for the winter season, although masks and daily health screenings will be mandatory for staff.
Sunday River, Maine, plans to open initially for passholders only. Opening day will be based upon when the resort can offer top-to-bottom terrain with no downloading. There aren't plans as of now to require reservations for season passholders, including Ikon passholders and ticket pack holders. Limited lift tickets will be available for peak times. Online lift ticket purchases will be encouraged, and possibly required.
On site, lift capacity will be reduced and lift mazes will be adjusted to maximize distancing between guests. RFID gates at lifts and pickup kiosks for lift tickets and passes will be in place to limit guest - staff contact.
The New York Olympic Regional Development Authority (ORDA) has new operating plans in place for its three resorts, Belleayre, Gore and Whiteface. All three properties opened for summer this year, and ORDA has made several capital improvements across the resorts to prepare for winter. New RFID gates for direct-to-lift access, additional outdoor seating, expanded drop off areas and reconfigured indoor spaces will augment safety protocols like mandatory face coverings. The resorts are encouraging guests to buy pass products online, but will still sell tickets on-mountain.
Arapahoe Basin, Colo., set to open Oct. 3, has unveiled elements of the ski area's winter operating plan. A-Basin will not require reservations for season pass or day pass holders, but will limit the number of passes sold. Ikon passholders will need reservations from Nov. 9 onward, and access details are still TBD for Mountain Collective passholders.
Snow King, Wyo., has made changes to its ski school programs, rentals, and indoor facilities use, but said, "it is not anticipated that things will look vastly different out on the hill this year." Snow King kept pricing the same as last season despite increased operating costs, and the ski area joined the Indy Pass for the 2020-21 season. Guests are encouraged to buy tickets and sign waivers online, with purchases protected by a 24-hour free cancellation policy.
Schweitzer, Idaho, said its season pass sales are pacing at record levels, and it will need to implement daily limits on tickets to maintain physical distancing without restricting passholder access. "We plan to launch date-specific ticket inventory on Nov. 9 after our Oct. 31 fall season pass deadline, with the potential of adding additional date-specific inventory as the season progresses," explained CEO Tom Chasse in a blog post.
Mt. Rose Ski Tahoe, Nev., which often starts spinning lifts in late October, has rolled out its new winter guidelines. There will be no in-person ticket purchases—product sales will be fully online—and the resort will utilize dynamic pricing, dropping rates for historically slow days or inclement weather events when there are fewer guests on mountain. On busy days, Mt. Rose plans to implement caps and will be working with a "comfortable capacity limit."
Big White, B.C., is also requiring all guests to purchase tickets in advance so it can manage volume, although season pass holders will be able to go directly to the lift. The resort has significantly modified much of its lesson and childcare programming and suspended skating, tubing, and night skiing for the 2020-21 season.
The Edmonton Ski Club, a local Alberta hill, has actually added snow tubing for the 2020-21 season. The ski area is scheduled to open Nov. 27 and will operate with expanded hours this season (10 a.m. to 9 p.m. midweek, and 10 a.m. to 5 p.m. on weekends and holidays). Ticket sales have been moved to an outdoor walk-up window, and the area has increased its indoor space with a new warming facility.
Alterra Mountain Company's Mammoth Mountain, Calif., is set to open Nov. 14, while many of its other properties—Snowshoe, W.Va., Steamboat, Colo., Stratton, Vt., Sugarbush, Vt., Squaw Valley Alpine Meadows, Calif.—are eyeing the weekend or days before Thanksgiving. Alterra CEO Rusty Gregory noted that these Alterra-owned properties would be prioritizing Ikon season passholders, with tight regulations on the number of day tickets sold. All day tickets will be available by advanced purchase only.
At Steamboat, those advance-purchase day tickets are only available with purchase of a lodging package at present. Steamboat also requires advance reservations for rental equipment—with specified fitting times—and snowsports school.
Other Ikon participating resorts have varied rules in place for passholders. Big Sky, Mont., scheduled to open Nov. 26, is requiring reservations. POWDR properties, like Eldora, opening Nov. 23, are not. However, most POWDR resorts appear to be implementing parking reservation systems, and will limit capacity in that way.
Sugar Bowl, Calif., has decided to pause its season pass sales to avoid the need for a reservation system. The resort had already decided to limit day ticket sales and to require advance, online purchases.