SAM Magazine—Palo Alto, Calif., May 25, 2021—Liftopia's assets were recently relaunched as Catalate. As SAM reported in December, Liftopia Inc. entered an assignment for the benefit of creditors (ABC) to liquidate the company's assets after it was unable to pay money owed to clients—mostly ski areas that sold lift tickets, season passes, and other products through the company's platforms—following the ski industry's pandemic-induced shutdown in mid-March 2020. Its assets were then acquired in a live auction on Nov. 27 by Skitude Group.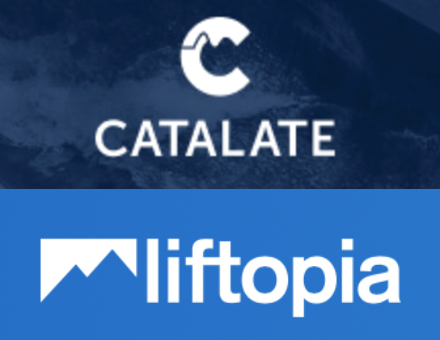 According to Skitude Group CEO Bent Grøver, the new Catalate offers familiar Liftopia services and platforms, such as pricing, distribution, and Cloud Store e-commerce, with an important change to the company's main focus. "Catalate is a B2B [business-to-business] company, and its technology powers Liftopia.com," he said. "At this point, Liftopia.com is operated by Catalate, but Catalate is primarily a B2B company." Liftopia.com, of course, is a business-to-consumer site. 
Liftopia co-founder Evan Reece was hired to lead Catalate. Reece has no ownership stake in the new company. Grøver said he hired Reece and others from the Liftopia team because "they're good at converting interest into sales," and some clients said the team is the reason they've stuck with or come back to doing business with Catalate. 
The ABC process through which Skitude Group acquired Liftopia's assets can be complicated. Grøver offered a simplified explanation: "We bought the assets with cash, that cash goes into the estate, the estate collects claims from creditors, and then the estate divides out the cash we paid to the creditors that filed a claim against the estate," he said. In this case, the "estate" is accounting and consulting firm Armanino LLP.
The deadline for creditors to file claims was in April. Grøver said every former Liftopia client, i.e., creditor, that filed a valid claim will get something when "the cash is divided out in a proportional manner against the size of the claim in July." None of the creditors will be made whole through this distribution, but Catalate is offering terms to remediate that. 
"After having bought the assets and built up Catalate and the team, we have said that we would like to, as a gesture, find a way to repay the full amount to those who want to do business with us," said Grøver. "If they don't want to do business with us, it doesn't make sense for us to repay something that was lost to bankruptcy. We bought the assets. We didn't buy the company, its debts, or revenue."
It is not known how many ski areas are still owed money or how many have filed claims against the estate. 
Catalate's launch immediately drew the ire of some ski areas on social media. And the company's connection to Liftopia is impacting its standing with the Ski Areas of New York (SKI NY). "As many of our members have been impacted by the Liftopia situation, SKI NY will postpone consideration of associate membership applications from Catalate pending further review of this situation," said SKI NY president Scott Brandi.