Table of Contents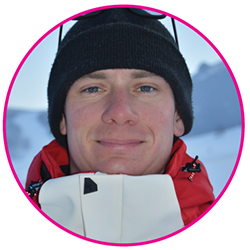 CHARLES "FREDDIE″ BACON
Title: Training and Quality Control Manager, Thaiwoo International Snowsports Academy, China; Race and Parks Head of Department, NZSki LTD., Coronet Peak, New Zealand
Age: 27
Hometown: Grantham, Lincolnshire, UK
Higher Ed: Kings School Grantham, University of London
Six-word bio: Traveling, snowboarding, learning, mentoring, ambitious, happy
First job in the industry: Snowboard instructor at Winter Park, Colo.
How did you get here?
I finished school and started snowboarding, loved it and made a career around it. I got my snowboard instructor qualifications in New Zealand and have taught snowboarding in New Zealand, Japan, Europe, and the USA.
What do you love most about your job?
Being able to get on a chairlift and go for a ride when I need to get out of the office. I love being in the mountains and the cold, especially on those blue-sky days.
Most rewarding accomplishment so far?
Being involved in setting up a new snowsports school at a brand new resort in China. My role was to design and implement a season-long training program to deliver our three core values: safety, customer experience, and retention. I coached and mentored Chinese colleagues through translators to deliver products (up to) international standards. I also assisted the ski school director in the development of daily operations.
What's your biggest work challenge?
In China, it's the language barrier and communicating through translators. In New Zealand, it's hoping we have the snow conditions to run FIS races, events, and build safe and fun parks.
Describe your style of leadership:
Never asking anyone to do anything you wouldn't be prepared to do yourself. Having a clear plan and gaining full support from the team for the plan. I'm a very open leader and expect high standards. My team knows this and my door is always open. I support my teams so they can succeed in what they're doing.
In 10 years?
Hopefully in ski area operations management.