January 2011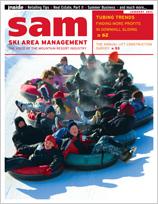 In Defense of Terrain Parks

In a landmark case, terrain parks were recognized as a risk management tool, not a menace to jumpers.



Lifts 2010: Quality, not Quantity

Construction activity picked up last summer as areas went bigger on aerial lifts and stocked up on conveyors.



Party On!

Weddings, reunions, and other summer functions can be a boon for the bottom line and staff stability.



Building a Brand Base

Follow simple steps to go big.



Snowmaking Automation

The efficiencies and cost savings in automated snowmaking have resorts intrigued, if not entirely sold.



If You Sell It, They May Come

As city ski and board shops disappear, resort shops just might gain business.



Park and Ride

Mountain bike parks have come a long way and are poised for growth, so long as resorts serve riders' needs well.



Reining in Risk

Serious tubing incidents are rare, but when they happen, "assumption of risk" statutes may not apply.


Tubing continues to grow in popularity, both with customers and resorts looking to expand their revenue streams.
READ MORE


Mountain Spy Liz Eren found that Eastern areas were quite often knowledgeable and helpful, while larger, Western resorts were largely clueless when it came to Learn to Ski and Snowboard Month. As always, names have been changed to protect the guilty.
READ MORE


A closer look at key trends and discoveries about Boomers and Gen X as revealed in the Kelsey Norden real estate survey.
READ MORE



Blue Pages

GET A GROUPON... ...OR TAKE A SHOT ON LIFTOPIA... JUST SAY NO TO GLUTEN... CULTURE SHOCK AT SQUAW VALLEY... 30 YEARS OF GRATITUDE... TAMARACK REOPENS FOR THE SEASON... SKIING IS A RELIGIOUS EXPERIENCE... STOWE: BEAVER CREEK OF THE EAST... SHORTSWINGS...



Fun and Games

The summer attractions trade show, IAPPA, has a great deal to teach winter resorts about business year-round.



Idea Files

Clever unloading signs, a windproof stop gate, and winchable loading gates are the latest great ideas to come from resorts.


Diversity and the MAS Report
READ MORE


As rental operations expand, clever storage solutions can maximize your available space.
READ MORE



Industry Reports

SKYTRAC, NEW LIFT CO.... VERMONT AREAS FOR SALE... KSL BUYS SQUAW VALLEY... WB IPO NETS $300 MILLION... AWARDS... PEOPLE... SUPPLIER NEWS...



Election Elation

Will the electoral changes in state and national government be good for business? Areas vote yes.



Elk Becomes Eagle Point

New owners take a pragmatic approach at an old area.