Over the last few years there's been a resurgence of lift-served downhill mountain biking, and resorts are responding by investing heavily in building and growing their bike parks. But for many cyclists, the lure of gravity-fed thrill takes a back seat to pedaling and exploration. As a result, a growing number of resorts also offer vast trail systems for cross-country mountain biking, popular for its low price barrier, low level of intimidation, and a high fun factor.
But unlike downhill mountain biking, guests don't always need to pay for a lift ticket to enjoy cross-country. Similar to having a trail system for hiking, the benefits of offering cross-country mountain biking terrain aren't necessarily associated with a pay-to-play experience. Still, cross-country mountain biking appeals to a broader audience that can—and will—spend money on other things at the resort, and in the local area. For these riders, it's part of an overall cycling experience that only a mountain resort can offer.

Symbiotic Relationships
Mountain resorts have consistent pitch, making them perfect venues for downhill mountain biking, but not necessarily ideal for cross-country. That's why some resorts work closely with nearby cross-country trail systems, and even interconnect trails when possible to expand visitation opportunities.
That's what Beech Mountain Resort in North Carolina has done. The resort works with the adjacent public-lands trail system of Emerald Outback, which sits at 5,400 feet and features more than nine miles of cross-country bike trails accessible via lift ride at the resort on weekends, and from trailheads in town every day. It's just $10 for a single ride up the lift, and the trails interconnect with Beech's expansive downhill trail system. The town of Beech Mountain maintains the trails and infrastructure of Emerald Outback as a separate entity from the resort, and guests are able to enjoy a seamless experience.
eech Mountain marketing director Talia Freeman says the addition of cross-country biking gives people an affordable way to experience the mountain. "It's a great way to exercise in a beautiful setting without breaking the bank," she says.
The resort works closely with the town and surrounding Pisgah National Forest to help grow the sport—and the economy—for the entire region, says Freeman. Between bike shops and bike rentals (the resort rents bikes in-house), food and beverage, guided tours and lodging, everyone is benefiting from the growth of cycling. Beech works with Emerald Outback operators to host races, and the resort even offers a "bike and stay" package that includes two nights of lodging, maps of the trail systems in the area, and a beer or wine tasting at a local brewery or winery.
"We've seen a significant increase in revenues for the town and certainly for the ski area," Freeman says. "And it has shifted the demographic in the summer from an older retirement crowd to younger outdoor families."
Biking on the mountain has also translated into lodging numbers, and the growth in visitation has spurred a growth in marketing efforts. Freeman says the resort's budget devoted to marketing summer programs, including mountain biking, has increased 150 percent in the last two years.

Collaborative Effort
Burke Mountain in Vermont's Northeast Kingdom has also found success working with a local trail network, in this case Kingdom Trails, a 100-mile cross-country network that connects to Burke's lift-served downhill trails. Burke sales and marketing director Jessica Sechler says the trail network is the main driver of summer tourism for the community. "For us, the cross-country network at Kingdom Trails holds tremendous value," says Sechler.
Burke has been partnering with the non-profit Kingdom Trails since 2010 (a hiccup caused a hiatus from 2013-2015). Kingdom Trails relies on ticket sales and annual membership revenues for support.
Sechler says it's a group effort. "Everyone plays a part," she says, "from the trail crews physically maintaining the trails, to the landowners who selflessly contribute their land for use, to the business owners who have created their own niche service."
With the addition of the 116-room Burke Mountain Hotel in September 2016, the resort has benefitted from overnight guests coming to enjoy Kingdom Trails for multiple days, purchasing lift passes, food and beverage, and more.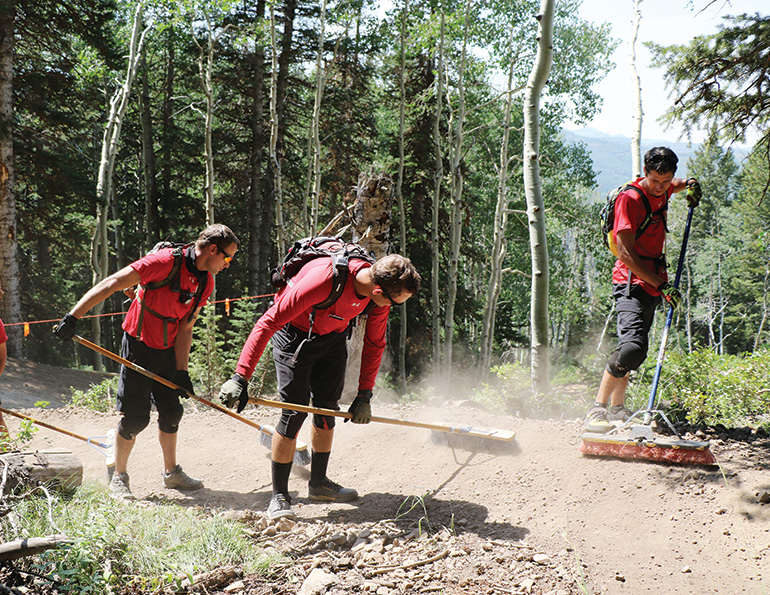 Deer Valley Patrol maintains a portion of the region's cross-country trails, which work as a gateway to the downhill course for intermediate riders.
Out west in Park City, Utah, Deer Valley Resort has taken advantage of its location in a bike-centric community where cross-country riding is popular. "Park City is such a cross-country centered area, and we are in the middle of the greater trail system," says Chris Erkkila, mountain bike manager for the resort. That system encompasses trails on and off the mountains, stretching for tens of miles in total.
Erkkila says the trails are maintained by both Deer Valley staff and the Mountain Trails Foundation, a member-driven non-profit dedicated to building, maintaining, and protecting trails for non-motorized recreation in the area. The trails mostly require small amounts of maintenance, early season trail clearing, water damage repair, and the like, says Erkkila.

A Mountain Experience
In Montana, Big Sky Resort has nine cross-country trails, all located on the resort. Big Sky offers daily guided cross-country bike tours, and also offers e-bikes, further opening up the sport to beginners and those not looking to bash downhill features.
Activities director Christine Baker says cross-country is just one of the activities that comprise the summer experience at Big Sky. "Cross-country biking adds value to the guest experience," says Baker. "We see the cross-country trails as additive to all the activities that we have going on during the summer season."
The resort maintains the cross-country trails on property, including signage, downed tree clearing, and trail maintenance, which takes about 120 work hours a season, says Baker.
The time and effort is worth it. "No matter what attracts guests to the mountain, if they are here, there's a chance they may pop into Montana Jack for a beer, or have lunch at the Carabiner," says Baker. The benefit, she adds, "is not just the ancillary revenue that our cross-country trails may bring in, but the heightened excitement that comes with simply having more people in the Mountain Village."

Growth Potential
It's clear that summer business is vital to the financial health of mountain resorts, and more activities mean more business. There's opportunity in the intermingling of disciplines—downhill and cross country—that might be one answer to fast-tracking growth in overall cycling visitation at mountain resorts.
Burke is a great example. Sechler says the resort represents the best of both worlds—the cross-country, mostly single-track trail network that's perfect for all abilities, as well as machine-built sections of Kingdom Trails that give riders a taste of downhill riding, similar to that offered at the lift-served Burke Bike Park.
For those looking to give gravity a try, Burke Mountain is ready. Sechler says the resort offers introductory downhill lessons that teach the basics, such as proper positioning and braking, and how to use the functions of a downhill mountain bike. "Most learn how to ride a bike at a young age," says Sechler, "so when they have the opportunity to accelerate those skills in an environment like Kingdom Trails or the Burke Bike Park, they're hooked."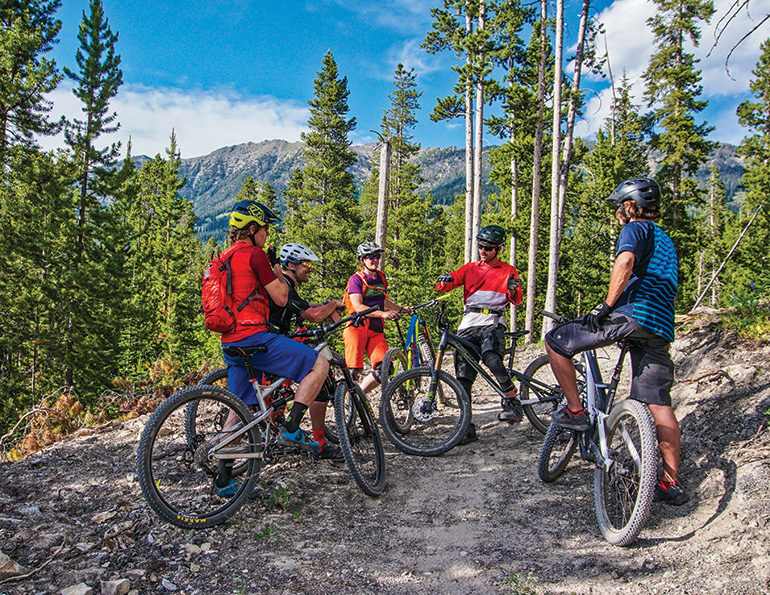 Big Sky boasts nine cross-country trails and provides daily guided tours, including e-bike tours, opening up the sport to more beginners.
Erkkila says similarly that at Deer Valley, cross-country trails provide an introduction to downhill mountain biking. Having an interconnected trail network that requires little effort to go from one discipline to another certainly helps.
Diamondback pro rider Eric Porter has seen this first hand. The Deer Valley local says that with the accessibility of downhill trails, the community's old-school cross-country bike crowd, which has historically pushed back against downhill and freeride trails, has warmed up to the idea of trying something new. "Getting these guys on the new Gravity Logic-built flow trails has helped them realize that bike parks are a fun part of riding as well, and not the 'crazy' thing they imagined they would be."
Porter says his favorite part about the cross-country trails at Deer Valley is that you can take the lift up, do lots of climbing on the trails, but make the ratio of climbing to descending more favorable. "It's a best-of-both-worlds type of scenario," he says. "As far as the resort goes, they get revenue from me with my season pass purchase, as well as frequently eating at the restaurants on mountain, which are a fun, experiential part of a ride."
At Big Sky, where low-cost investments in cross-country trail maintenance in the summer also open up opportunities for fat biking and Nordic skiing in the winter, there's minimal initial revenue from the cross-country bike program directly. "But a portion of the guests that come up for the cross-country trails end up wanting to try the downhill mountain biking," says Baker. "And we're always happy to help them try new things."