January 2012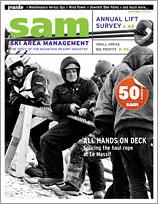 On the Road

SAM Summer Ops Camp, October 2011... BEWI's Boston Expo, November 2011... SAM on vacation.


An interview with Transition Consulting Group.
READ MORE



Lifts 2011--Everyone Wins

With new lifts in every region, sliders of every type are benefitting from a strong year in lift construction across North America.


Summer opportunities.
READ MORE


With a little face time and dialogue (and a lot of beer) the vehicle maintenance guys can get along with the operators...really.
READ MORE



Industry Report

PEAK RESORTS POSTPONES IPO... CNL BUYS STEVENS PASS... NSAA FORMALIZES PARTNERSHIP WITH IMBA... OBITUARY... PEOPLE... SUPPLIER NEWS.



A Seven-Year Itch

Stevens Pass is making its mark on the downhill bike park scene after years of brainstorming and research.



Eco-Tip: Cleaner Sleds, Cleaner Air

Two- versus four-stroke snowmobiles.



Know Before You Go

The folks at Gunstock were eager to get into year-round operations, but knew enough to do their homework before they dove in.



Rocking the Rental World

Areas are actually making rental shops a positive part of the guest experience.



Making More From Less

It's no secret that small ski areas are vital to the overall growth in the mountain resort industry. Here is how three are having a big impact.



Change is in the Wind

The Forest Service is looking at allowing wind power on its lands.



Going Up

Believe it or not, there are guests out there who would rather hoof it up your mountain than ride a fancy lift. Keeping them safe is another matter.



Looking Beyond Winter

Managers seek advice and insights at SAM's Summer Ops Camp.



Construction Site

There was a lot of building activity at ski resorts last summer.



How's Your App-etite?

Mobile apps are moving from novelty to necessity.



Idea Files

Durable maze signs and a windproof heater vent are the latest solutions to come from resorts. Plus, we reprise the Best Idea from 2011.


Mountain Spy Liz Eren goes back to one of our basic questions, and perhaps an area's most important phone call to field...
READ MORE


In fall 2011, executives and managers from almost 100 ski resorts in the U.S. and Canada responded to a survey about their use of several important technologies/services, including social media networks, microblogging services, and resort apps, which their ski resorts employ for promotional and communications purposes.
READ MORE



Blue Pages

THE RESORT PHOTOGRAPHY REVOLUTION... SKIING IN OUTER SPACE... TERRAIN PARKS TO DOMINATE ASTM MEETING... USTPC SUSPENDS CERTIFICATION PROGRAM... LET'S TOAST A GUINNESS RECORD... NEW QUAD AT GULMARG MAY TOP BRECK'S... WINTER REVIVALS... DOUBLE DUTY.