March 2006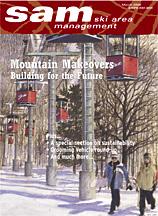 These days, resorts are making a big effort to offer up lifestyle, as well as winter sports. Here's how seven areas are appealing to customers.
READ MORE



Grooming Vehicles 2006

Our annual look at the machines that groom our slopes. The big news? A new big guy on the block, while two other manufacturers go smaller.



Are We Melting?

The first in a special three-part section on sustainability. Here, the issues of global warming and what it means for the industry are addressed.


The second installment in our sustainability section is chock full of great ways to save on energy costs.
READ MORE



Prevent Pollution, Save Dough

In the final article in our series, we take a look at what ski areas in Ontario are doing to address environmental issues and get the word out.



25 Top Products

After cruising through the SIA Show in Vegas, the SAM staff came up with the 25 must-have products in accessories and gear.



Domo Arigato, Mr. Roboto

Is automated snowmaking right for your ski area? The answer: it depends.



Construction Site

A look at what areas around the country were up to last summer.



SAM Idea Files

A tower for snowmaking, a tower for lights and catwalks are some of the great ideas from creative ski resorts.



Industry Reports

Peek'n Peak Sold... Arizona Snowbowl Gets Nod for Snowmaking... Ecoterrorists Indicted... Tremblant Strike Hurts... Obituaries... People... Supplier News... Supplier People.



Blue Pages

Perspective and Views



Speak-Out

Volunteers are a Huge Liability by Peter Pitcher. Time to Revisit Cooperative Marketing by Billy Kidd. Corrections: Lift Construction Survey...Valuation.



Switching On the Off Season

For more and more resorts, summer business is becoming a way of life.



A Better Bowl?

When it comes to summer attractions, some areas are taking a new look at skateboarding. Is it right for you?



Risk and The Internet

Viruses and other security issus are the least of your worries: it's what you say online that can really make you sick.



So Many Questions, So Few Answers

A Rental Roundtable at the SIA Show kicked off a much-needed discussion on rental practices.



Seeking Success at Retail

The SIA Model for Success research says that guests just want to relax and enjoy the mountains. Have we been missing the point?