May 2005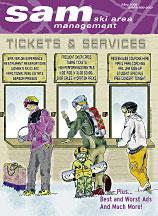 The Best and Worst Ads of '04-'05

Our second annual look at what hit and what missed in resort advertising.



By the Numbers

The habits and preferences of our guests are changing. Do you know what they are looking for at your resort?



Bending the Line

Some obstacles are unavoidable as these lift builders found out. But instead of relocating terminals and towers, these lifts step out of line.


With the marvels of modern technology, area operators can bring the mountain to the home, the office and the courtroom with digital imagery.
READ MORE


Improving upon last year's numbers, resorts posted stronger profits this year, despite a decline in skier visits.
READ MORE



Grooming Vehicles 2005

No big changes in this year's pack of grooming vehicles, but a new entry and some power and comfort upgrades make choosing more difficult.



The New Brand

Websites are more than just a brochure-they are ever-evolving marketing tools that need to cater to every user. Here are some tips.



SAM Idea Files

A locking sprocket, warning lights and glow-in-the-dark steps are some of the great ideas from creative ski resorts.



Speak-Out

The Facts on On-Slope Collisions by Dave Irons. Does Your Website Talk to Beginners? by Mike Smedley. What Beast in the East? by Mickey Sullivan. A Fond Farewell by David Rowan.



Industry Reports

Quiksilver Adquires Rossignol. Mammoth Goes on the Block. ASC Sells Haystack. Sugar Loaf Gets New Owner. Arizona Snowbowl Gets Nod to Expand. Highlest Lift on Hold. NH and CT Want New Statutes. People. Supplier People. Supplier News.



Buying In

It's one thing to espouse diversity in your company, it's another to get employees on board with the plan.



Shaping A Safety Culture

By shifting safety from a priority to a value, ski areas can save money and cut down on the number of on-the-job injuries.



Controlling Quality

Here's a checklist to help serve up the best rental experience.



Blue Pages

AIG: In need of re-assurance? Rent our ski area--please. Miller wins world cup, plans own tour. Reading the signs in the retail audit. Deals keep getting better. Xanadu ski slope faces giants problem. Using the past to predict the future. Short Swings.



A Matter of Extremes

It was a record year in Utah and New Mexico, but a forgettable year in the Pacific Northwest.