Table of Contents
FEATURES

1. HARVESTED JUMPS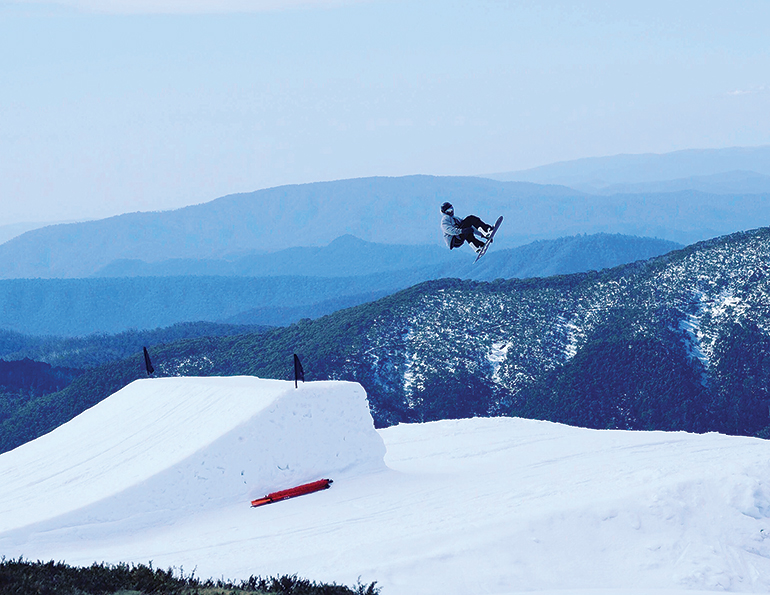 "This feature is nothing out of the ordinary, but the story behind it is," said Tyson Pollard, terrain park supervisor for Mt. Buller, Australia. This jump set, each about 14 meters, was built this year in what Pollard calls a previously abandoned but "picture perfect" location. Australia's north-facing slopes lose snow quicker than other aspects, and due to recent low-snow years and limited cat time, the resort hadn't built a park in this area since 2011. This year, a new grooming manager—a former park builder—had the team build windrows to collect snow early in the season. And the resort invested in SNOWsat snow depth measurement technology, which allowed operators to farm previously hidden pockets of snow. Adaptive management style and new technology combined to do what was previously thought not possible. Rider: David Wosey Photo: Jeremy Abbot
2. TRASH CANS, NOT TREE WELLS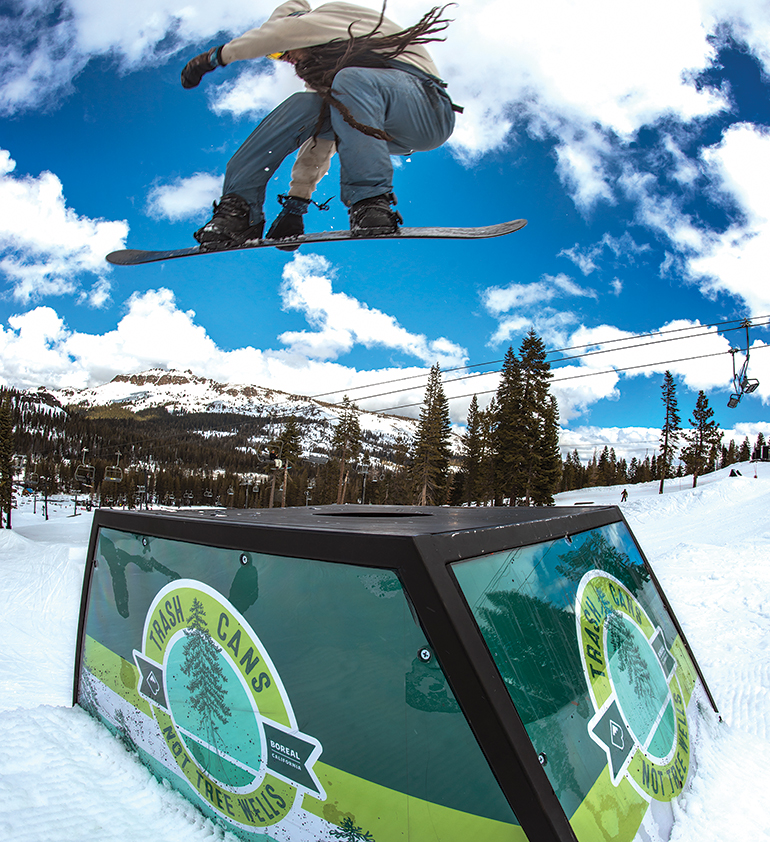 Environmental stewardship was the inspiration for a terrain park feature and campaign called "Trash Cans, Not Tree Wells" at Boreal, Calif. The trapezoid-shaped feature measuring 6.5' L x 3' W x 3.5' H took builders at Woodward three days to fabricate. Its size made it super mobile and install time was only about 30 minutes, so the crew relocated it several times throughout the season to help spread the word. There is an actual trashcan inside the feature, and guests used it regularly. When the receptacle filled up, the park crew would empty it on their nightly grooming run. Photo: Jake Pollock
3. LODGEPOLE PINE RAIL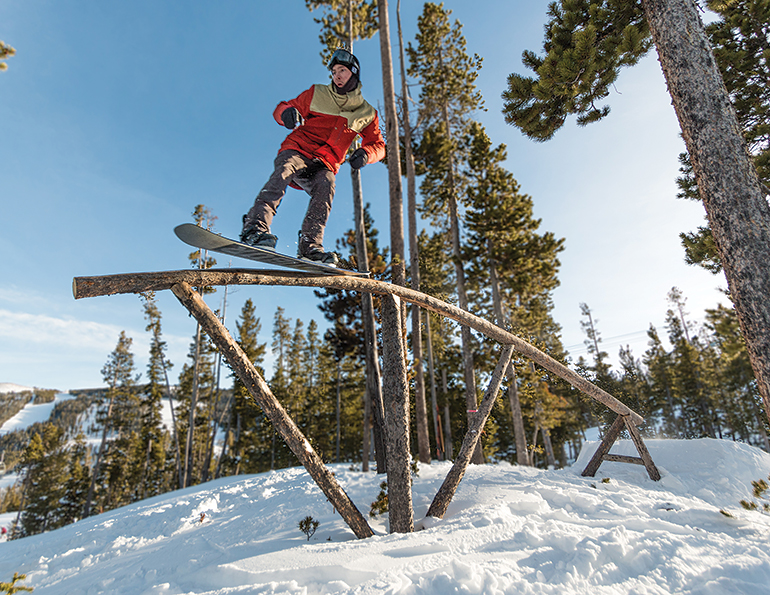 The Big Sky, Mont., park crew had been on the hunt for the perfect jib, one formed by Mother Nature. And two summers ago, they spotted this bent lodgepole pine from a cat road. The crew relocated it to The Cache park, where the crew cut and peeled the 30-foot-long pole with a chainsaw and drawknife so it was rideable. They secured the jib to the chopped trunk of another tree using countersunk lag bolts, so the feature is, in a way, rooted to the mountain. Nine feet high at the midpoint, the jib is located on a natural roller with a long powder landing. Total build time was about four hours.
4. PUT A COAT ON IT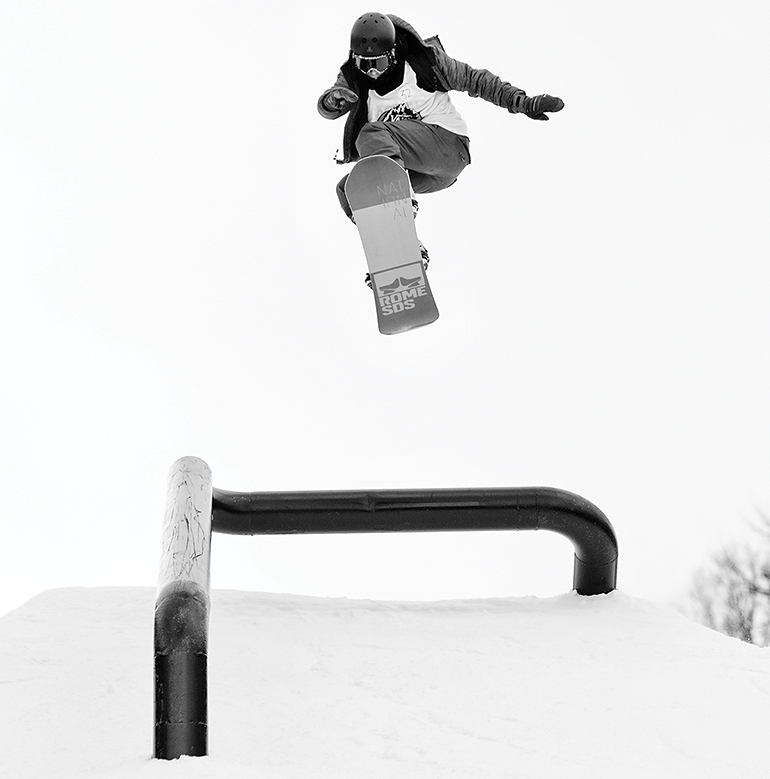 A heap of weird, bent pieces of 8" scrap snowmaking pipe left over from Mount Snow's recent upgrades got fabricator Rory Bruder thinking creatively. "It started as just a close-in to down bar, but then we thought about kicking the front leg back and putting some angle on it for a polejam close out," says Bruder. He built it with no middle leg under the close in/close out. He made the support frame with 2" X 4" square tubing. As a result, he calls it the "hanger rail," because the 6-foot close in/close out of the 25-foot-long feature is basically floating, sans base. It took three days of fabrication using a welder, plasma cutter, and grinder, and four hours to install on snow using one PistenBully Park Pro and two diggers.
5. COOLER THAN COOL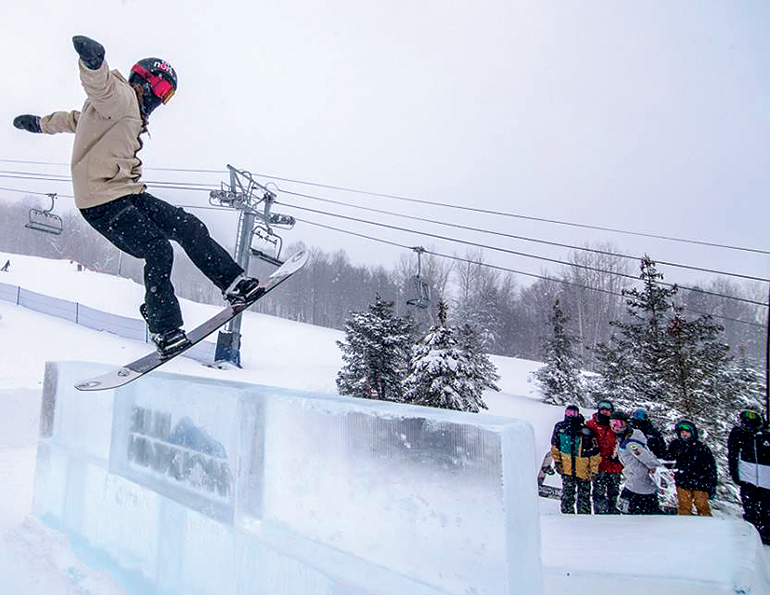 The Frozen Rail Jam has been the season-opening event at Blue Mountain Resort in Ontario, Canada, for years. Last season someone said, "Let's pay homage to the contest's name—let's make a rail out of ice." After calling different ice-carving companies, the team found one that could actually do it. The result: a 16-foot-long, 10-inch wide, 36-inch tall, 600-pound block of ice. The feature arrived on three skids and was carefully moved by a front-end loader with forks to the event site. It took one cat and three shapers to build the setup, with two of the 10 total build hours spent on setting the ice rail. There was no risk of it melting for the event—temps dipped to -30C (-22F).
6. SET IN STONE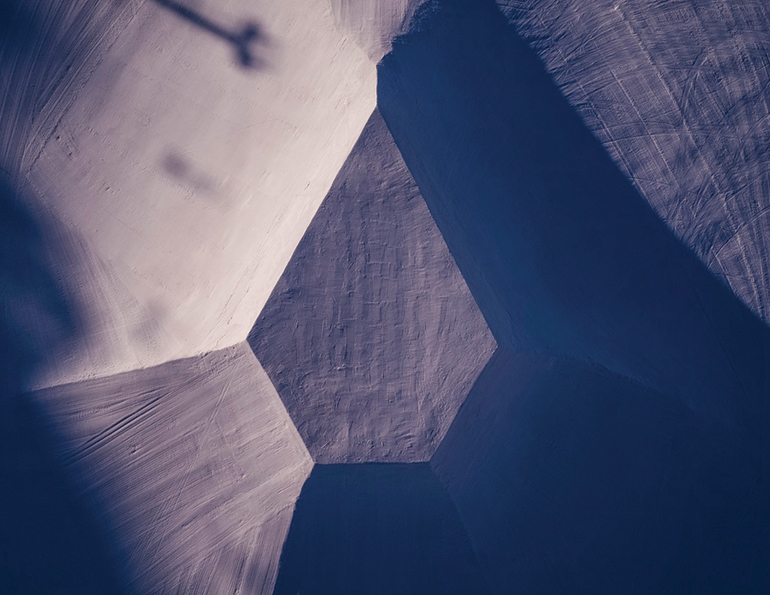 Volcom Snow marketing manager Seth Huot and his team worked with the crew at Falls Creek, Australia, to create the Volcom Stone out of snow for a photo shoot. To meet precise dimensions, Falls Creek head park builder Bailey Mitchell and SPT's Chris Castaneda took measurements of the site, so when the snow flew starting in August they knew what needed to be done. The team spent a month farming snow and prepping the area. After they built the rough "stone" and took several more measurements to make sure they got it right, they began shaping. It took two weeks to build the feature using a Pistenbully 400 Winch Cat and a 200 Park Cat, and park crew using vert shovels to establish the sharp edges of the stone. From tip to takeoff, the stone is 80 feet long, with three takeoffs of multiple angles. Photo: Vernon Deck
7. MINI BOWL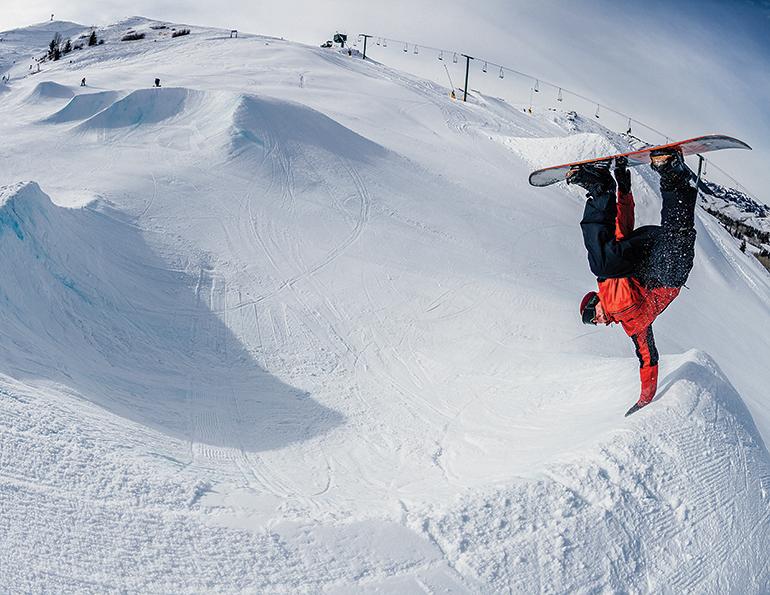 A centerpiece of Sun Valley's skate-park influenced Trestles Park is a half-bowl/gap jump/hip hybrid they call Mini Bowl. The name derives from the feature's relatively tight radius and the mini excavator used to build it. The resort's 22-foot Zaugg was too big to get into such a tight space, so they parked a mini-X in the center of the flat-bottom and dug the coping and transition. It took several hours for a crew of three or four diggers to finish, using string lines, vert shovels, and rakes. Skiers and riders of all abilities used the Mini Bowl in a variety of ways. Rider: Jeremy Black Photo: Tal Roberts
8. UNDER THE RAINBOW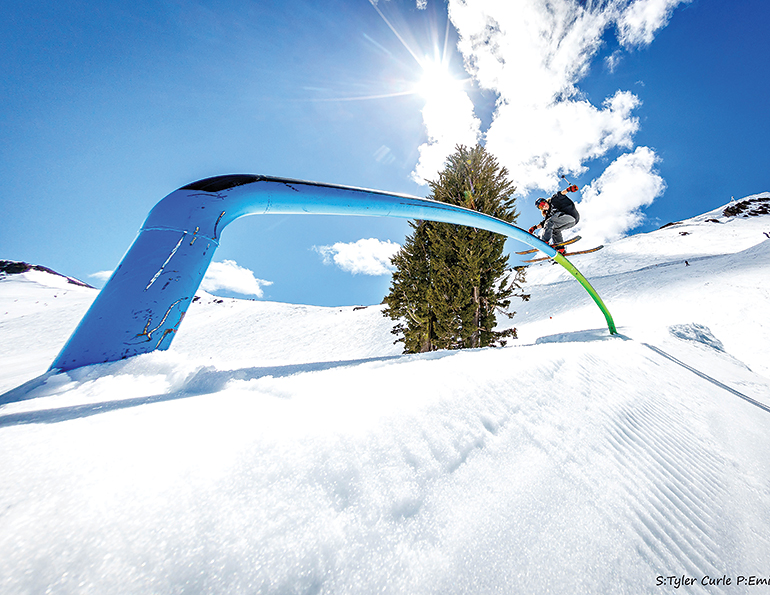 This 25-foot-long, 6-foot-tall rainbow rail was a staple in the larger lines of Squaw Valley's Gold Coast Park. The feature was fabricated in-house, with no skirting to make it lighter-weight and easier to relocate, which the crew did three or four times during the season. This also allowed for greater creativity for photography. As a result, terrain park manager Jess Richitelli says, "It was by far the most photographed feature in all of our parks. Wherever we set it up, the backdrops were stunning." Such as Squaw's famous Siberia Bowl here. Rider: Tyler Curle Photo: Emily Tidwell
9. BONFIRE AXE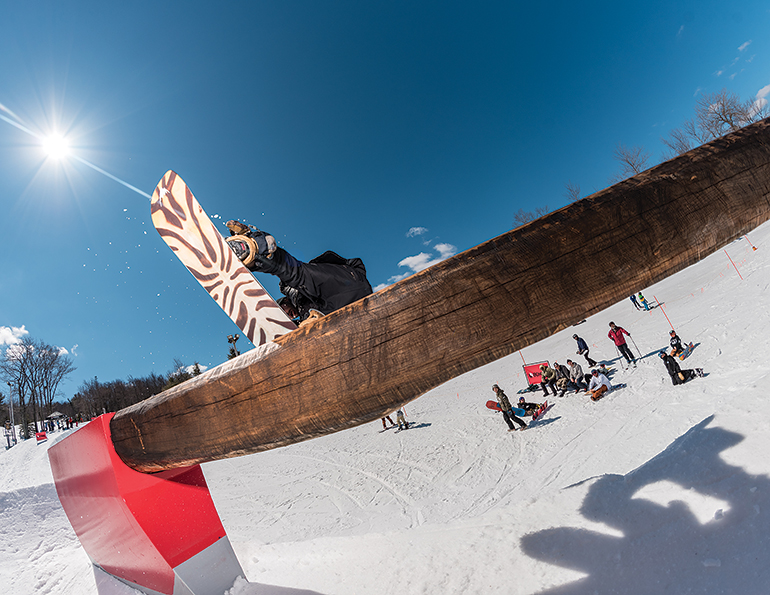 Big Boulder Park, Pa., director of freestyle terrain Pat Morgan and Tim Swart, then of Bonfire, collaborated on the idea for the Bonfire Axe, and sketched one out on, yep, a cocktail napkin. Built in-house over the course of two weeks, the 20-foot-long feature has a 16-foot handle made of wood sourced from a local tree service, and an axe head made of steel sheathing on the outside, with heavy metal inside for balance. An I beam connects the two parts, built into each for a secure fit. A wide metal sub frame stabilizes the feature, but is buried in the snow when it's set. The unique element spurred its own event, the Bonfire Axe Jam, for which the crew sets the axe at the base of a mini-pipe. Rider: Kyle Earl Photo: Shawn Kalatucka
10. CHIMNEY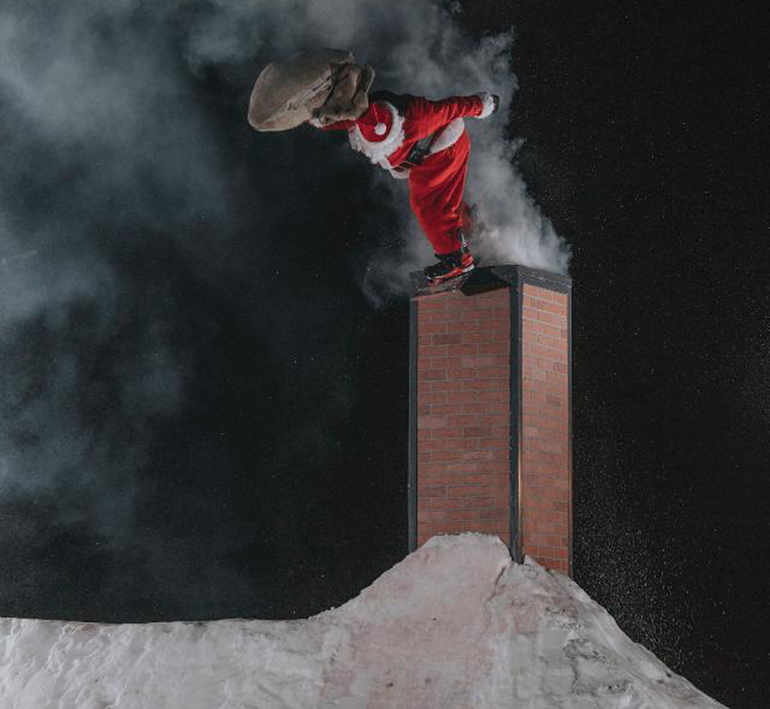 Pro snowboarder Johnny O'Connor and park crew member Justin Aloisi devised the idea to add a chimney feature for Windham Mountain's (N.Y.) annual "Nightmare Before Christmas" event. The team came up with a simple design that took about 8 hours to design, fabricate, and paint. It consists of an outer frame with two-inch square stock and angle iron ribs. Half-inch plywood with brick paneling was laid flush with the coping, and all the pieces are bolted together. The feature is 8' H x 2' W. The crew installed it on the corner of a bowl, and skiers and riders treated it like a wallride. The feature stayed in place in our largest park, "Wilbur," for the rest of the season.
11. SCENIC WALL RIDE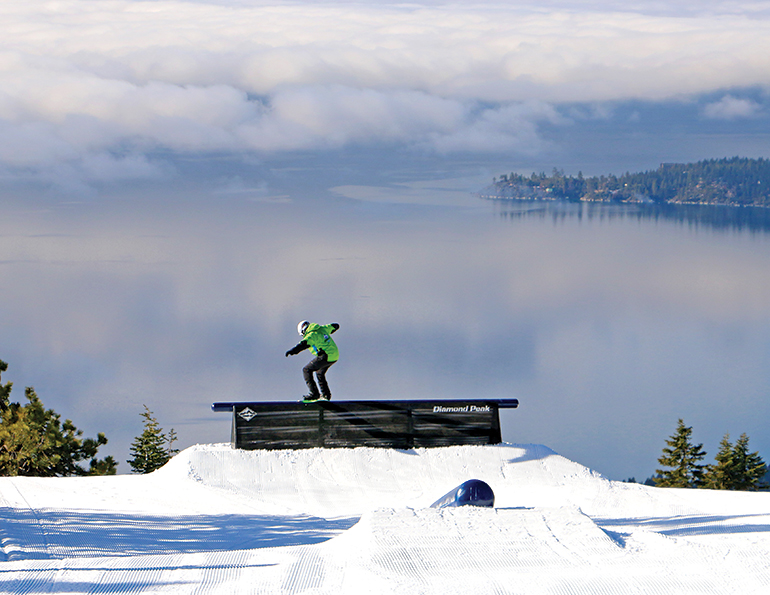 Built for Diamond Peak's new Lakeview Terrain Park, this A-frame wall ride was initially installed on Crystal Ridge at the top of the mountain due to limited opening-day terrain. This photo was one of Diamond Peak's top photos on Instagram for the season. The location proved so popular, thanks to the views, that the resort kept some features on Crystal Ridge all season. The wall ride, built by Tim Hay, is 16 feet wide, with skate-style 20-foot coping made of 6-inch round pipe. The slide surface is perforated steel. The result is a mellow, feature that's inviting to beginners and fun for advanced riders. Rider: Eric Kertzman
12. ZIG ZAG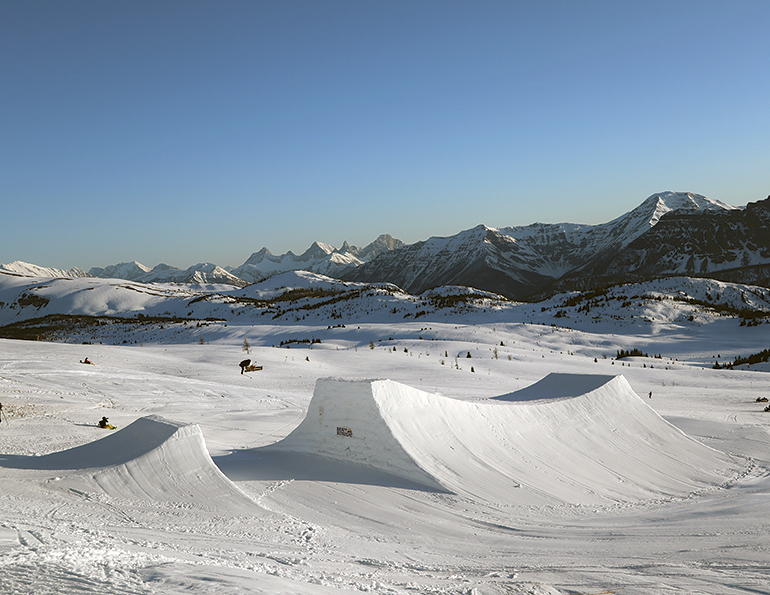 Sunshine Village created this feature for Level 1's 2018 feature film "Zig Zag." It reprises the much-loved "Excite Bike" jump, based off an old '80s motocross video game with lots of doubles, step ups, and step downs, which appeared in Level 1's 2010 movie. The feature itself is a step up into a cradle which shoots riders into a step down. To set the feature apart from the 2010 version, the crew cut out the snow between the gaps to enhance the size. The location provided ample speed for the feature along with some stunning backdrops. It took 40 hours to build and shape the feature using one PistenBully Park Pro cat, one PB400 winch cat, a chainsaw, string line, rakes, vert shapers, and several park crew. Photo: Ben Suurallik
13. CARRIE UNDERWOOD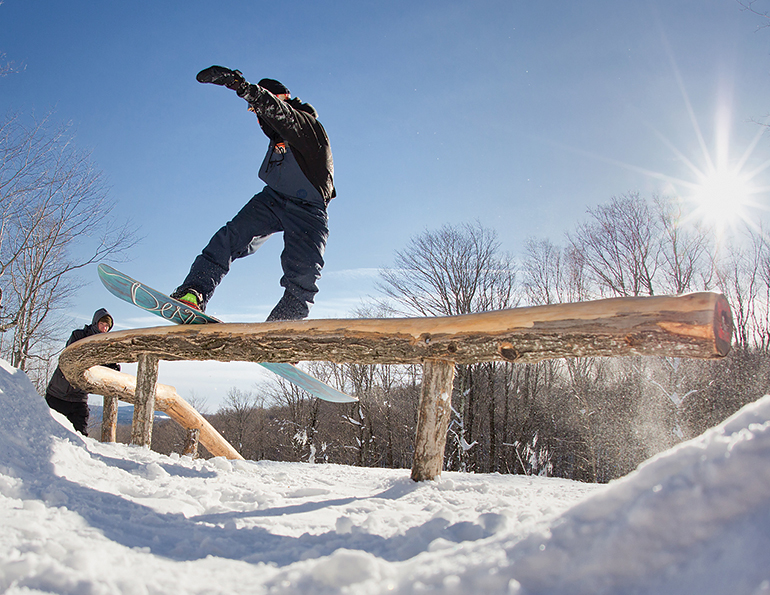 Carinthia at Mount Snow's Prospector park has long been the place where the Carinthia diggers take natural wood features to the cutting edge of what's possible. Rob Black saw this cool tree, harvested from a trail expansion project and destined to end up as wood chips or firewood, and set it aside for park use. The feature is 28 feet long, made with two six- to eight-inch diameter logs, a 19-foot s-log and 9 foot down log. It took one and a half weeks to fabricate, using a chainsaw, draw knife, orbital sander, and drill set, and just two hours to install via snowcat, rakes, and shovels. "We built this feature to challenge the best log sliders out there," Black says.
14. QUARTERPIPE TRANSFER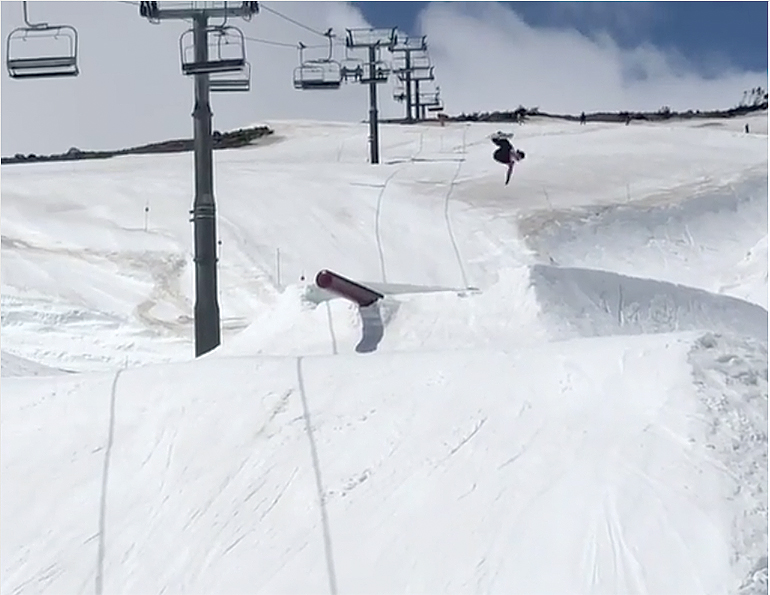 At Mount Hood Meadows, this combination of two 18-foot quarter-pipe transfers, whale tail, and lift tower cannon in the Vista Park gave terrain park guests numerous approach options. It was conceived by Brendan Foley, and constructed in two shifts with support from the full park team. The 125' tower is located in an area known as the Great Drift, which loads with up to 75 feet of snow during storm cycles; afterward, the resort has to dig out the tower and push snow into the park lane. What to do with all that snow? Construct a large snow-hogging feature to both improve operational efficiencies and provide a unique experience. Various vehicles contribute to the build, including several PistenBully Park Pros, a PB 400 winch, and Prinoth Sherpa winch with an 18' Zaugg.
15. BUTTERY COMBO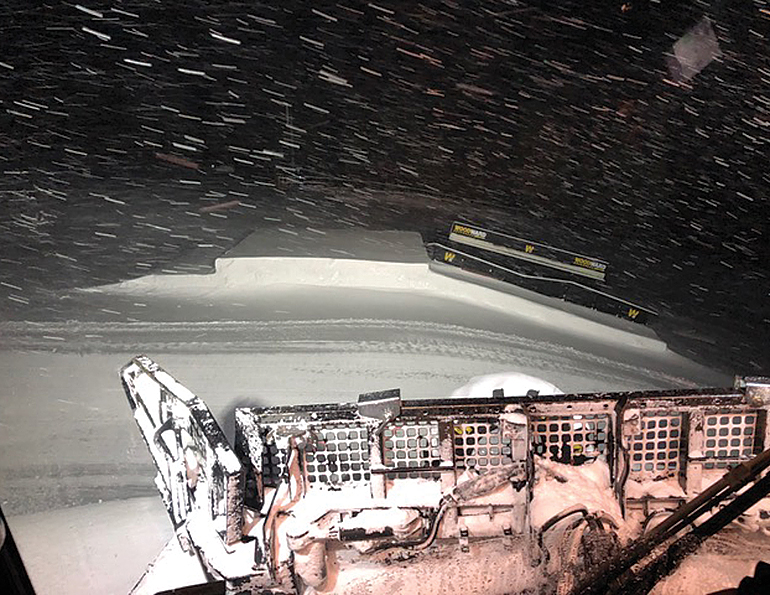 This feature, built by Copper Mountain's Chris Cracraft for The Launch—an annual photo shoot event by Snowboarder Magazine—proved so popular the resort kept it open to the public all season long. It was inspired by a similar feature in the 2018 Olympics, but tweaked to be more difficult. It consists of a step-on butter pad to either a 25-foot-long down-flat-down square bar or a 20-foot-long creeper ledge—in all, a 20' X 65' creation. Located in Copper's large Central Park, it took four hours to build with a PistenBully Park Pro, chainsaw, and lots of shoveling.
16. TRIFECTA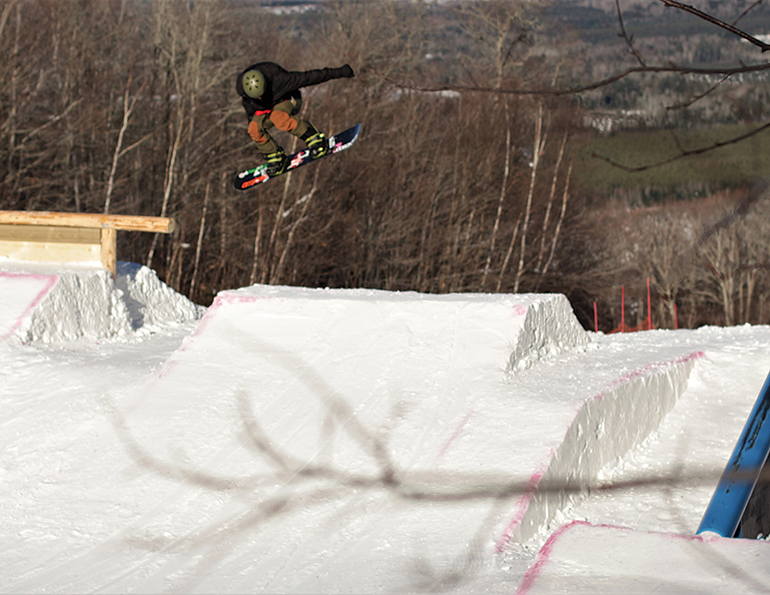 Crabbe Mountain, New Brunswick—in particular, Ryan Jennings, Matt Miller and Ryan Somerville—built this log/spine/jump setup in Dave's Jib Park for Roast Beef and Rails, the area's opening event. It is three groomers wide (45 feet) which makes day to day maintenance, well, work. Setup time was approximately 2-3 hours, using a Bombardier 275 to transport, place features, and shape. Crews fine-tune with park rakes and a cutter blade for the edges. To keep everything looking square, orange rope along the edge guides the cuts. Crowds travel from all over Atlantic Canada for this annual event in what is often the region's first park to open for the season.
17. SPLIT TOWER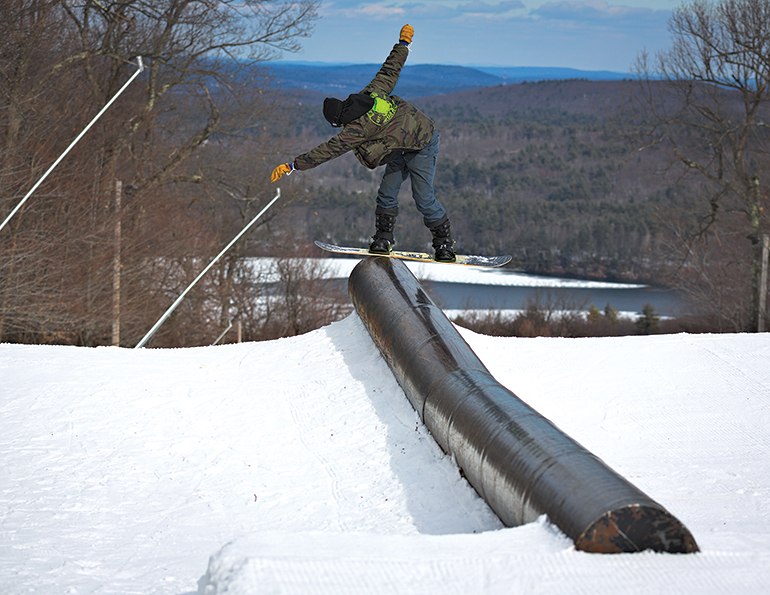 A few summers ago, Wachusett (Mass.) Parks staff cleaned up and repurposed a lift tower, giving it new life. Crews first cut it into two 10-foot tubes, then introduced the sections into the park in a variety of ways—and they have become the area's highest-traffic features ever since. All it took was permission from mountain ops to chop up old tower, a few hours of grinding to smooth the sections, and a fresh coat of paint. Endless setup possibilities, combined with the low consequence of riding this pair of features, invites everyone from park newbies to seasoned freestyle skiers and riders.
18. THE FUN HOUSE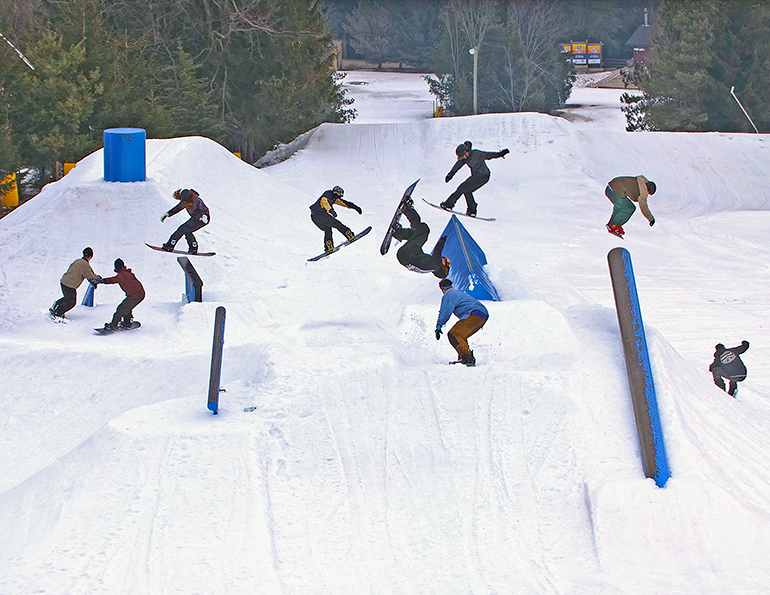 At the end of last season, Beaver Valley (Ont.) snow parks manager Caleb Bosse collaborated with pro snowboarder Ben Poechman to build this multi-element feature using leftover snow from a large step-up jump. The park crew pushed out the snow and built a contoured bowl-shaped edge on riders' left and a large hip landing on the right. In between, the team set a variety of elements, including a 35-foot lift tower used as a cannon tube. Others included a stairset down rail, "A" wall rail to drop, flat bar, with a variety of transfers, blending all of these components into a single progressive feature. Bosse used a Prinoth Bison X during the three-day build, and the crew set the rails and did the hand shaping. Once it was done, a crew of riders came to Beaver Valley for a photo shoot that produced some quality edits—despite some challenging weather—and a mini-feature in Snowboard Canada magazine.