SAM Magazine—Newry, Maine, Nov. 20, 2020—Resorts have had to get creative with their formerly indoor, packed-room staff orientations. Sunday River, Maine, has gone the drive-in route.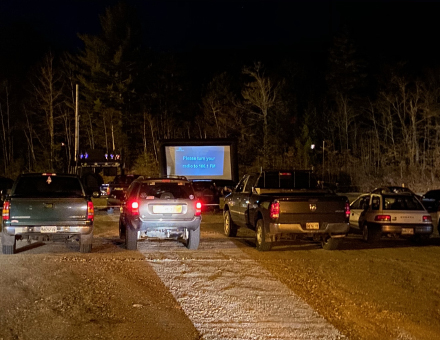 The evening of Nov. 17 saw the first of at least five drive-in staff orientations at the resort. Each will have about 50 cars, and staff members who live in the same household are allowed to attend in the same vehicle. The resort set up an inflatable projector screen at one end of the parking lot, and audio from the video presentation and live speakers is transmitted on an FM radio frequency directly to staffs' cars.
Communications director Karolyn Castaldo provided SAM with the details:
"We use a low-power micro FM transmitter that allows us to cover four rows of vehicles in a flat, open parking lot. These can be found on Amazon or any other similar website. We use a 30-foot blow-up projection screen with rear projection capabilities to allow a clean set up in the front of the screen. Tie downs are a must, as any wind over 8 mph will give the screen some issues.
"We pair this system with our events and competitions mixing board to allow microphone pass-through for our HR director and GM to communicate with the team. An HDMI cable was fed from a laptop into the projector. From the projector, we used the audio-out connection and ran a 3.5 mm cable into our mixer. The mixer then ran another 3.5 mm audio-out cable to the transmitter.
"When the team arrives, we have the FM channel they need to tune into on the screen. To confirm team members are receiving the signal, we ask them to turn on their headlights. If a set of headlights aren't on, someone goes over and confirms the channel with them.
"Orientation is 30 minutes long. There is a text-in system for live Q&A. All team members were also asked to submit questions through a form when they signed up for the orientation they planned to attend, so there is a live component at the end! Super proud of our team for this creative approach!"
An orientation video has also been produced for staff that come on later in the winter or can't make it to one of the drive-in events.
Castaldo said Sunday River's new GM, Brian Heon, is taking the opportunity to walk through the parking lot and introduce himself to all team members during these orientations. "He started with the resort when many of our team members were working remotely or had finished their winter season, so this is a great way to put a face to the name for a majority of our returning team members," she said.