Table of Contents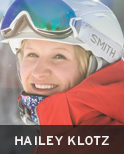 Hailey Klotz
Title: Content Director, Ski Utah
Age: 29
Hailey Klotz has been at Ski Utah since she secured an internship there in her final year of college. Over several years, she worked her way up from communications intern to content director. She now oversees all photos, videos, blogs, and social media produced by Ski Utah. During her time there, Hailey has doubled the organization's social media following and dramatically improved its email open rate. She also won the coveted Yeti of the Year, awarded each season to the first employee to ski all 15 resorts in the state. An avid skier, Hailey grew up in Boise, Idaho, where her family owned a ski shop. "I love being in the mountains," says Hailey. Something she also loves: Deer Valley Resort's chocolate chip cookies. "You want to get there when they are fresh out of the oven."
What leadership traits do you admire?
Patience is the number one thing for all leaders. And, being able to listen really well. That is something I've tried hard to focus on in the last few years—to listen to what my colleagues need, are asking for, or are saying. That is something I really admire in our leaders at Ski Utah and hope to pass on to those around me. The third trait I would add is to stay in touch. It can be as simple as taking a different route through the office to say hi to someone different, or scheduling one-on-one meetings.
Describe a challenge you've encountered and how you overcame it.
The whole Covid-19 pandemic has been, obviously, one of the biggest challenges anyone in this community will face in a long time. I think looking at it with patience and looking at it as an opportunity was important. I've looked at it as an opportunity to create types of content we haven't created before.
Tell me something you learned during the pandemic and how you can apply it in the future.
Flexibility. I'm such an organized person and a planner. And, in a time like this, to plan summer or winter content is actually quite difficult. I've really learned to think on the fly in terms of producing and sharing content. If you'd asked me three months ago what we'd be producing now, it definitely would not have been what we have done. But I think we've done an excellent job in continuing to engage our audiences. We've shifted to focus on inspiring and educating people rather than promoting.
What long-term changes do you see for the industry with COVID-19?
From a Ski Utah perspective, we are anticipating that the drive markets will increase. People will be more likely to jump in their car to drive to a resort rather than hop on an airplane. So that is something we are looking at carefully. And I think travel insurance and refund policies will change as well.
How have you been passing the time during isolation?
I went to Hurricane, Utah, and found one of my most favorite mountain biking places I've ever been, so that was really cool.