SAM Magazine—Pinedale, Wyo., January 19, 2022—The owners of Lakeside Lodge in Pinedale, Wyo., Audrey and Kyle Odermann, have entered into a contract to purchase all assets of nearby White Pine Ski Resort from majority owners Robyn and Alan Blackburn, pending issuance of a new U.S. Forest Service special use permit for the new owners to operate White Pine.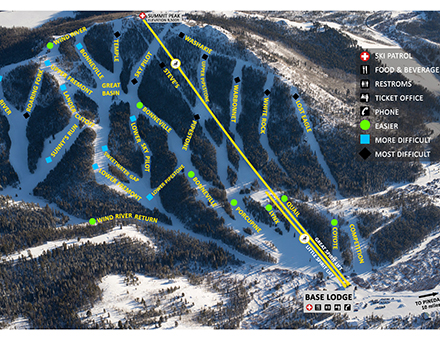 The resort operates within the Bridger-Teton National Forest. Specific terms of the deal were not disclosed. 
Audrey Odermann, who serves as Lakeside Lodge managing partner, will take a similar advisory role at White Pine.  
"We are excited for the opportunity and privilege to operate such an important recreational destination for the surrounding community," said Odermann. "White Pine is an important part of our winter operations and we have enjoyed our partnership with Alan and his team since our first days at Lakeside. The purchase is a natural extension of our business strategy to provide recreational opportunities in the area."
White Pine shares many business synergies with Lakeside Lodge. "Already we have many skiers that stay in the Lakeside Cabins, and we also work together on summer activities, such as weddings and horse camps," said Alan Blackburn. 
Odermann looks forward to "integrating the White Pine team with our staff and leveraging best practices across both platforms." 
Blackburn and White Pine general manager Katie Lane will continue to lead White Pine's team through the summer and will assist in the process of obtaining the necessary USFS approval associated with the transfer/issuance of necessary permits. 
"We are particularly excited to retain Katie as general manager," said Odermann. "From the start of our analysis, it was clear that she would be a key asset in the ongoing success of the operations. Katie has a proven track record in managing the ski operations and we look forward to her being a part of our team as we explore ways to grow the summer operations." 
White Pine is in the process of building a new base lodge to replace the lodge that was destroyed in a July 2019 fire. Construction is expected to be complete prior to the anticipated acquisition closing this summer. Despite the operational challenges of losing the lodge, White Pine has operated continuously since. 
The ski area has 29 trails served by two lifts, and a third lift serves the tubing hill. It also has 35 km of Nordic ski trails. In summer, White Pine offers horseback riding, backcountry fishing, and has a full campground with tent sites, tipis, and cabins.