Thinking summer? You'll appreciate these articles from SAM and our sister publication, Adventure Park Insider (API), to help keep your summer business operating smoothly and successfully. Want more? Check out the SAM Digital Archives and search "summer."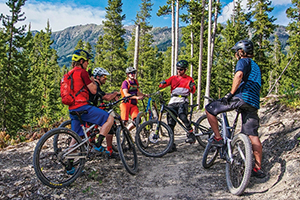 Looking for mountain bike specific content? Check out our mountain bike page. 
---

SAM March 2021
These fun, welcoming, and revenue-driving activities and attractions could be just the ticket for boosting summer business. 
---

SAM July 2020
Wondering about safety measures in response to the COVID-19 outbreak, the Mountain Spy asked, "I hear you're open for summer activities and I'm interested in visiting. Is there anything I need to know before coming?" The answers were eye-opening. 
---

How do operators adjust their marketing and sales? How are other industries dealing with the impacts of the pandemic? How do we communicate with guests and what messages should be out in the marketplace? We've turned our Huddles into podcasts on PodSAM. Listen up to find a treasure trove of information and insights on a variety of topics—all aimed at helping the mountain resort and aerial adventure industries do business during a pandemic.
---

API Summer 2020
This article explores how to transition from COVID-19 management to recovery by building your brand community from the local market out.
---
Sponsored Video: Revl X for Ziplines and Mountain Coasters from Revl on Vimeo. 
---

API Fall 2019
Aerial adventure park operators are in the business of providing an experience that is all about, well, experience. Once that experience is over, though, helping guests relive it through shareable video can pay off big time.
---

SAM January 2020
These popular European activities are beginning to make their mark as summer attractions at North American ski areas.
---

In the summer issue of API we explore how to sanitize your gear, new products to ensure safety of employees and guests, online training, contactless transactions, cancellation policies, and much, much more.
---

SAM January 2020
Inlcusive and customizable, netted activities are catching on in a big way.
---

SAM March 2020
As more and more ski resorts expand their summer offerings and become year-round destinations, they are rolling out year-round passes good at all of their attractions, all year long.
---

The spring issue of API explores waivers, working with local media, DIY tree care, recordkeeping, your digital audience, advanced rescue devices, and much, much more.
---

SAM January 2019
Summer visits and revenues are increasingly important, but rapid growth is also challenging resorts—and resort communities—in unimagined ways.
---

SAM January 2019
When everyone has "stuff," how can a resort offer a unique experience? Differentiation through programming and branding are key.
---

API Spring 2019
If your business operations include welcoming and working with children, you must be diligent and step up your standard of care. Working with kids requires special efforts.
---

SAM May 2018
Aspen Snowmass put a great deal of thought, and plenty of investment, into its broadly appealing summer attractions.
---
API Winter 2019
In a world where urban dwellers are becoming less connected to the outdoor environment, adventure parks provide a way for people to connect with nature.
---

API Fall 2018
Ninja courses are beginning to pop up at a host of different types of facilities and properties from coast to coast.
---

API Fall 2018
Detailed planning can minimize surprises and disruptions. It's always what you don't know you don't know that causes problems.
---