Get six yearly issues of SAM magazine, plus digital access, and discounts on event and programs.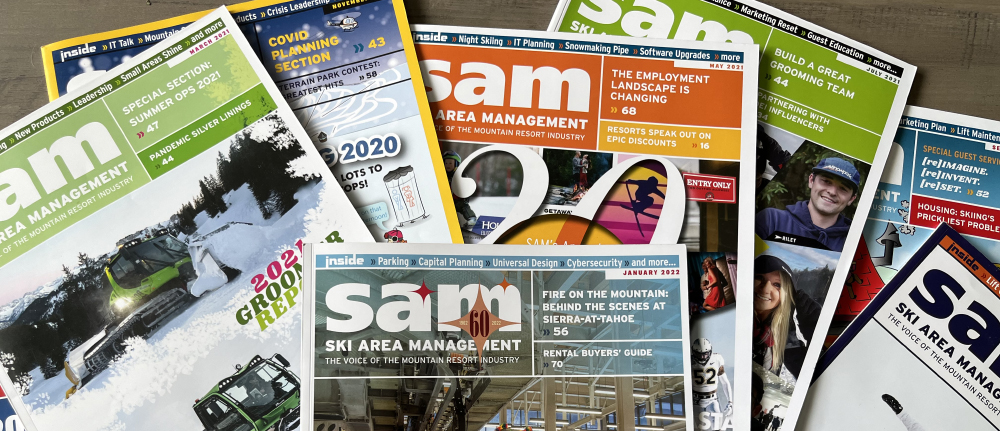 SAM is here to support your team as a resource. A subscription to SAM includes:
Six issues, annually, of SAM (Ski Area Management)
Access to the SAM Digital Archives, and PDFs dating back to 1962
Discounts on events and educational programs, like the Summit Series Leadership Bootcamps.
Headline News
and more!
Tell us about yourself! I am looking for:
---
What subscribers say about SAM:
Mike Kaplan, General Manager of Aspen/Snowmass, CO

"The ROI [of a SAM subscription] is typically realized with the implementation of one small idea, or the reduction in research time spent by staff on items that are covered by articles such as summer activites, the lift survey, or something else we are working on that has been covered by SAM."

Trevor Bird, General Manager of Hilltop Ski Area, AK

"I appreaciate everything you guys are doing to get information into our hands to help make decisions for the upcoming season."

Kris Blomback, General Manager of Pats Peak, NH

"SAM is a great forum where people can "trade" stories back and forth. I use the magazine and website almost everyday to help smooth our operation. As soon as that new issue hits my mailbox, everyone knows not to come interrupt me until I have finished reading it!"

SAM Subscriber

"Cutting edge information, fresh and informative! Much more then a magazine, a large contributing partner to our industry."

SAM Subscriber

"SAM serves as a touchstone for ski area operators. It reminds us of our successes and failures -- opportunities that have been capitalized upon and also those that have slipped through our fingers. It remindss us to value our people, which I think is important."