SAM Magazine—Tannersville, Pa., Jan. 25, 2022—Camelback Resort and Winter4Kids have partnered on a new initiative to support skiers and snowboarders from diverse economic, racial, and ethnic backgrounds.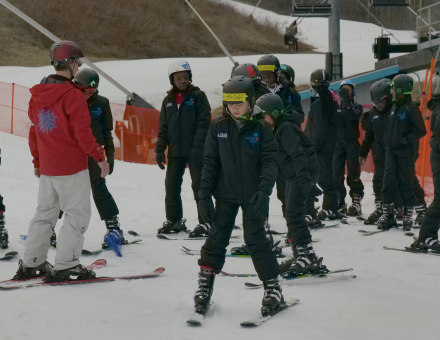 A beginner lesson at Winter4KidsThe initiative will provide three years of season passes, and other opportunities, to graduates of the Winter4Kids program. 
Winter4Kids, based out of the National Winter Activity Center in Vernon, N.J., is a non-profit that provides children with a multi-session, multi-year program offering experiential learning, healthy meals, equipment, clothing, and mentoring. Since its inception in 2015, more than 10,000 children have participated.  
In an interview with SAM, Tim Bayer, vice president of facilities at Camelback, and Schone Malliet, president and CEO of Winter4Kids, expressed their hope that this partnership will transform lives and serve as an example of how the industry can grow the sport and diversify participation. 
"The goal is to continue to give participants of the Winter4Kids program and their families the opportunity to find joy in the outdoors and develop healthy lifestyles," said Malliet. "Feeling welcomed by a mountain community can be extremely beneficial to the youth that graduate from Winter4Kids. It can be life-changing, even life-saving."
The partnership offers new opportunities for Camelback as well. "We, as an industry, have been pretty static on participation every year," said Bayer, "but Schone and Winter4Kids have tapped into a whole demographic that have barriers to entry that we want to help break down. These are new guests for not just us, but the industry. It's a win for everyone."
The initiative will launch in late winter 2022 with an inaugural Winter4Kids Day kickoff event at Camelback. Camelback will host the 2021-22 Winter4Kids graduates alongside their families and Winter4Kids staff. In addition to the welcoming event and presenting passes to the graduates, Camelback is planning to offer special events for the group and their families in summer 2022. Their season passes also include discounts for summer adventure park and waterpark activities.
Program engagement levels will be measured using RFID gate technology to track usage of the passes. Ongoing communication with recipients will also include surveys on how passes are being used and the user experience at the mountain. Camelback also hopes to gauge participants' interest in job opportunities at the mountain in areas such as snowmaking, ski patrol, and lifeguarding. 
The partner entities will also continue working with the schools, clubs, and local youth groups in the Winter4Kids network to organize trips. Winter4Kids will leverage its transportation fund to create more opportunities for participants to visit the mountain. Camelback also aims to offer discounted or donated equipment to participants.