SAM Magazine—Salt Lake City, Utah, March 23, 2022—The winter and summer Outdoor Retailer trade shows are headed to Salt Lake City, returning to their former home after five years in Denver.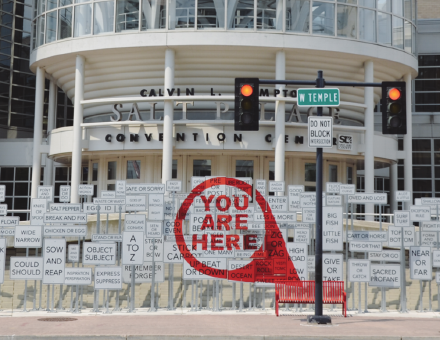 The OR shows will be held in January and June at the Calvin L. Rampton Salt Palace Convention Center. Dates will be determined in the coming weeks.
Emerald X, the company that owns and operates the shows, made the decision after exploring its options and surveying outdoor industry members. Its current contract with the Colorado Convention Center in Denver expires after the summer OR show in June. Both winter and summer shows had moved to Denver for the past five years, and the winter show incorporated the former SIA Snow Show after Emerald purchased the SIA event in 2017.
"After much deliberation and input from all sides, we've decided the best move for Outdoor Retailer is to return to our basecamp," said OR show director Marisa Nicholson and Emerald group VP Jeff Davis in a statement. OR received input from more than 1,500 attendees and 2,000 exhibitors regarding its options. "The decision involved many factors, but the overriding reason is this is what the majority of the industry wanted," Emerald explained in a FAQ about the change.
One of the reasons OR left SLC and Utah was the state's push to reduce the footprint of public lands in the state, an effort that was vigorously opposed by many members of the Outdoor Industry Association (OIA), which advocates for greater access to the outdoors and expansion of public lands. Some OIA members have said they will not return to the shows if they move back to Salt Lake City, so the exhibitor list for the upcoming shows will bear watching.
In OR's view, the political situation in SLC, if not Utah generally, has changed sufficiently to make a return possible. "We have a strong relationship with Salt Lake City and a committed partner in Mayor Erin Mendenhall, whose values align with ours following tremendous investments in clean energy and a strong commitment to public lands. This proved to be a real turning point in our recent negotiations," Nicholson and Davis said.

Their joint statement also noted that cultural and political differences remain, and that OR will continue to push its agenda. "Significant work is required to achieve change, so we are dedicating resources to making progress," the OR duo said. That includes funding programs to support outdoor recreation and protect public lands, and creating a Business with Purpose initiative to bolster advocacy efforts with local, state, and federal officials.
In another nod to the outdoor community, the OR organizers said they are "working to provide valuable experiences in Salt Lake City and County for you to effectively and efficiently contribute to the sustainable growth of your business." That includes "redefining Outdoor Retailer to meet the needs of the growing outdoor recreation economy, adding channels for the industry to interact directly with consumers, and conduct commerce with buyers year-round. We're moving beyond the walls of a convention center." Details will be unveiled at the OR summer show.