SAM Magazine—Burlington, Vt., April 29, 2022–Ariel Quiros, the former owner of Jay Peak Resort, was sentenced to serve five years in prison and pay more than $8 million in restitution for his role in a "Ponzi-like" scheme that misused $200 million of EB-5 investor funds raised to support capital projects at Jay Peak and Burke Mountain, as well as a biomedical research center in Vermont's Northeast Kingdom.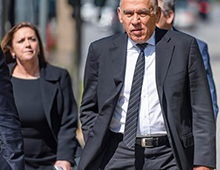 Projects at Jay and Burke came to fruition, but the biomedical research center never did. 
Quiros, a Miami developer, pleaded guilty in August 2020 to three of dozens of counts against him, including conspiracy to commit wire fraud, money laundering, and concealing of material information. Under the plea deal he reached with prosecutors, Quiros could have been sentenced to up to eight-years in prison.
Quiros was indicted in May 2019 along with Bill Stenger, then the president of Jay Peak, and Bill Kelly, a longtime friend and adviser to Quiros. Stenger and Kelly were both sentenced to 18 months in prison for their respective roles in the EB-5 scheme.