SAM Magazine—Cambridge, Vt., June 2, 2022—Many of North America's resorts opened later than they would have liked this winter, but a few standout areas made up for the deficit and leveraged late-season snow to offer late-season turns. There are a still a handful of resorts across the country operating after Memorial Day Weekend, and a few honorable mentions as well.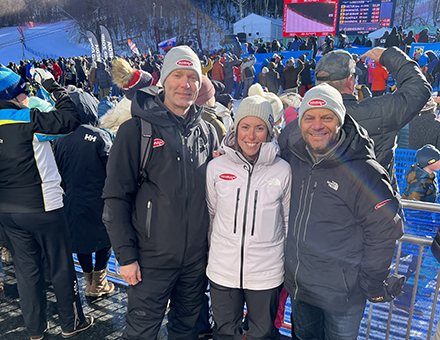 Credit: Killington Resort, Vt
East
Shattering the unfavorable perception that East Coast resorts have short seasons with minimal snow, Killington, Vt., continues to uphold its commitment to offering the longest season in the East: its closing weekend this year is June 4-5, making this its longest season since the record-breaking 1996-97 season when closing day wasn't until June 22. Throngs of East Coasters are expected to flock to the central Vermont resort for last laps on the affectionately-named "Superstar Glacier." Killington credits updated snowmaking technology for its ability to lay down 30 feet of snow in many spots on the trail, which was added to as late as March 31 this year. Lift tickets are $79 for the closing weekend, with half of that being donated to Pride Center VT, and guests will receive a commemorative t-shirt on Saturday while supplies last. 
Thanks to solid late season snow coverage, Jay Peak, Vt., was able to extend its season across two additional weekends in May. Skiers and riders in northern Vermont were able to spend Mother's Day, May 8, in the sun underneath the Jet Triple and in the bumps on the adjacent Haynes trail. Continued favorable conditions allowed Jay Peak to push closing day back a second time and spin the Jet Triple again on May 14. 
West
Crystal Mountain, Wash., extended its season after a snowy April continued into May. It has also pushed its closing date back more than once, and the resort now plans to remain open on weekends through June 12. While top-to-bottom skiing and riding is no longer an option due to low snow at low elevations, terrain off the Green Valley Quad is open and the Mount Rainier Gondola is running for skiers and non-skiers alike. 
Timberline Lodge, Ore., just about hit redline for the regular season thanks to a deep spring snowpack and shifted gears into summer ski mode after Memorial Day. Boasting a snow depth of nearly 15 feet at the lodge, Timberline will offer summer skiing off the Pucci and Magic Mile lifts and will run Palmer again once scheduled maintenance is complete. 
Mammoth Mountain, Calif., will continue its daily operations through June 5. It is currently turning lifts like the Broadway Express 1, Chair 23, and Face Lift Express 3, and areas such as Cornice Bowl, Skyline, and Scotty's are still holding up for easy-access steeps. Face Lift offers access to a slew of intermediate runs as well. Mammoth is reporting 341 inches of snow at the summit this season, which is notable as California saw less-than-favorable snowfall this winter overall.
Skiers and snowboarders at Arapahoe Basin, Colo., which picked up two feet in the last week of May, still have time to ride terrain off the Black Mountain Express lift. A-Basin expects to be open daily until June 5, and forecasts show there's a chance for more snow this week. 
Canada
While Whistler Blackcomb, B.C., closed out its season on May 22, the folks at Banff Sunshine Village, Alberta, partied their way into closing day on May 24, rounding out one of their snowiest seasons on record. All in all, Canada saw a pretty normal closing routine, except for one standout "little-guy" to the East. 
Mont Miller, Quebec, remained open on weekends through May 14 thanks to the 18+ inches of snow that fell in the last few days of April. Noteworthy was Mont Miller's clever rafting, skiing, and lodging package, Slash and Splash. Located in the famous Chic-Choc region of northern Quebec, Mont Miller's T-bar provides access to 32 runs and lots of trees when fully open. 
Report compiled by Michael Chait.