SAM Magazine—Cambridge, Vt., June 17, 2022—Although the Summer Solstice—the official start of summer—is still a few days away, summer operations are in full swing at resorts across the United States.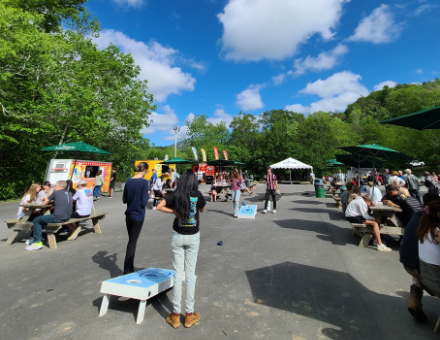 Sugar Mountain Resort Festivals, barbecues, concerts, clinics, and more fill resort activity schedules. There are, of course, a few exceptions this year: Several ski areas in the West are still trying to clear snow before they can get their summer scenic chairlifts spinning, while wildfire's threaten other operations. With the Fourth of July knocking at the door, here are some summer ops updates from a selection of areas. 
West
The Pacific Northwest picked up heavy late-spring snowfall, which may help mitigate the region's wildfire risk but comes with a logistical cost. At Mt. Hood Skibowl, Ore., summer operations are currently lagging two to four weeks behind schedule, according to GM Mike Quinn. The ski area set June 11 as its target opening day back in late May, but the deep snowpack led Skibowl to cancel those plans. Thanks to four days of projected rain, the resort is now targeting June 18 to open.
Despite operational delays, Skibowl has seen demand come back for group events, catering, weddings, and corporate picnics, said Quinn. However, he added, persistent staffing challenges have forced the area to redesign some of its summer offerings for the 2022 season. 
Stevens Pass, Wash., is working toward an opening goal of June 24, but grappling with the same late-season rain and snow as southern neighbor Skibowl. According to a June 14 social media update from new general manager Ellen Gailbraith, while the ski area still intends to open as scheduled for scenic lift rides, hiking on the summer road, and disc golf, mountain biking operations are now estimated to open over the July 4 holiday weekend. A mini-excavator has been deployed seven days a week to clear the bike park trails of snow.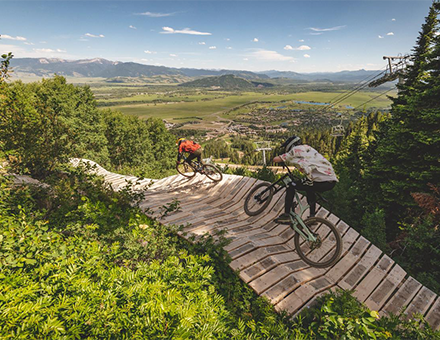 Jackson Hole Mountain ResortJackson Hole Mountain Resort, Wyo., got nearly 15 feet of late-season snowfall, but managed to kick off its summer operating season as scheduled on the weekend of June 11. JHMR has four lifts open for sightseers, including the tram. Other open attractions include the newly expanded Jackson Hole Bike Park, the ropes course, climbing wall, and bungee trampoline. In addition, JHMR has a full lineup of events for the summer season, including live music, mountain bike competitions, and art festivals, among others.

Copper Mountain, Colo., started summer operations on Friday, June 10. The Woodward Express Lift, Rocky Mountain Coaster, Woodward WreckTangle, zip line, bumper boats, climbing wall, and go-karts are all currently open to guests, as is the Copper Creek Golf Course with nine holes of golf. Copper expects to open for lift-served mountain biking closer to July 4, which is typical for the resort.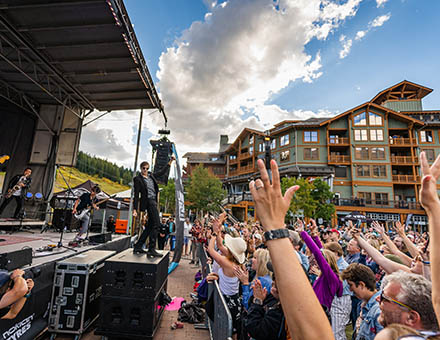 Copper MountainStaffing this summer remains a concern at Copper, according to communications coordinator Olivia Butrymovich. But having "successfully pivoted in certain areas of our operations" in response to staff shortages this past winter, "our teams are prepared to do the same this summer if staffing becomes a challenge," said Butrymovich, adding that Copper's employee housing options are a huge benefit for staff recruitment. 
Unprecedented wildfires in New Mexico this season are delaying operations at some resorts. Red River, N.M., was recently granted an exemption to move forward with operations on a limited basis, including operating its scenic summer chairlift and Pioneer Flyer zip ride when fire conditions allow. During the month of June, a portion of each Pioneer Flyer ticket will be donated to the All Together NM Fund, which coordinates with local organizations to supply emergency shelter, food and water distribution, and access to medical support to communities affected by the fires. 
According to Red River's most-recent online report, forest access is not allowed at the summit other than between its Tip Restaurant and Platinum Chair, and smoking is strictly prohibited while on the chairlift or at the summit. "If you cannot go without smoking for one hour or more, then participating in this activity is not recommended," the report reads. "On days that a Red Flag Warning is issued by the Albuquerque National Weather Service for our area, the Scenic Summer Chairlift will not operate."
The resort's Hidden Treasure aerial park is also open for the summer. However, staffing shortages will prohibit operation of its Gold Rush summer tubing; options to offer Lil' Blue summer tubing are still being evaluated. 
Midwest
Summer operations at Boyne Mountain Resort, Mich., "Kicked off on time despite a fair amount of construction," said general manager Jason Perl. Colder than normal weather into late May likely impacted some weekend business in spring, said Perl, "but we're in full swing now," he added, noting that staffing levels are filling in for the anticipated busy summer.
Boyne Mountain has a robust slate of summer offerings, most of which are now open daily, including scenic chairlift rides, biking, disc golf, and Segway tours. Its zip line tour is open Wednesday-Sunday. The resort's indoor waterpark opens daily June 17, and the new Michigan SkyBridge—under construction now—is scheduled to open for Labor Day weekend. 
With the reduction in Covid restrictions and limitations, "it's nice to have group business returning," said Perl. Guests have also shown enthusiasm for the return of a full schedule of events. Although, said Perl, "Covid forced us to look at things a bit different and helped us refocus on the details of our operation."
Lutsen Mountains, Minn., opened for limited summer ops May 21, two weekends after it wrapped the end of the ski season. The resort offered its alpine slide and scenic gondola rides for weekend operations; daily operations started June 3.
Shanty Creek Resort, Mich., switched from winter ops to golf on its five courses way back on April 29. Other offerings like yoga at the resort started Memorial Day weekend. The resort is undertaking an extensive paving project on some its roads but doesn't anticipate it will affect summer business.
After farming the last of its snow, which will be kept shaded and insulated for its annual Open House rail jam in October, Trollhaugen, Wis., opened for summer business Memorial Day weekend. The resort kicked things off with the 53rd annual Memorial Total Offroad Rally, with off-road races on its trail system as well as spectator events like a monster truck show, a car jump, and live music over the three-day weekend. The mountain also opened its Adventure Park, which includes a zip tour and challenge course, for regular Thursday-Sunday operations. 
Mont du Lac, Wis., opened summer operations just ahead of Memorial Day weekend, on May 26. The ski area offers its Big Kahuna Waterpark on a pond within the property's RV Resort, as well as activities like summer slides, mountain biking, river tubing, and archery. New this year is a Wibit Aqua trampoline, as well as a new option to book seasonal RV sites. Back on the events docket for July 28-31 is Bowfest, a massive outdoor archery and music festival, which offers six unique shooting courses with 100-plus targets and live music.
East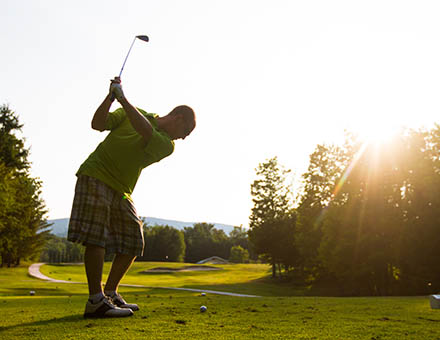 Killington ResortDespite offering lift-served skiing until June 4 this season, summer operations at Killington, Vt., began right on schedule, said communications manager Kristel Killary. (Killington's late-late- season snowpack was largely manmade and confined primarily to the Superstar trail.) The Adventure Center—with dual zip lines, ropes course, Woodward WreckTangle, and more—opened Memorial Day weekend and will stay on a limited schedule until opening daily June 23. The bike park also opened on a limited basis starting Memorial Day weekend but is now open daily, as is Killington Golf Course.  
On the events schedule is the 10-week Cooler in the Mountain summer concert series, beginning July 2, the FOX Mountain Bike U.S. Open, the Killington Brewfest, and a Spartan Race. 
Summer attractions for all ages at Bromley, Vt.—including the triple-tracked Alpine Slide, Sun Mountain Flyer, Giant Swing, and Treetop Adventure Course—will shift from weekends-only to full-time on June 18. A culvert construction project will delay the opening of the resort's summit scenic chairlift and mini-golf course until July 4. The Big Splash waterslide is also projected to open during the holiday weekend. 
According to Steve Gabriel, marketing coordinator at Bromley, guests and staff alike are excited to resume "normal" summer operations for the first time in two years. Gabriel said the resort is hosting live music, naturalists from the Vermont Institute of Natural Science, and a unique one-woman circus, Opal Raven Cirque, this summer. 
Holiday Valley, N.Y., kicked off summer operations with weekend hours at its Sky High Adventure Park on May 6, with full-time operations beginning June 17.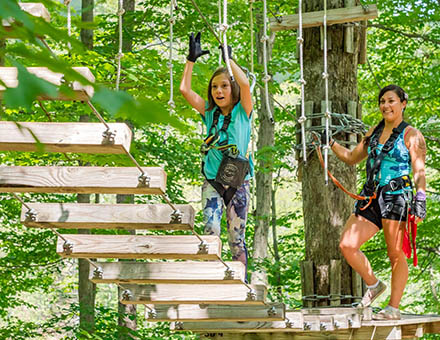 Holiday Valley Sky High was slated to open April 19 but was delayed due to heavy snowfall from a late-season storm. 
Holiday Valley marketing director Dash Hegeman credits strong work from the mountain operations team with getting the resort's Double Black Diamond Golf Course open on April 9 this year. To allow for such an early start to golf season, Hegeman said ops crews managed to keep conditions in good shape for late-season ski turns on the resort's limited open terrain while clearing snow off closed trails that encompass parts of the golf course. 
Visitation is already strong, said Hegemen, who anticipates a favorable turnout for the long line of events Holiday Valley has planned for the summer.
Over in New Jersey, Big Snow American Dream reopened Memorial Day Weekend for year-round indoor skiing and snowboarding after a long closure caused by fire damage to the facility. The area kicked things off with a (snow) beach party, replete with lifeguard chair and pool loungers, and has a full slate of activities and events on the docket for its "summer shred season," including a June 24 Pride Night and DJ'd sessions in the dome every Friday night from June 1 through June 24. 
Down at Sugar Mountain Resort, N.C., "Demand was strong during our Memorial Day opener," said VP Kim Jochl. To launch summer ops, the mountain hosted a new Food Truck Festival, which Jochl said "was a real hit and a big part of strong attendance," with several trucks selling out. Tickets for the mountain's Gravity Bike Park and scenic chairlift ride were up over last year as well, she said, noting that last year's opener suffered from poor weather.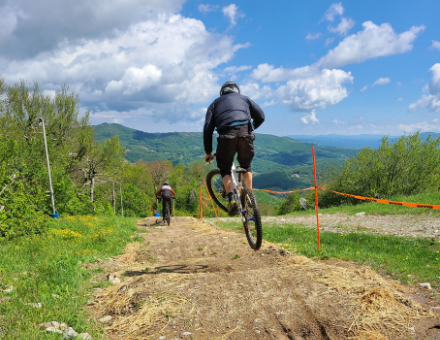 Sugar Mountain Resort"Staffing challenges endure," said Jochl, "but we continue to work diligently and aggressively to recruit and retain folks." Sugar is closed for the month of June, but summer programming, including the bike park and scenic lift rides, will resume for weekend operations, July 1-Sept. 5. "To date, registration for events [like the Summit Crawl], bike camps, and clinics are trending on par with last summer, which was strong and grew over the previous summer season," said Jochl. 
Report compiled by Michael Chait, with additional reporting by Jordyn Bremer.