SAM Magazine—Rangeley, Maine, June 22, 2022—Saddleback Ski Resort has named senior vice president of mountain operations Jim Quimby as the resort's new general manager, effective immediately.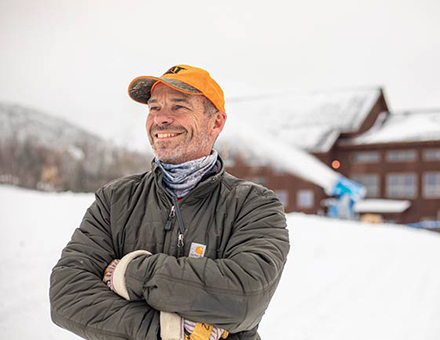 Quimby succeeds Andy Shepard, who stepped down from the role this spring to expand the mountain's philanthropic mission; Saddleback is owned by the Arctaris Impact Fund, a Boston-based investment group focused on revitalizing disinvested cities and targeted rural communities.
Quimby, a Rangeley native who served for more than 20 years in the United States Air Force, began at Saddleback as a volunteer ski patroller in 1997. He held a variety of leadership roles at the ski area across the safety and mountain operations departments prior to its 2015 closure. Quimby was part of the mountain's reopening following its 2020 acquisition by Arctaris. He has served as SVP of operations since early 2021, overseeing the installation of the Rangeley Express Quad—the resort's first high-speed chairlift. 
Quimby's family has a long history at Saddleback. In an interview with SAM in November 2020, he said that his grandfather helped build the first T-bar at the mountain in 1960—the year the ski area opened. Quimby's father, Richard "Doc" Quimby, worked at Saddleback from the 1960s-1980s, helping to install the resort's first double chair in 1963. Quimby's mother, Judy, worked in the resort's food & beverage department in the 1970s.
In his new role, Quimby will continue working closely with the Saddleback team to improve and upgrade the resort's snowmaking capacity, add employee housing, and increase skier visits, as well as help drive the ski area's overall master plan. "Ultimately, my primary focus and responsibility are to the staff and community," said Quimby. "Saddleback is more than a business. Saddleback is our life and dream. The guests and our community are our family." 
"[Quimby's] leadership style is one with humility, and it's a perfect example of why we are not just another mountain," said Jonathan Tower, managing director of Arctaris Impact Fund.