SAM Magazine—Natick, Mass., Oct. 10, 2022—Ski areas across North America are invited to nominate their snowmaking teams to participate in the eighth annual "I AM a Snowmaker" contest, presented by HKD Snowmakers.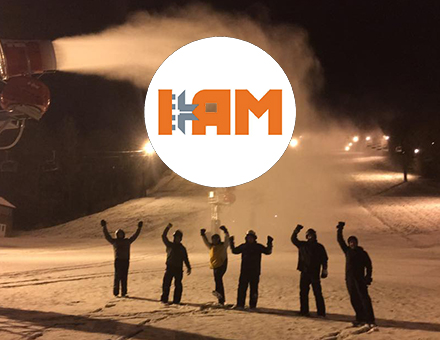 The "I AM" contest highlights the hard work and camaraderie of snowmakers, and recognizes how critical they are to the success of the mountain resort industry. 
"Since its debut in 2014, the I AM a Snowmaker contest has been a compelling platform for resorts to recognize the passion, grit, and expertise of their snowmaking teams," said HKD president Charles Santry. "This year will be no exception as the I AM will focus on sustainability, efficiency, and teamwork. Last year we broke all records for nominations and voting and we look forward to seeing more of that this year. The I AM contest is a highlight of our snowmaking season at HKD, and we can't wait to see the inspiring videos from this year's nominees."
For the initial nominations, resorts should share why their snowmaking crew is unique, specifically as it relates to sustainability and efficient practices—from staffing to making snow—and how teamwork plays a role in their success.
"It couldn't be a better time to show the world how dedicated your snowmaking team is to sustainability and the pride they take in doing their jobs efficiently," said SAM publisher Olivia Rowan. "The annual I AM videos are a great tool for recognizing the vital contribution of your snowmaking teams and sharing the culture and values of your resort with prospective employees. SAM is proud to support this important recognition."  
Nominations are open through Friday, Oct. 21, 2022. A handful of teams will be chosen based on the nominations to then produce videos to enter into the I AM a Snowmaker competition. Competing teams will be announced by Nov. 1, 2022. Details and inspiration at saminfo.com/i-am-a-snowmaker.