SAM Magazine—Winter Park, Colo., Oct. 12, 2022—Summer occupancy is likely to be down at the end of October, compared to both last summer and the pre-pandemic, benchmark-setting summer of 2019, as the booking pace remains slow.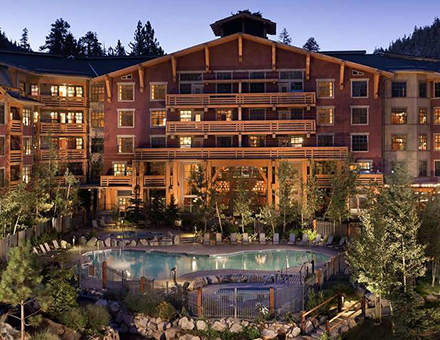 Lodging at Mammoth, Calif.However, the average daily rate (ADR) has continued to soar, allowing lodging properties to increase aggregated revenues compared to both those summer seasons, according to DestiMetrics, part of the business intelligence division of Inntopia. Results are compiled from data through Sept. 30 from 17 western mountain destinations in seven states.
DestiMetrics' monthly briefing for September showed that the booking pace during the month of September for arrivals in September through March was down 5.7 percent in a year-over-year comparison—the seventh such decline in the past eight months. The data also revealed that while guests are making fewer reservations, they are staying longer. And that, along with sustained high rates, creates a solid foundation for the winter season.
Compared to last year, actual occupancy for the month of September was up 4.9 percent; coupled with a 5.3 percent increase in ADR, this delivered a 10.4 percent increase in aggregated revenue. Compared to the pre-pandemic September of 2019, occupancy finished up 1.4 percent, and daily rates were up 44 percent to provide lodging properties with a 46 percent increase in revenues.
For the summer season from May through October, occupancy is down five percent compared to last summer, and aggregated summer revenues are down a scant 0.6 percent.

Winter outlook. As of Sept. 30, on-the-books occupancy for the upcoming winter season, November through April, is down 2.4 percent compared to this time last year, with decreases in two of the five months—November is down 9.6 percent, and December is down 20.1 percent. However, the ADR for those months is up 14.1 percent compared to last year, with increases in all five months. That rate strength is helping to deliver a healthy 11.8 increase in aggregated revenues.
The Briefing noted that the stock market, inflation, and the overall health of the economy could present headwinds for the coming season, although consumer confidence rose during September.
Key Indicators to Watch

Length of stay. The average stay for bookings made in 2022 is down moderately following the pent-up demand and booking surge in 2021, but still remains up compared to the pre-pandemic 2019 winter—with the average stay up 0.39 nights compared to that season.
Arrival day shift. The day of week for arrivals shifted considerably at the beginning of the pandemic, with bookings for Saturday arrivals dropping from 19 percent of all bookings to just 13.2 percent in 2020, and midweek arrivals ticked up. Those trends are starting to shift again to a more typical pattern. Friday is currently the busiest day of the week for arrivals, but overall there's a more even distribution of arrival dates compared to the pre-pandemic pattern.

Booking lead times grow. The time between when a booking is made and a guest arrives has extended by about 10 days compared to pre-pandemic patterns. Lead times are expected to remain extended for the near future.