SAM Magazine—Bozeman, Mont., Oct. 19, 2022—Hiram Towle assumed his new role as GM of the non-profit Bridger Bowl Ski Area, Mont., this week. A 20-year industry veteran, Towle most recently served as GM of another non-profit area, Mt. Ashland, Ore., for the past eight years.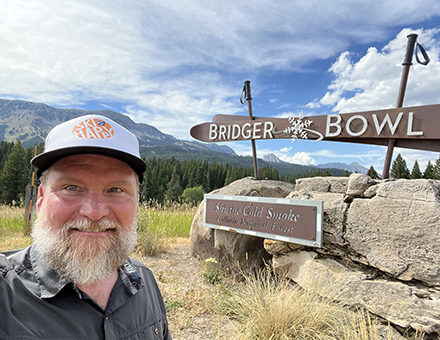 "Step one is lots of meetings with the team and getting caught up on their steady march towards opening day," Towle told SAM about his first week on the job. "Moving 800 pounds of ski gear into my new office is step two."
This latest role is in keeping with Towle's sense of mission and deep roots in community. In a post on Bridger's Facebook page, Towle said, "I grew up at a soulful community ski area from the age of two with a dad who was a dedicated patroller. It was there that I developed my love of the sport. I joined the ski industry to give back to the sport I love and protect its purity and purpose that I saw being lost."
He added, "I have learned without a doubt that areas like Bridger Bowl are the most important on the planet, providing affordable access to this life-changing sport. I am honored to join Bridger's passionate alpine community and add to the ski area's already stellar operation."
His impact at Mt. Ashland—and what he said he hopes to be remembered for—includes leading the team that brought financial stability back to the mountain and created a culture and vibe that helped build the ski area's loyal following.
At Bridger, Towle said "observing and learning" are his most important goals for the coming seasons. "Although there are similarities from ski area to ski area, there is no one magic formula that creates success for all," he said. "That formula is born from the knowledge that lives with our amazing staff, and the feedback from our passionate guests. Now is the time to listen more and talk less. For those who know me you understand what a challenge that can be!"
Prior to Mt. Ashland, Towle served in a variety of roles at Sunday River during a 12-year career there. That body of work helped Towle earn a SAMMY Leadership Award in 2015.
Ashland is now conducting a national search for a new general manager.
In six words or less, what's Towle most excited for at Bridger? "Skiing and riding the cold smoke."