SAM Magazine—Thompsonville, Mich., Oct. 27, 2022—Crystal Mountain named Karyn Thorr as its new chief operating officer, effective Oct. 26, 2022.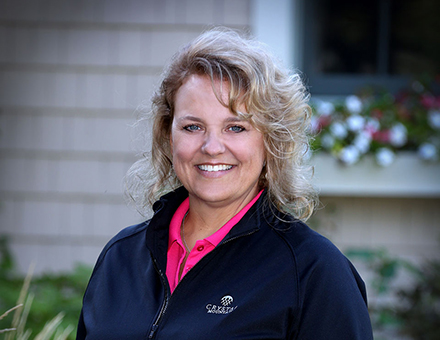 She succeeds John Melcher, who was elevated to CEO in December 2021. As COO, Thorr will oversee on-mountain operations including lifts, grooming, maintenance, resort safety, and snowsports at the Michigan resort. She will also continue to serve as the principal broker for Crystal Mountain Realty, a position she has held since 2014.
Thorr, who joined the family-owned resort in 1993 as a manager in the recreation and activities department, said the move to COO is like "coming full circle." 
"I always felt my operations experience helped me in the real estate and development side of our business," she said, "and I believe that applying my real estate and development resources and knowledge to the operational elements now will help to ensure Crystal's next chapter is a success."
In the short term, Thorr said her priorities as she returns to day-to-day operations are to "learn what I don't know, connect with the teams to understand their priorities, and begin to assess what has been working and where we have opportunity." 
During her 29 years with Crystal, Thorr has led several departments including marketing, conference services, and skier services. In 2005, she moved to Crystal Mountain Realty, where she played a critical role in the successful development of the $12 million Inn Phase II project, completed in 2017. 
The work Thorr did during her early years at Crystal was recognized in 2000, when she received a SAMMY Leadership Award. 
"I remember being thrilled about the nomination," said Thorr. "That is a coveted award, and I was very young in my career at that time. It was humbling. And then the award ceremony in Orlando (Fla.) was such an elaborate, fun experience. I was so inspired to be there with all those industry people. It really excited me about furthering my career in the industry."
In addition to her SAMMY, Thorr is also the recipient of the Distinguished Alumnus Award from the CMU Recreation Parks and Leisure Services Administration, a PSIA-AASI Level III certified instructor, and a board member of Cherryland Electric's "Cherryland Cares." 
"Karyn is an outstanding leader with a track record of success at Crystal for nearly three decades," said Melcher. "This transition is a great example of our philosophy to promote from within. Her experience, enthusiasm, and commitment to our company exemplifies the magic in our business—fun!" 
"I skied at Crystal for the first time when I was 10 years old, and it quickly became my favorite place in Michigan," said Thorr. "Crystal is a special, year-round destination that goes beyond simply being a beautiful place to ski or golf. It's a community that is meaningful to families like mine and so many others. I look forward to the important work ensuring Crystal's success for future generations."