SAM Magazine—Olympic Valley, Calif., Oct. 28, 2022—The Base to Base Gondola at Palisades Tahoe, connecting the Village at Palisades Tahoe to the Alpine Lodge base area at the former Alpine Meadows, is set to open for the upcoming season.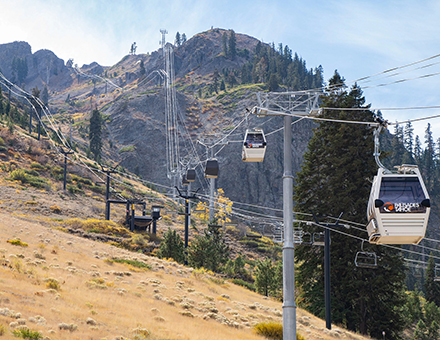 By tying together the two mountains, the gondola provides access to 6,000 acres of terrain, creating the largest area in California and third largest in North America, according to the resort.
SAM attended the media preview event on Oct. 27 with about 20 other members of the press. Media learned that parent company Alterra spared no expense on the $85 million project, which also includes base area renovations and upgrades to both villages.
The Base to Base Gondola, built by Leitner Poma, spans 2.4 miles, with 33 lift towers and 96 eight-passenger cabins. Capacity is 1,400 passengers an hour, and the overall design aims to allow the lift to reach that capacity as often as possible.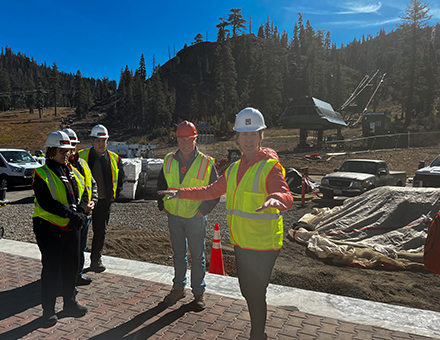 Casey Blann, VP of mountain operations at Alpine Meadows, along with Dee Byrne, president and COO of Palisades Tahoe, said that one of the biggest priorities during the design phase was providing uninterrupted lift service for its guests. And that was no easy task, given the region's weather and geography. The two base areas can experience very different weather patterns, and the ridges in between are prone to extreme winds. 
To help the span operate despite the wind, the resort lowered the cabin height at the KT-22 midstation by more than 30 feet, by removing more than 12,000 cubic yards of material.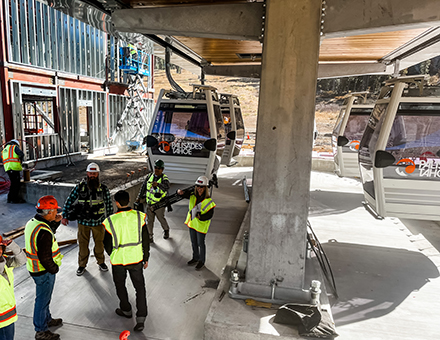 The lift path includes four terminals, including drive terminals at each base; the new gondola can operate as one continuous lift or as two separate lifts, from each base area to the top of KT-22, where the two lifts meet and join. That flexibility can mitigate weather impacts or delays during harsh weather.
The lift is also said to employ the first automated cabin parking capability in North America. The parking barns help avoid delayed openings due to maintenance after snow or ice events. All cabins can be parked indoors in less than 30 minutes on either side of the resort.
To further serve guests, each cabin is equipped with a solar-powered communication system that allows operators to communicate important information if and when needed.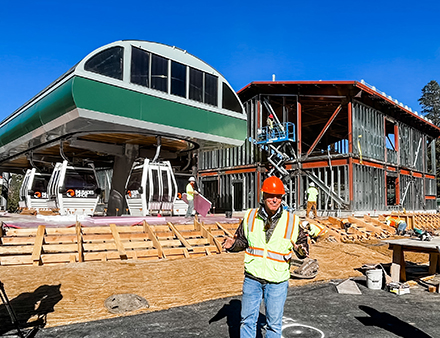 The direct-drive terminals on each base side are relatively new technology to North America, also. The system reduces maintenance time and expense, as it eliminates the gear box and greatly reduces common maintenance issues and downed lift time. 
Final touches are being completed at present, and the Base to Base Gondola should be ready to roll on Palisades Tahoe's opening day, Nov. 22—and will be operating no later than Dec. 17 for the official base-to-base launch party.