SAM Magazine—Bend, Ore., Nov. 10, 2022—Powdr-owned Mt. Bachelor in Oregon will install a new wood energy facility to provide heat for four of its base area buildings using a modern biomass boiler fueled by the byproducts of NEPA (National Environmental Policy Act)-approved forest management and wildfire fuel reduction activities within the surrounding Deschutes National Forest.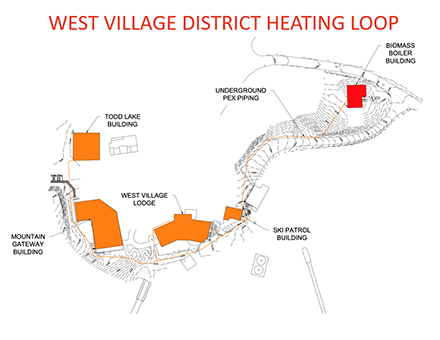 Construction will begin in June 2023, and the facility is expected to be fully operational in January 2024.
Mt. Bachelor anticipates the new facility will reduce the resort's propane consumption by roughly 150,000 gallons annually and reduce CO2 emissions by nearly 1,000 tons per year. 
The 3,412 MBH (1000 kW) biomass boiler will consume an estimated 1,000 tons of minimally processed wood chips annually, supplied directly from forest restoration and management activities. This wood product would otherwise be burned in open slash piles to dispose of it. The high-temperature boiler will burn it more efficiently and emit less CO2 than open burning, adding to the overall emissions savings while putting the material to beneficial use. The project will also reduce the amount of fossil fuels that are trucked in from other areas by replacing that with a locally abundant renewable resource. 
"Given the scale of this project, all of those effects are very meaningful to our sustainability goals and our partnership with the USFS [United States Forest Service]," said Mt. Bachelor general manager John McLeod.
Located at the base of the ski area, the facility will supply space heating to the Ski Patrol Building, West Village Lodge, Mountain Gateway Building, Todd Lake Building, and the snow melt system, all via insulated underground PEX piping.
"Powdr has a long-standing commitment to use more and different sources of renewable energy for our consumption," said Powdr CEO Justin Sibley. "As part of our Play Forever initiative, we look for ways to use technology and innovation to protect our environment and be good stewards of the ecosystems where we work and play."
Another example of this is at Snowbird, Utah, which now sources nearly all of its energy and heating needs via a new 5.3-megawatt cogeneration facility that was installed in 2021.
The driving goal behind the Mt. Bachelor project is to do as much as possible to help reduce the risk of wildfires in the area by reducing the buildup of forest fuels. The project came to be after multiple studies and discussions with local partners, which led to the decision to use locally sourced wood byproduct from the forest as the fuel source. No trees will be removed from the forest solely to run the wood energy facility. 
Grants from the U.S. Forest Service, Deschutes County, and the Oregon Department of Energy will help offset some of the costs of the project.
According to Mt. Bachelor, the wood energy project will also provide economic benefits to the surrounding area by creating a new stable market for the byproduct of forest restoration and wildfire mitigation activities, employing state-of-the-art technology that is replicable elsewhere, and contributing to the local economy with jobs, educational activities, and additional tourism. Construction of the facility is expected to create 16-20 jobs, and operation and maintenance will create four to six jobs.   
Kevin Larkin, Bend-Ft. Rock District Ranger, for the Deschutes National Forest, added, "Reducing the impact of wildfires to the forest and risk to local communities is a priority for the Forest Service. This new facility will support our restoration and hazardous fuels reduction goals, because it allows us to dispose of woody underbrush in the Deschutes National Forest while also creating a renewable source of energy."