SAM Magazine—Eden, Utah, Nov. 17, 2022—Utah's Powder Mountain has appointed Kevin Mitchell as its new general manager. Mitchell assumed the role Nov. 7, after serving as GM of California's Homewood Mountain Resort for a decade.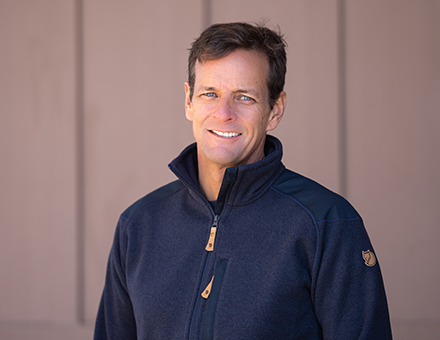 He replaces former GM Mark Schroetel, who moved to the tech industry after eight years at Powder Mountain. 
"One focus will be making sure Powder Mountain is providing opportunities for people to have great experiences in the mountains," Mitchell told SAM, "whether it's skiing, snowboarding, or some other aspect of the mountain lifestyle."
Mitchell brings more than three decades of experience to the job. He started in the ski industry in 1989 as an instructor at Tahoe's Boreal and Northstar. He went on to lead Northstar's ski and snowboard schools for five years before moving on to similar leadership positions at Sierra-at-Tahoe, Alpine Meadows, and Homewood.
A California native and lifelong resident (excluding a few winters in New Zealand and South America), he became familiar with the mountains of Utah as a member of the PSIA National Alpine Team, with which he traveled the country to work with resorts on ski and snowboard education from 2000-2004.
At Powder Mountain, his responsibilities include oversight of ski area operations, working with development and real estate teams, and making sure operations are ready to go on opening day.
And while he says it's too early to list specific goals, "I think we've got some opportunities to make our operations more efficient and expand on some that we have, like mountain biking in the summer and snowcat skiing in the winter—all while making sure we're planning appropriately for the future of the resort," he said. "There's a lot of opportunity here for planning and creating new experiences, maybe even creating a new model for how the resort operates."
His background in instruction will likely come into play as well. "Professional development is an important part of what we're going to do here and making sure the team here feels like they have opportunities," said Mitchell. "That's always been one of the things I try to bring to the table—create opportunities for people to feel like they're learning something and can further their own growth and career."
As for the recent move to Utah? Mitchell is excited—not just about the snow that's already coating his front yard, or the early season uphill laps afforded by several fall storms, but the passionate local skier base.
"It's incredible how focused so many people here are on skiing," said Mitchell. "It's a ski-centric state. In California, some people are focused on skiing, but here you pop into a store and everyone is talking about it."