SAM Magazine—Killington, Vt., Nov. 28, 2022—An estimated 37,000 spectators descended on Killington Resort this weekend for the sixth annual Killington Cup, a women's Audi FIS Ski World Cup event. The resort's new K-1 base lodge also made its debut over the weekend, opening to an eager public.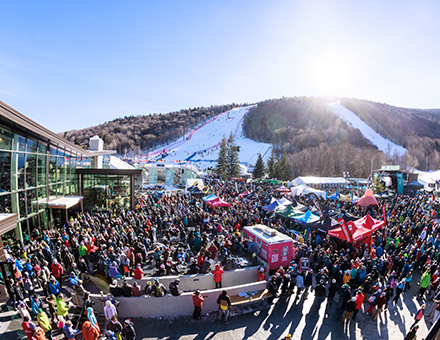 The record-breaking crowds began arriving on Friday, with 6,000 onlookers attending the athlete bib presentation and fireworks display that night, 21,000 attending the giant slalom race under sunny skies on Saturday, and 10,000 attending the slalom race before the rain started falling on Sunday.  
Many were hoping to watch five-time Killington Cup champion and local favorite Mikaela Shiffrin nab her sixth consecutive Killington Cup win. Though she logged the fastest time in run one of the slalom on Sunday, Shiffrin finished in fifth, with Switzerland's Wendy Holdener and Sweden's Anna Swenn-Larsson tying for the win. Switzerland's Lara Gut-Behrami won the giant slalom on Saturday.
"This crowd is quite special," said Shiffrin. "Especially in the slalom, I can hear the crowd from the start. It's this deep rumbling that soaks into your bones and gives you some extra energy to try and get to the finish faster. … The crowd isn't only cheering for one person, it's just looking for an amazing show. I think that's what makes it special, even if I'm not winning the race."  
In addition to the 37,000 spectators, more than 300 volunteers took part in the event. More than 600 children from New England ski clubs participated in the opening day parade on Saturday as well, and $650,000 was raised for the Killington World Cup Foundation through ticket sales and VIP packages. 
The event, newly renamed the Heroic Killington Cup presented by Stifel, also launched "Heroic," a U.S Ski & Snowboard initiative aiming to empower and create opportunities for women in the ski industry.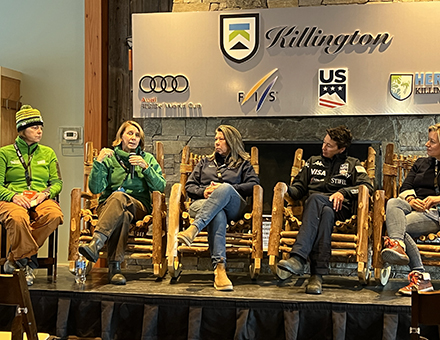 The initiative got underway with a four-woman panel focused on women in coaching. U.S. Ski & Snowboard president Sophie Goldschmidt moderated the discussion. Panelists included National Ski Areas Association (NSAA) president Kelly Pawlak, U.S. Ski & Snowboard chief of sport Anouk Patty, Vermont Alpine Racing Association executive director Julie Woodworth, and Burke Mountain Academy junior program director Diann Roffee.
"This event builds so much groundswell and has lifted up the resort and changed its reputation, among women especially," said Megan Fearnow, senior vice president of marketing services at Killington ownership group Powdr. "Having this enormous event that is all about women has been an invaluable addition to the culture here and enables women to continue to thrive at Killington." 
Check out SAM's snaps from the weekend here.