SAM Magazine—Carrabassett Valley, Maine, Jan. 12, 2023—Sugarloaf received key approvals from the United States Army Corps of Engineers and the Maine Department of Environmental Protection to begin work on its massive, 450-acre West Mountain expansion, which will include a new a high-speed detachable quad, 12 new alpine trails with snowmaking, and a new real estate development. 
"This is the most significant development project at Sugarloaf since the SuperQuad was built in the mid-1990s," said Sugarloaf GM Karl Strand. "We're very excited to get to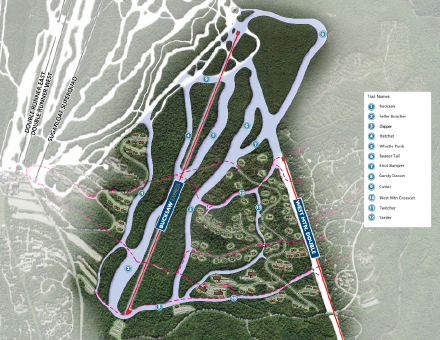 work on what will be a transformative project for the resort and our guests."
Logging to clear the new lift line and trails will begin immediately, with all expected to open in the latter half of the 2023-24 season. Lift and snowmaking construction is slated to start in June. 
The new chairlift, a Doppelmayr high-speed detachable quad, will span 6,574 feet and rise 1,433 vertical feet. It will transport skiers and riders from its base near West Mountain Road up to Bullwinkle's Restaurant in a little less than seven minutes. The lift will have a 775-horsepower motor with an expected operating speed of 1,000 feet per minute, and a capacity of 2,400 skiers per hour. 
The 12 new West Mountain trails will be a mix of beginner and intermediate terrain and cover roughly 120 acres, increasing Sugarloaf's total skiable acreage by nearly 10 percent. Snowmaking infrastructure will be installed on a majority of the trails this summer, with the remaining snowmaking infrastructure for the expansion to be installed in summer 2024.
The project approvals also allow for residential real estate development on West Mountain. The development is ultimately expected to include up to 224 new housing units, with a mix of single-family lots, duplex townhomes, and condominium buildings. 
Sugarloaf expects to begin the sales process of the first residential lots in early 2023; the first phase of sales will include roughly 20 lots. The real estate will be developed and listed exclusively by Mountainside Real Estate, the official real estate agency of the resort, and is the first opportunity for buyers to design their own ski-in/ski-out home at Sugarloaf in nearly 20 years.  
The expansion is the centerpiece of the resort's 2030 master plan, which also includes a complete overhaul of the resort's snowmaking system to increase both capacity and efficiency, village upgrades and expansions, and upgrades to the resort's lift infrastructure.