SAM Magazine—Aspen and Denver, Colo., April 12, 2017—Resort ownership consolidation was already moving at an unprecedented clip, and it just keeps speeding up.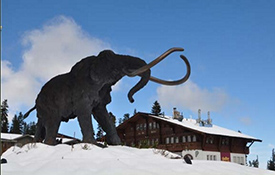 The same entity formed by Aspen Skiing Co. and KSL Capital Partners that announced its $1.5 billion acquisition of Intrawest two days ago, has entered into a definitive agreement to acquire Mammoth Resorts—owner of Mammoth Mountain, Snow Summit, Bear Mountain, and June Mountain in California.
"Mammoth has been Southern California's mountain home since 1948," said Rusty Gregory, chairman and CEO of Mammoth Resorts. "After doubling down on our offerings to Southern California with the purchase of Snow Summit and Bear Mountain in 2014, joining this new venture led by Aspen and KSL is the next logical chapter in the story of Mammoth Resorts. This new platform, built around a collective passion for the mountains and our commitment to the people who visit, work and live there, is exactly what the ski resort business needs. I am excited about the future prospects for Mammoth Resorts, our people and this new enterprise."
A Starwood Capital Group-controlled affiliate owns a majority interest in Mammoth Resorts. For the past 12 years, it has invested heavily in infrastructure and marketing, and was at the helm when Bear and Snow Summit were acquired in 2014.
Barry Sternlicht, chairman and CEO of Starwood Capital Group, said, "We had greater plans for Mammoth but the Great Recession, and then some less favorable weather, interfered with our strategic aspirations in a finite life investment vehicle. We know Aspen and KSL have the experience, commitment, and balance sheet to help make our vision a reality."
KSL CEO Eric Resnick said, "This transaction will allow the combined company to better serve Mammoth's loyal customers while at the same time exposing these world class resorts to a broader audience." Aspen CEO Mike Kaplan said Mammoth Mountain "has it all," and lauded Snow Summit and Bear for serving local skiers and riders "perhaps better than anyone in the industry."
All season passes currently on sale will be honored at Mammoth Resorts for the entire 2017-18 season, including the Mountain Collective. The transaction is expected to close at the end of the third quarter this year.
For the parties involved in these recent blockbuster acquisitions, there's obvious excitement and optimism about the future. Every property that the new Aspen/KSL powerhouse is acquiring has been successful on its own. Combining them under one umbrella could yield some interesting new products, and capital investment appears to be forthcoming.
It also leads to several broader questions: What does this mean for the rest of the industry? Will other major players, such as Vail Resorts, Powdr Corp, and Boyne Resorts, respond? How will this affect competition and pricing? A bevvy of other unknowns exist, but there's one thing for certain—the recent buying spree, and resulting consolidation, is far from over.