SAM Magazine—Castle Rock, Colo., Nov. 20, 2017—Developers will break ground this month on Miller's Landing, a new 65-acre mixed-use project in Castle Rock, Colo., that is expected to include a year-round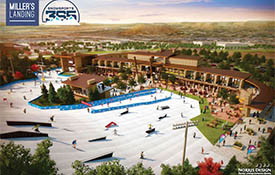 outdoor snowsports complex, aptly named Snowsports 365.
Snowflex has already been chosen as the synthetic surface to cover the downhill terrain, which will be located on a former landfill that's been closed since 1980. P3 Advisors, the group developing the $300 million Miller's Landing project, must clean up the site before construction can begin. Once complete, the complex will accommodate up to 400 skiers and riders per hour.
P3 Advisors' team includes Crown Community Development, an affiliate of Chicago-based Henry Crown and Co., which also owns Aspen Skiing Co. and is part of the yet-to-be-named entity that went on a recent resort-buying spree with KSL Capital Partners.
Snowsports 365 is expected to open in fall of 2019.