SAM Magazine—Denver, Aug. 29, 2018—This week's multi-day reveal of additional resorts included on Alterra Mountain Company's Ikon Pass continues, with today's door opening on the four remaining Boyne Resorts ski areas previously not included, and news of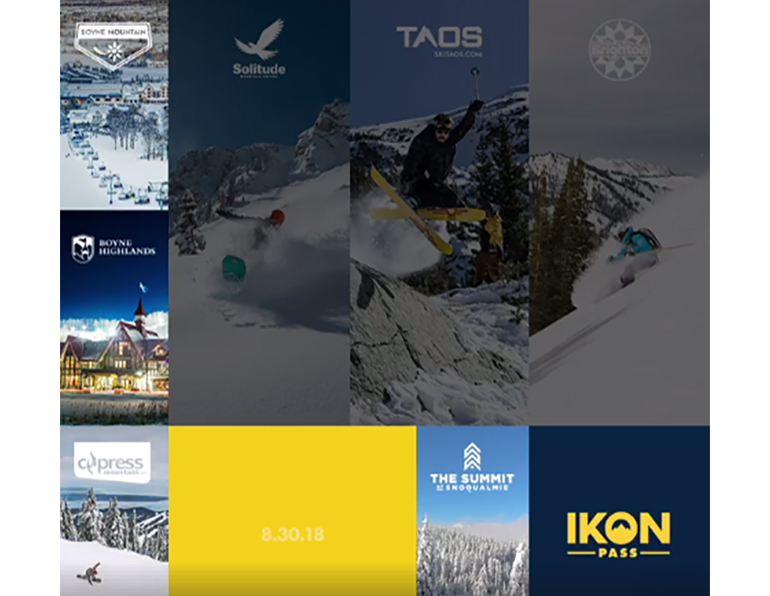 expanded access to three others.
The Summit at Snoqualmie, Wash., Cypress Mountain, B.C., and Michigan's Boyne Highlands and Boyne Mountain will offer seven days each on the Ikon Pass, and five days each on the Ikon Base Pass with 10 holiday blackout dates. Sunday River and Sugarloaf, Maine, and Loon Mountain, N.H., originally offered seven days combined between the three resorts on the Ikon Pass and five days combined with 10 blackouts on the Ikon Base Pass. Now, passholders get seven days on Ikon and five days with the 10 blackouts on Base at each resort.
Ikon Pass now includes access to 34 destinations in 12 states, four Canadian provinces, and on two continents. That number is about to grow, according to the clever opening-door graphic that has revealed the most recent additions to the pass. Three doors opened today, and there is one more with "8.30.18" on it. Which resort(s) will be next?
The Ikon Pass launched in January 2018 and is a collaboration of Alterra Mountain Company, Aspen Skiing Company, Boyne Resorts, POWDR, Jackson Hole Mountain Resort, Alta Ski Area, Snowbird, SkiBig3, Revelstoke Mountain Resort, Sugarbush Resort, Taos Ski Valley, and Thredbo.