SAM Magazine—Natick, Mass., Jan. 17, 2019—The 2018-19 HKD I AM a Snowmaker contest, showcasing six snowmaking teams from resorts across North America, concluded on Tuesday, Jan. 15. Nearly 4,000 votes were cast over the 12-day voting period, with the Mount Sunapee, N.H., snowmaking crew earning the most votes to emerge as the winner. The crew will receive a prize from HKD and recognition for their dedication to and passion for the art of snowmaking.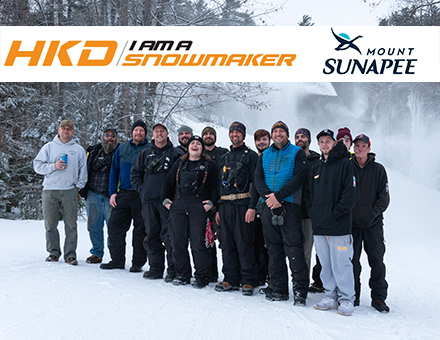 The finalists in the HKD I AM a Snowmaker contest were Mammoth Mountain, Calif., Mont-Sainte-Anne, Que., Mount Sunapee, N.H., Panorama, B.C., Taos, N.M., and Wildcat, N.H. Each crew created a compelling video for the contest, and the public was asked to vote for their favorite. All of the videos highlighted the hard work and camaraderie shared by snowmaking teams across North America. The contest aims to recognize how critical these crews are to the success of the industry.
"This year we were proud to showcase videos of six snowmaking crews from around North America," said HKD president Charles Santry. "Their stories all displayed the dedication, training, teamwork, and passion needed to meet the daily challenges of snowmaking in our industry. Congratulations to the Mount Sunapee crew, and thank you to everyone who participated in this year's I AM a Snowmaker."
"We were blown away by the incredible industry support for I Am a Snowmaker, and are proud to partner with HKD to help shine a light on these unsung heroes," said SAM publisher Olivia Rowan. "Now more than ever, snowmakers play a critical role in the success—and sometimes survival—of mountain resorts. Cheers to all six teams, and congrats to Mount Sunapee for taking top honors."
Nominations for the contest were collected in September 2018. The six competing teams were chosen in October and tasked with creating compelling videos that told their story. To view all the teams' profiles and videos, visit https://www.saminfo.com/i-am-a-snowmaker/9409-2018-hkd-i-am-a-snowmaker-contest.