SAM Magazine—Jasper, Alberta, Canada, April 18, 2019—Longtime Marmot Basin president and CEO Dave Gibson will retire at the end of June after leading the resort for 32 years. Jason Paterson, who has served as vice president of operations and maintenance at Marmot Basin since 2012, will succeed him.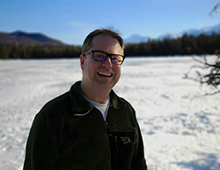 "I am both honored and thrilled for the opportunity to lead Marmot Basin. Marmot Basin is an anchor ski area of the Canadian Rockies with an impressive history. I look forward to growing our remarkable resort and taking the guest experience to the next level," said Paterson.
Paterson's prior ski industry experience includes 12 years in various roles at Nitehawk Ski Area in Alberta, including four years as general manager. He also served as tram manager of Jasper SkyTram from 2000 to 2002.
Marmot Basin chairman John Day welcomed Paterson and thanked Gibson for his service when Day announced the news to a gathering of resort staff. "Dave Gibson has made an enormous contribution to Marmot Basin and the Jasper SkyTram," said Day. "He has been the quintessential ski area CEO and has earned the respect of the ski industry for all the great work he has done both at Marmot Basin and in the industry in Western Canada."