SAM Magazine—Ludlow, Vt., April 19, 2019—The North American Snowsports Journalists Association (NASJA) has named the winners of four of its annual awards.
Rick Kahl: Carson White Snowsports Achievement Award
NASJA journalist and corporate members voted SAM's own Rick Kahl as the 2019 Carson White Snowsports Achievement Award recipient. The award recognizes extraordinary achievement, influence and innovation in the advancement of North American snowsports.
Kahl's ski journalism career spans nearly four decades. He has served in key editorial roles at both consumer-facing and industry-facing publications. After graduating from Dartmouth College, he helped develop the first edition of Stratton Magazine before moving to New York, where he climbed the ranks at SKI and Skiing magazines. He was named editor-in-chief of Skiing in 1990 and led the magazine for 12 years before joining the team at SAM.
"Rick is simply brilliant," said SAM publisher Olivia Rowan. "He has done so much for this industry, but humbly defers credit for his accomplishments. Thank you NASJA and all its members for recognizing Rick's tremendous contributions with this award."
NASJA praises Kahl as being "quietly responsible for setting much of the dialogue in the mountain resort industry with his uncanny ability to identify trends, issues, challenges and opportunities." Kahl joins a list of Carson White honorees that includes Warren Miller, Stein Erickson, Klaus Obermeyer, and Nancy Greene.
Halley O'Brien: Mitch Kaplan Award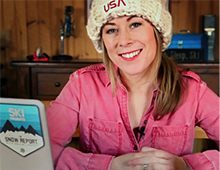 Halley O'Brien of SKI magazine's "The Snow Report" show is the 2019 recipient of the Mitch Kaplan Award, presented to the journalist whose work and spirit best captures the enthusiasm and dedication of the late Mitch Kaplan, NASJA's former secretary-treasurer.
"It might be difficult to find a more fun-loving, irreverent, enthusiastic, and funny ski and snowboard reporter in the video world than Halley O'Brien," said NASJA. O'Brien began as a snow reporter at Mount Snow and, after briefly working in PR, built her own media company, Halley O'Brien Productions. She is the host of SKImagazine's wide reaching "The Snow Report," the "SnoCountry Snapshot," and the Weather Channel's "Local Now."
Connie Marshall: Bob Gillen Memorial Award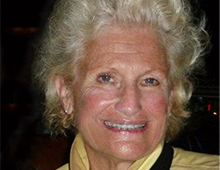 Longtime Alta Ski Area director of marketing Connie Marshall is the 2019 recipient of the Bob Gillen Memorial Award, which honors a NASJA member who exemplifies the highest standards of professionalism in public relations and communications for his or her contributions to the advancement of snowsports.
Marshall, who retired last season, earned her degree from Alma College, Mich., and moved to Alta in 1974. She started as the director of ticket sales before moving into marketing in 1991. She was instrumental in pioneering management roles for women in the Utah ski industry and is described by a peer as "a consummate PR professional," and "'old school' in the best possible way."
Jessie Diggins: Paul Robbins Outstanding Competitor Award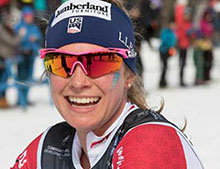 The 2018 Paul Robbins Outstanding Competitor Award was bestowed on Olympian Jessie Diggins. The Paul Robbins Award honors a North American snowsports participant who has distinguished himself or herself in amateur or professional competition during the current season.
Diggins had the best ever Olympic showing for an American female cross country skier at Pyeongchang in 2018, winning the team sprint relay gold and recording five other top 10 finishes. She was selected for the award via online vote and joins a list of previous honorees that includes Mikaela Shiffrin, Ted Ligety, Lindsey Vonn, and Hannah Kearney. Congratulations to all on being recognized for their continued hard work in ski journalism, communications, and competition.
Report written by Katie Brinton