SAM Magazine—Lincoln, N.H., Jan. 17, 2020—Loon Mountain Resort will install a new Doppelmayr eight-passenger, high-speed bubble chairlift for the 2020-21 winter season—the first of its kind in the eastern U.S., and the second in North America after Big Sky debuted its Ramcharger 8 last season. Both properties are owned by Boyne Resorts.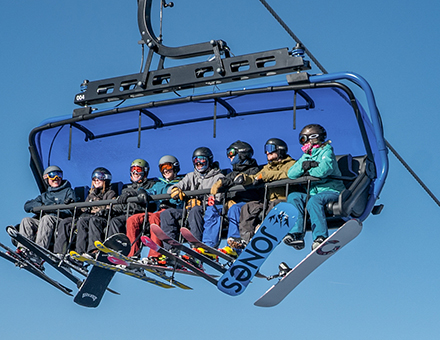 "The Kancamagus 8 chairlift will be a leap into the future of skiing for our guests," said Loon Mountain president and GM Jay Scambio. The chairlift project was unveiled to local and regional stakeholders and members of the media as part of the resort's 10-year plan, presented by Scambio earlier today at a community meeting.
The new lift will replace  the  Kancamagus Express Quad, which  was installed in 1995.  The Kancamagus 8 will have 62 heated carriers with tinted bubbles that will move at a speed of 18 feet per second (1,080 fpm), delivering skiers to the top in less than 4.5 minutes. Other state-of-the-art features include auto-locking restraint bars, individual footrests, and height-adjustable conveyor loading for increased efficiency in loading guests of all sizes.
 Doppelmayr  USA president Mark Bee said, "We are proud to be a part of a major step forward in the Eastern ski scene that puts Loon on a path toward achieving its goal of having one of the most advanced lift systems in the world." 
Kancamagus 8 is the first of many milestones charted in Flight Path: 2030, Loon's 10-year growth and improvement plan. The plan defines four pillars that will guide what the resort said are unprecedented capital investments over the next decade: elevating the ski experience, excelling in every season, connecting the community, and growing responsibly.