SAM Magazine—Wilmington, VT., Jan. 22, 2020—The former Hermitage Club, a private ski area and golf club in southern Vermont that's been shut down since 2018 due to foreclosure, has received two separate offers totaling roughly $7.5 million for its assets, possibly beginning an auction process that could happen as soon as late-February.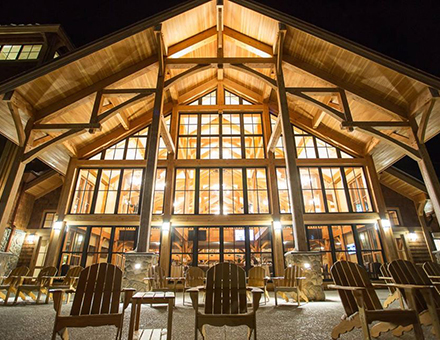 Bankruptcy court documents reveal that Rainmaker Mountain LLC, backed by Geyser Holdings, bid $4 million for Haystack ski area, Haystack Golf Course, three local inns, and undeveloped parcels of land. Separately, Boyne Resorts bid $3.5 million for the six-passenger bubble lift at Haystack, which was originally purchased by a group of club members who formed an investment group called Barnstormer Summit Lift LLC.
Berkshire Bank filed a foreclosure complaint involving Hermitage properties in 2018. According to a report in the Brattleboro Reformer, the bank and the group of club members who paid for the chairlift agreed to the sale, according to court filings submitted by Raymond J. Obuchowski, the Chapter 7 bankruptcy trustee assigned to the case. If the court agrees, an auction for the assets will be advertised and Obuchowski hopes to have bids due by Feb. 20 with a sale on Feb. 25.
In his court filing, Obuchowski said the sale of the ski area is good for creditors and the estate: "The Trustee and the secured lenders believe that the total consideration to be paid by Stalking Horse [Rainmaker Mountain] is fair and reasonable and, moreover, the auction will establish the highest and best offer for the sale property."
There have also been reports of a group of former club members organizing a bid to purchase all of the assets together and reopen the ski area once again as a private club. Sources said the group is still in the process of getting more former members on board before it will submit a bid, reportedly higher than the $7.5 million on the table.

Robert Coffin, a former Hermitage Club member who had been hopeful about an effort of members to purchase the assets, told the Reformer he had not heard of the company.
"[T]hat's clearly not a good thing for everyone, as it reduces (probably completely) the club getting going again, which clearly would be the best thing for prior members and local businesses and people in general," Coffin said.
The information in this report is primarily sourced from Brattleboro Reformer staff reporter Chris Mays.