SAM Magazine—Burlington, Vt., Jan. 24, 2020—Fresh snow combined with the Martin Luther King Jr. Day long weekend made for a perfect storm at North American ski resorts, which saw a huge uptick in volume as skiers and snowboarders flocked to the mountains.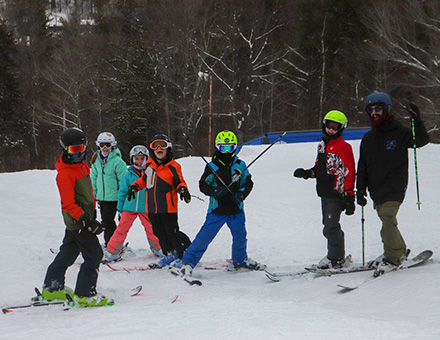 Happy skiers at Gunstock over MLK weekend
East
In the Northeast, January's dry streak was broken by several good-sized dumps just before and during MLK weekend. Nearly two feet of fresh snow made for a booming holiday at Stowe Mountain Resort, according to Jeff Wise, senior director of communications for Vail Resorts' northeastern properties. "Traditionally the most popular ski weekend in January, this annual MLK holiday proved to be an opportune ski and snowboard holiday with great snow conditions here in northern Vermont," Wise said.
Sugarbush, meanwhile, experienced the busiest day in its 61-year history. "Sugarbush had a record day on Sunday thanks to the timing of the storm for our MLK Weekend guests," said public relations manager John Bleh. "The snowfall, along with our snowmaking efforts, helped us open a ton of new terrain, which coupled with relatively warmer temps kept crowds nicely dispersed all over the mountain."
In New Hampshire, Gunstock also enjoyed its busiest day on record. Fresh snow, sunny skies, and crowded lift lines were a welcome present for the new president and general manager Tom Day, taking over after last week's retirement of longtime GM Greg Goddard. "Sunday was a record day for us, historically a record day in terms of skier visits," Day said. "The snow and sunny weather got everybody out. Even though it was busy, everybody was happy because it was good skiing. There were a lot of happy, satisfied skiers and riders here."
Down the coast, resorts in Pennsylvania's Pocono mountains also benefited from new snow and sunshine. At Blue Mountain Resort, lines wrapped around the ticket booths, and ski trails were packed with thousands of skiers and boarders. "It's kind of been a crazy weekend for us, in general," marketing manager Ashley Seier said. "Holiday weekends always are. We were blessed with natural snow. We had about three inches of natural snow on Saturday night, so it definitely brought out the crowds for this weekend."
Midwest
The story was much the same in the Midwest. At Wisconsin's Mt. La Crosse, which will celebrate its 60th anniversary on Feb. 29, the belated arrival of winter drew a plethora of shredders to its runs and historic A-frame lodge. "It's a day away for kids and adults too," said general manager Darcie Breidel. "They know that they're going to have this day free, but it's not quite enough vacation to travel anywhere, so this is the perfect place to come … We have a lot of staff on. We know that our rental shop is going to be busy, we're selling out on lessons. People are wanting to come out and learn today."
West
In Colorado, weekend traffic from the Front Range to the ski resorts was extremely busy despite heavy snow and icy conditions on I-70. On Saturday, a whopping 47,896 total vehicles passed through the east- and westbound sides of the Eisenhower Tunnel.
At Powderhorn in western Colorado, snow, snow, and more snow kicked off the holiday weekend. Spokesman Ryan Robinson said MLK weekend was "by far one of our busiest weekends of the winter. The snow [was] coming down, perfect timing for a long weekend up on the hill." The mountain typically sees around a 20 percent increase in business on MLK weekend.
The snow gods also blessed California, dumping 16 inches of fluffy white stuff at Alta Sierra, just north of Bakersfield. The resort enjoyed an uptick in visitors thanks to the snow and the holiday on Monday. In Northern California, Mt. Shasta received 31 inches in the storm leading up to MLK weekend and had understandably crowded liftlines on Monday.
Mt. Shasta's digital media expert Bettina Darger said MLK weekend was "…our busiest this whole season. Last night we actually topped off our lessons. We had 226 in one day, which is super cool. It's awesome seeing people coming up and learning how to ride and enjoying all of our intermediate and backcountry programs."
Canada
Since MLK day is an American holiday not observed in Canada, resorts north of the border experienced a relatively modest increase in business. One Canadian resort, however, was able to draw thousands of visitors keen on skiing as well as celebrating MLK's civil rights legacy.
The 24th annual MLK Ski Weekend (blackskiweekend.com) was a huge success at Blue Mountain Resort in Ontario. Nearly 3,000 participants took part in a wide variety of events, including skiing/snowboarding, lectures, pool parties, concerts, an underground railroad museum tour, as well as a dedication ceremony to Martin Luther King Jr. himself.
Organizer Shed Amin said visitors were mostly Americans with Monday off, though some attendees had travelled from as far away as the Bahamas, the U.K., and South Africa. Amin said that traveling to Canada to ski made more sense for Americans aiming to capitalize on the favorable exchange rate as well as those trying to dodge holiday crowds.
Besides having a lot of fun, one of the event's goals was to encourage more African-American and non-Caucasian individuals to get on the slopes. "There's more and more people of multicultural backgrounds doing outdoor sports," Amin said. "The ski industry should take notice. They should be targeting multicultural consumers, otherwise they'll be missing out."
Due to time constraints, we were not able to reach a wider variety of resorts. We invite you to add your own results in the comments section for this report.
Report by Clint Carrick