The mountain resort industry sadly lost one of its true pioneers with the sudden, but peaceful, death of John Fry on Jan. 24, 2020, two days after celebrating his 90th birthday with his wife Marlies in Puerto Rico.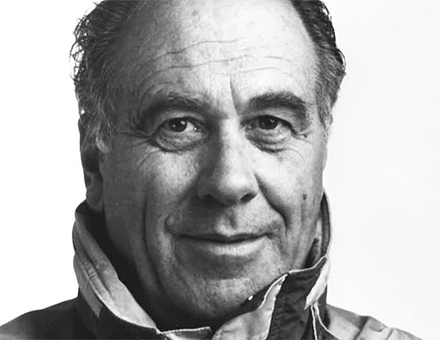 Fry devoted much of his life to ski journalism, serving on the staffs of SKI LIFE, SKI, Snow Country, Skiing Heritage (now Skiing History), and SAM magazine. His in-depth knowledge and unparalleled passion for skiing brought the sport to life through the thousands of pages he created over his lengthy career.
John's passion for the sport of skiing also ran far beyond the written word as evidenced by his creation of NASTAR (National Standard Racing), the nationwide recreational alpine racing series that engaged resort visitors for decades, and continues to do so under the management of U.S. Ski and Snowboard. Fry also developed the Nations Cup of alpine skiing, ranking the worlds' national ski teams based on World Cup points.
Outside of his extensive work overseeing several industry-leading magazines, Fry edited America's Ski Book, revised edition (1973); co-authored, with Phil and Steve Mahre, their autobiography No Hill Too Fast (1985); and authored the award-winning book The Story of Modern Skiing (2006).
Understanding the important role that history plays in a sport that continues to mature, Fry was instrumental in creating the International Skiing History Association (and also served as president and chairman), where he worked tirelessly to preserve the sport's incredibly rich past.
Fry's devotion to the sport of skiing earned him much-deserved recognition on both sides of the border, with his election into the U.S. Ski and Snowboard Hall of Fame in 1995, the Laurentian Ski Hall of Fame in 2016, and the Canadian Ski Hall of Fame in 2018.
Born Jan. 22, 1930, in Montreal, Canada, Fry took up skiing at age six. He attended high school at Lower Canada College (class of 1947) and was a member of its championship ski team. At McGill University he raced for the Red Birds Ski Club and earned a bachelor of arts degree in 1951.
Fry emigrated to New York City in 1957 to join the daily trade paper American Metal Market and freelanced as a contributing editor of Ski Life, a national magazine launched in 1959, soon to be merged with SKI Magazine. In 1963 he joined SKI as executive editor, and editor of its sister publication, Ski Business. In 1964 he was named editor-in-chief of SKI, and in 1969 became editorial director of SKI and Golf Magazines. After the Times Mirror Company acquired the titles in 1972, he served as editorial director of Outdoor Life, SKI and GOLF. In 1965 he married Marlies Strillinger.
In the summer of 1987, the New York Times Co. retained Fry to create a new magazine, Snow Country. When the magazine debuted in January 1988, he became the full-time editor-in-chief. Snow Country attained a circulation of 450,000.
He retired from the New York Times Co. in 1999 and returned to SKI as a contributing editor. He remained an active contributor at Skiing History magazine until his death.
Fry is survived by his wife of 55 years, Marlies; their daughter, Nicole Fry; his children by Ann Lyons, the sculptor Leslie Fry and William Fry; and grandchildren Sarah and Emily Fry.
A memorial will be planned later, at which time SAM will provide details.
A personal note from Olivia and Jennifer Rowan
John Fry's contributions rank with the best of the best in the industry, but personally, John has been a mentor to us, and a best friend and lifelong colleague to our father David, the founding publisher of SAM. They were among the original pioneers who built the foundation for our industry. John's contributions to our little magazine were many over the years, and he will be deeply missed.