SAM Magazine—Natick, Mass., Jan. 28, 2020—The snowmaking crew from Bristol Mountain, N.Y., emerged as the winner in this year's HKD and SAM "I AM a Snowmaker" contest. More than 10,000 votes were cast for the seven resort snowmaking crews in a close contest, with Bristol coming out on top by only a few hundred votes. The 13-day voting period concluded Jan. 21.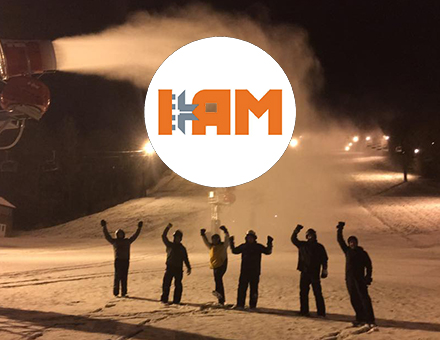 The Bristol crew will receive a break-room makeover prize from HKD and industry recognition for their dedication to and passion for the art of snowmaking.

The seven finalists in the I AM a Snowmaker contest were: Aspen Snowmass, Colo.; Bristol Mountain, N.Y.; Eaglecrest Ski Area, Alaska; Gunstock, N.H.; Hunter Mountain, N.Y.; Killington Resort, Vt.; and Pats Peak, N.H. Each crew created a compelling storytelling video for the contest, and the public voted for their favorite. All of the videos highlighted the grit, tenacity, hard work, and camaraderie shared by snowmaking teams across North America. The contest aims to recognize how critical these unsung heroes are to the success of the industry.

"The I AM a Snowmaker contest this year was inspirational to watch and we thank all of the participants for their hard work," said HKD president Charles Santry. "Each of the seven resorts put together high-quality videos with outstanding snowmaking footage and hands-on, grassroots interviews of their teams. Each displayed the teamwork, care and dedication that goes into providing the best possible skiing surface for their customers. As a result, the interest in I AM was high, and a record number of votes were cast. We are honored to congratulate the Bristol Mountain crew as the winner!"

"We were so impressed by this year's videos. They were some of the best yet, as evidenced by the 10,000-plus votes that came pouring in, and the closeness of the race for the top spot," said SAM publisher Olivia Rowan. "We're very proud to help shine a light on these unsung heroes. Congratulations to all seven teams for their wonderful contributions, and Bristol for taking home the top honors."
"We were honored to be nominated this year in a list of iconic snowmaking teams," said Bristol president and general manager, Dan Fuller. "We're so lucky to have jobs in an industry that we love. Thank you to SAM and HKD Snowmakers for all the hard work. It's an incredible way to highlight the people behind our industry. We also want to extend a thank you to all our employees, season passholders, guests, friends, and family members who voted for our team. We were touched by the number of people who pulled us all aside and let us know that they were voting religiously every day."
Nominations for the contest were collected in September 2019. The seven competing teams were chosen in October and tasked with delivering a compelling video that told their story, along with a team photo and Mad Lib-style bio. To view all the teams' profiles and videos, visit www.saminfo.com/i-am-a-snowmaker.