SAM Magazine—Natick, Mass., Jan. 29, 2020—Registration is open for the 18th annual spring session of Cutter's Camp, May 11-15, 2020, at Timberline, Mt. Hood, Ore. The weeklong program for terrain park professionals features on-hill and classroom workshops, including the return of one-on-one customized operator coaching.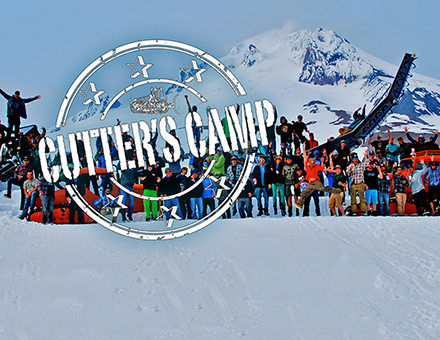 Program highlights include a focus on grooming technology, the business of parks, enhancing the guest experience, and risk management. In addition to Timberline's extensive groomer fleet, campers will also demo the latest machines from PistenBully and Prinoth during the arrival day demo and during on-hill one-on-one coaching sessions. New this year, Cutter's Camp has partnered with Pro Academy to offer a facilitated training module that provides campers with specific terrain park operator training.
Sessions to be covered at the spring session of Cutter's Camp include:
Terrain Park Managers Roundtable
Lessons learned from terrain park court cases
Creating a budget and financial planning for park programs
Charles Beckensail and other leading park builders discuss park as a profession
Hosting successful events and contests in your park
Design and construction of snow- and man-made features
Business of parks & park metrics
Jump measurement & ASTM / Freestyle Terrain Resource Guide update
Social media and parks
Snow science: how to get the most from your product
Family friendly and enhanced learning terrain
Machine operation and maintenance
Staff and guest education
...and much, much more.
For the past 17 years, Cutter's Camp has fostered an open dialogue between terrain park managers, park staff, industry experts, and suppliers from around the world. It is the premier venue for all parties to share industry best practices on park safety, risk management, design, construction, machinery, marketing, events, operations, and management.
As one camper summed up his week-long experience in 2019, "It has been so amazing, meeting all of these park professionals. I learned so much and gained many positive perspectives. Everyone has been very supportive and helpful. I am excited to go home and apply my new knowledge and skills to my park. This camp really encouraged a positive and real vibe that feels like a family. My eyes have been opened. I hope I get to come back every year. I am forever grateful for this experience."
Visit www.cutterscamp.com for details and registration information. Registration packages are all-inclusive of lodging, meals, classroom sessions, on-hill building workshops, machine demos, airport transfers, drink tickets, welcome bag, and networking activities.