SAM Magazine—Lincoln, N.H., March 10, 2020—The New England Pass kicked off its annual flash sale yesterday. The pass, which offers direct-to-lift access to Sunday River and Sugarloaf in Maine, and Loon Mountain, N.H., is available starting at $50 down until March 15, 2020. New England Pass has also extended its offerings for next season to include a new 5-Day Pass and a new Platinum Pass with increased western resort benefits.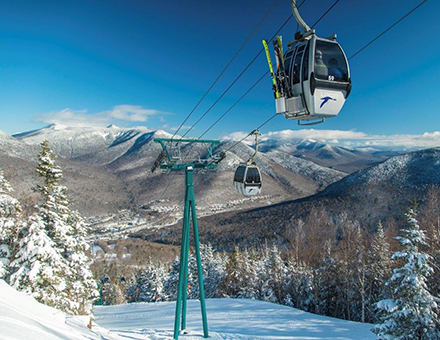 The big perk of the new Platinum Pass, available for $1,549 during the flash sale, is that it includes an Ikon Base Pass, which will provide passholders limited access to 41 Ikon partner resorts across the country. Additionally, Platinum passholders will have unlimited access to Sunday River, Sugarloaf and Loon, early-lift access in New England on Sundays, three days at western Boyne Resorts, 50 percent off at Mountain Collective resorts, 20 percent retail savings, and 12 discounted Friend Tickets.
Catering to a more casual demographic, the new 5-Day Passes allow passholders any 5 days across the New England resorts at a much lower price point. The limited 5-Day Pass, $299 during the sale, has 16 blackout dates and offers no access to Loon on Saturdays. The unlimited 5-Day Pass, for $369, is without restrictions.
New England Pass still offers a full slate of other pass products as well, including a midweek New England pass for $499 and a seven-days-a-week Nitro Pass for ages 6-29 with just 12 blackout dates for $369. Youth (6-18) and Senior (65+) versions of the New England Pass are also available across select pass tiers.
An Easy Pay Plan allows guests to purchase their passes during the sale for a small down payment and pay the remaining balance in four automatic installments across June, July, August, and September, with no interest or additional fees. Passholders who purchase their 2020-21 New England Pass in full this spring will get access to the resorts this season starting March 16. Prices will increase after the flash sale, with spring rates remaining valid through April 30.
Sunday River, Sugarloaf, and Loon already boast 359 trails, 2,470 skiable acres, 15 terrain parks and 40 lifts between them, and the resorts just launched in-depth ten-year capital investment strategies this winter, with plans for lift upgrades, terrain expansion, snowmaking improvements, real estate developments, and more.