SAM Magazine—Davis, W.Va., March 26, 2020—Timberline Mountain in West Virginia closed in the middle of the 2018-19 season, fell into bankruptcy soon after, and was purchased in December by the owners of Indiana's Perfect North Slopes. Now, amid the COVID-19 turmoil, the new owners shared good news: plans to invest more than $10 million at Timberline this summer, including the installation of two new chairlifts and a conveyor.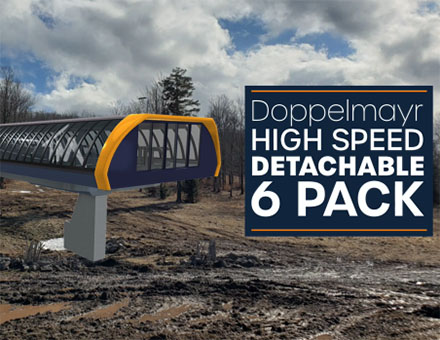 The marquee element of the investment is a new high-speed, six-passenger Doppelmayr lift that will travel from base to summit in less than six minutes. It will be the first six-passenger lift in West Virginia. The other aerial lift is a fixed-grip quad that will serve beginner and intermediate terrain, with easy access to a race course, terrain park, and most trailside lodging.

Other improvements include a re-graded learning area with a conveyor carpet lift, extensive upgrades to the snowmaking system, a fully remodeled rental shop, consolidated food service facilities, and an updated outdoor area "for a fresh sense of arrival," the announcement said.

"We look forward to participating in the economic development of Tucker County and we're excited to announce the significant investment in Timberline Mountain's infrastructure that will take place this summer," said Chip Perfect, president of Perfect North Slopes and CEO of Timberline Mountain. "I believe skiers and snowboarders next season are going to really enjoy the new experience on this very special mountain."

Work to restore the ski area began immediately after it was purchased by Perfect. According to reports, three of the resort's aging lifts were removed this past winter, paving the way for the installation of the new lifts.