SAM Magazine—Hotham Heights, Vic., Australia, July 9, 2020—Vail Resorts is suspending operations at Hotham and Falls Creek Ski Resorts in Victoria, Australia, due to a new restrictions related to a recent COVID-19 outbreak. The suspension is effective July 9, 2020 and follows the stay-at-home order for the Melbourne metro area. Reopening will be assessed after August 19 following guidelines from state health authorities.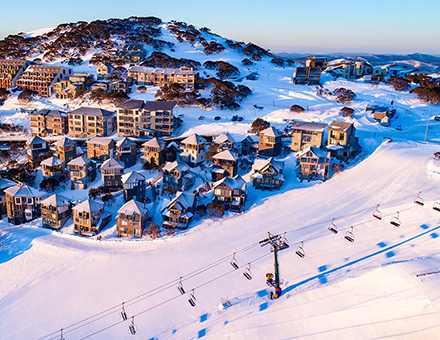 Hotham Alpine Resort
Vail Resorts is cancelling and fully refunding lift tickets, rentals, lessons, and accommodations booked in advance. Guests who purchased a 2020 Epic Australia Pass but have not used it yet and do not wish to proceed with their purchase, may request a refund no later than Sunday, July 12. After July 12, passes are non-refundable except as provided for under Epic Coverage and under Australian Consumer Law.
On Hotham's COVID-19 update page, the resort said, "We assure you that we did not make this decision lightly as we know our employees, guests, and the communities where we operate have already endured so much hardship this year. However, we are focused first and foremost on health and safety, following local health guidelines and doing our part to support efforts across Victoria to address the recent rise in coronavirus cases." The page includes FAQs and additional information on the decision.
Vail-owned Perisher in New South Wales will remain open in accordance with COVID-19 restrictions.