SAM Magazine—Natick, Mass., July 14, 2020—A handful of state and regional trade organizations have cancelled their scheduled in-person conferences and trade shows in response to safety concerns amid the ongoing pandemic.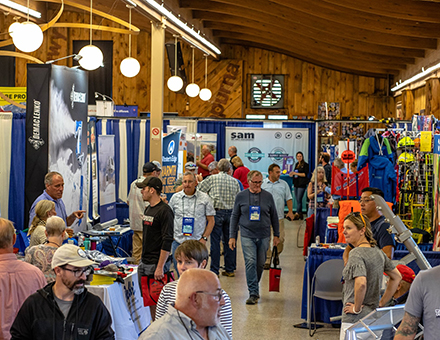 Trade Show floor from SANY/PSAA Expo 2019.
The Midwest Ski Areas Association (MSAA) board of directors voted to cancel the 2020 MSAA Summer Meetings and Trade Show, scheduled for August at Shanty Creek Resort in Michigan. "It is something that none of us wanted to do, but with ongoing concerns of COVID-19 and guidelines for group size and social distancing, it just did not seem possible," said MSAA executive director Amy Reents.
Reents said MSAA plans to put together some virtual education sessions to be held Aug. 17 and 18. Details are forthcoming.
The organizers of the New England Summit and the Ski Areas of New York/Pennsylvania Ski Areas Association (SANY/PSAA) Expo released a joint statement announcing the decision to cancel both September events. The New England Summit was to be held at Sunday River, Maine, and Camelback Resort, Pa., was to host the SANY/PSAA Expo.
"Both organizations dug deep into the nuances of the events and explored multiple options for hosting in-person events in the current COVID-19 climate, and in the best interest of the health and safety of all attendees decided to postpone the scheduled events until 2021," said the statement from Ski Maine's Dirk Gouwens and SANY's Scott Brandi.
Both organizations are also planning to host education sessions virtually, with more details coming later in the summer. "Each of our regions have specific needs and we will work to develop a group of webinars or Zoom events, which will delve into the details of operating in this new challenging environment," the organizers said.
The 2021 New England Summit is scheduled for Sept. 13-15 and the 2021 SANY/PSAA Expo is scheduled for Sept. 20-22.
The National Ski Areas Association (NSAA), which conducts its Fall Education Seminars in conjunction with the regional conferences, will hold its seminars virtually, with "specialized topics tailored to the unique concerns of each region." Dates, registration details, and session topics are also forthcoming.