SAM Magazine—Victoria, Australia, Aug. 10, 2020—The Victorian government last week ordered Mt. Buller and Mt. Stirling—the last two operating alpine ski areas in the state—to close to the public as part of stage 3 coronavirus restrictions. As of 5 p.m., Thursday, Aug. 6, visitors were not allowed to enter the resorts, and any violations were eligible for a significant fine.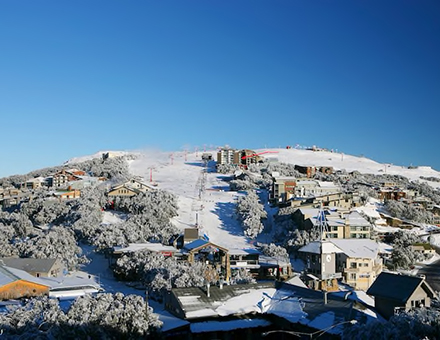 Mt. Buller
Stage 3 restrictions allow residents to leave their homes only for food and essential supplies; for study or work; for care and healthcare; and for exercise or outdoor recreation. Anyone outside their home must wear a face covering. The elevated restrictions are in response to a significant increase in community transmission of COVID-19 in the region.
According to the operations update on the resorts' websites: "Permanent residents, seasonal residents, and on-mountain staff are permitted to remain living within the resort during these Stage 3 restrictions. The stay at home restrictions apply to everyone living within the resort, who are only to leave their accommodation for one of the four allowed reasons, and only if wearing a face covering."
Vail Resorts at first temporarily closed its two Victoria resorts, Mt. Hotham and Falls Creek, on July 9, the day the government elevated restrictions to stage 3 in response to increased COVID-19 infections in the region. Seeing no end in sight for the restrictions, the company closed the two resorts for the season early last week. Mt. Buller and Mt. Stirling continued to operate.
According to an online report by Australian travel resource Traveller, local residents were becoming agitated because wealthy Melbourne residents—where stricter Stage 4, stay-at-home restrictions are in place—were still coming to the resort despite travel bans. The GM of Mt. Buller Ski Lifts said the reason the resort continued to operate after the restrictions were elevated in July was because it had the well-being and livelihoods of its employees, community, and guests in mind.
The closures may cost the Victorian tourism industry tens of billions of dollars.